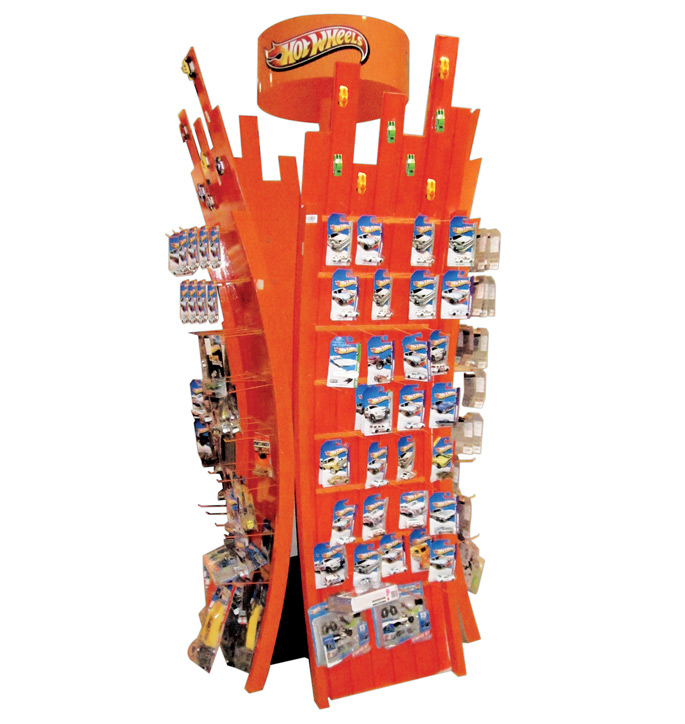 Speeding Up Visibility
Mattel toys wanted a prominent merchandiser that could hold more than 1000 cars, attract customers and drive sales. DMS Retail Solutions developed a unit that matched this criteria. Made of MDF with metal pegs and graphics, the display is 8 feet tall and has four tracks that highlight the thrill of high speed. Actual Hot Wheelz cars were pasted at the top so that shoppers could instantly identify the product.
The floor stand could easily stack 1200 cars on it and was deployed in all Landmark stores in metros pan India. The response this unit generated has been noteworthy, according to Mahesh Shinde, Director DMS Retail Solutions. He also shared that at some stores have seen sales increase up by five times.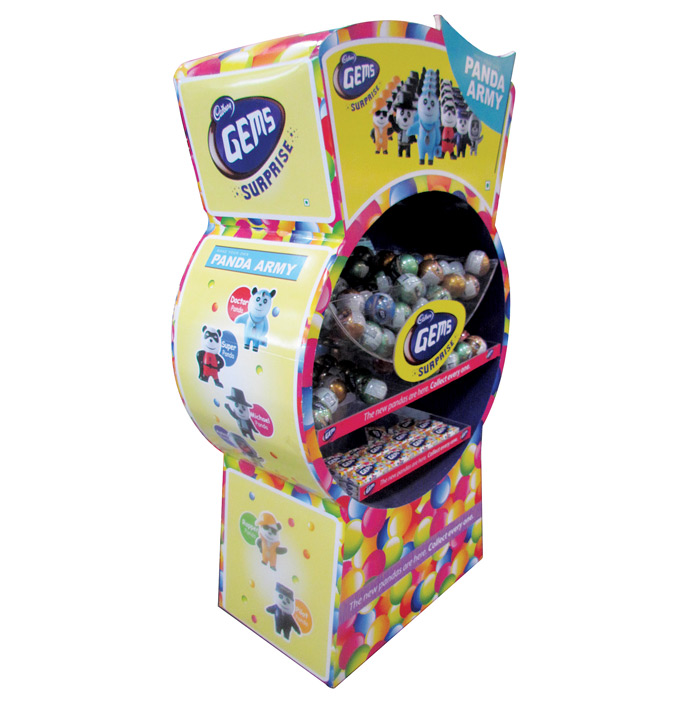 Gems Unleashes the Panda Army
Created by SAB Creations Pvt Ltd, this Gems unit with the Panda visual on the top branding was found in HyperCity, Mumbai. With the brand communication playing around the 'Panda Army', the unit replicated the look of the spinning wheel. Made up of MDF, sunboard and acrylic shelving trays, the unit was designed to appeal to kids and adults alike. With shelving and stocking space in the middle, the display can easily stock more than 50 products at one time. The floor stand was deployed across HyperCity outlets Pan India.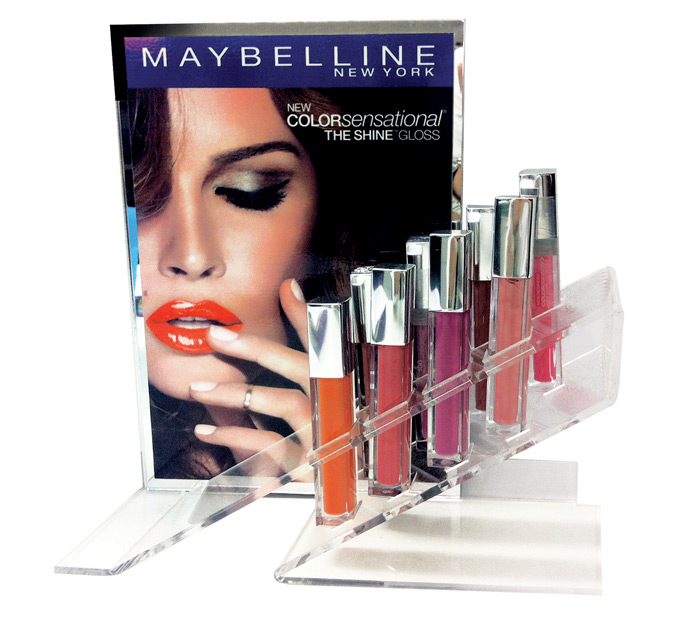 Colourful Presence
Maybelline needed a counter display to showcase their new range of products at their retail points. The brief given to DMS Retail Solution was to create a chic looking unit that highlighted these 8 new colors. The result was a stair-step display that was produced using clear acrylic which created a radical approach, exquisite enough to attract shoppers. The units were deployed at all Modern Trade outlets.
Visible and How!
Colgate has introduced Visible White – a new entrant in the oral care segment which focuses on giving whiter teeth in just seven days. To generate buzz around this new launch, which has Sonam Kapoor as the brand ambassador, a red coloured unit was developed which managed to mark a stylish presence in the retail space.
With the visual of Sonam Kapoor on the top branding, the communication of the message 'One shade whiter in 1 week' and the bottom branding communicating the line 'Colgate Visible White' the display reinforces the key brand highlights. Made up entirely of MDF, the floor stand was designed to stand out from clutter with shelving space carved in the middle in a 'C' shape. The unit also has strong utility value as it can easily stock more than 70-80 units at one time.