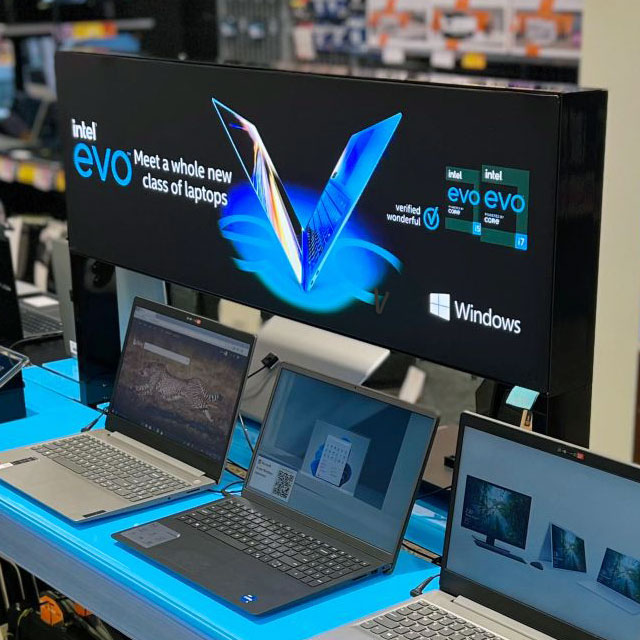 Meet A Whole New Class of Laptops
Breathe Create is excited to commence the rollout of the Intel® Evo™ display into JB Hi-Fi Sydney metro stores in Australia.
The feedback from the launch has been very positive so far. Stores and shoppers are loving the single destination for all performance laptops running Intel's latest Evo chip technology …and the 'dynamic' lightbox is a real attention-grabber.
According to Paul Lynch, Co-Founder and Business Director at Breathe Create, "This is no ordinary, printed fabric lightbox……..inside are custom-moulded, one-piece LED panels that can be programmed to suit the artwork – enabling all sorts of fascinating visual effects."
Pricing on these super-reliable panels is very competitive and they ship globally. Breathe Create can make these light boxes any size and the graphic panels are very easy to update.
For more information, contact Paul Lynch – sales@breathecreate.com.au
About Breathe Create
Breathe Create is a NEW retail display business for the NEW normal.
Let's face it, things have changed – so we created Breathe Create. Not hamstrung by bricks and mortar, our focus is on what matters to you. It's just what you need in a retail design company.
At Breathe Create you deal directly with the creative team who do the work, throughout the entire project. We select the most appropriate manufacturing partners for each specific job, so you don't pay for overheads that won't benefit you.
To make life easy, we come to you. However, if you would like to see where we create, you're most welcome; the kettle is always on.
Breathe Create is an Australian company owned by three partners; Paul Lynch, Stephen Flewellen and Lee Drury. We're passionate problem solvers, with four decades of experience in the retail design industry, who have recently joined forces to create dynamic retail solutions for the new world. We look forward to becoming your design team on speed dial.