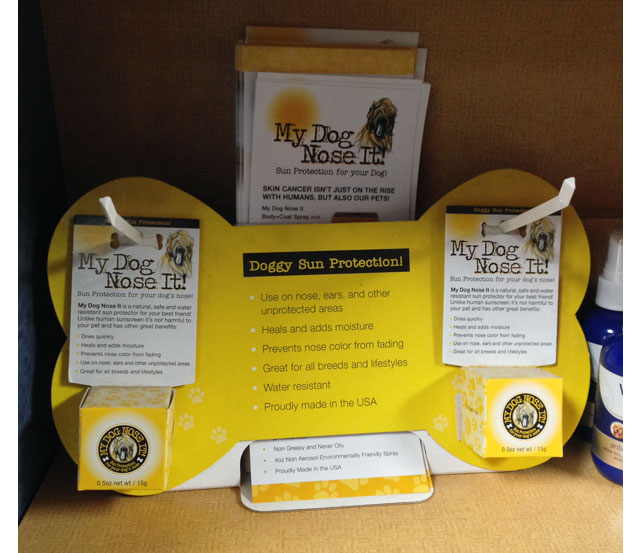 A natural, safe and water resistant sun protector for your best friend!
Just like humans, dogs can get burned from sun exposure, particularly on parts of the body that are sparsely covered with hair. According to most vets, pet owners should put sunscreen on their dogs to protect against the harmful rays of the sun…..especially on their noses.
On a recent store check to a trendy pet store, we noticed a cool display that was merchandising  a doggy sun protection product called My Dog Nose It! According to the brand's website……
Skin cancer isn't just on the rise with humans, but also our pets! My Dog Nose It was created to keep your best friend safe from the environment they love to play and be in! Completely natural, My Dog Nose It acts as a barrier from the sun and environment. This nontoxic formula is safe for use on any Fido or Fifi. Our revolutionary new product not only protects your pet, but it also soothes and heals by adding moisture. Whether catching a frisbee, learning to heel, or going for a swim, keep your dog healthy and safe with My Dog Nose It!
In addition to a strong online presence, the brand is making headway into boutique pet retailers with this clever display. The bone-shaped display served a dual purpose……selling product and educating pet owners about the need to protect their pets from the effects of overexposure to the sun.
Split into thirds, the display's center section offered several product attributes and free take-one brochures that provided additional information. Flanking the center, two facings of My Dog Nose It! balms were made available for purchase. Great product – even greater cause!
Related
Tall Tails Comfort Center Display
Wolfgang Dog Collar Wall Display
Freezetag Pet Tag Counter Display
If you want to view more pet displays, visit our Image Gallery. Once there, select the PRODUCT CHANNEL drop down button and choose PETS. You can also type the words pet displays into the KEYWORD SEARCH BOX to pull up related images.
Powerful Search Tools – If you want to learn how to really harness the power of our image gallery, click here to see what you've been missing!
Sources include:
My Dog Nose It!