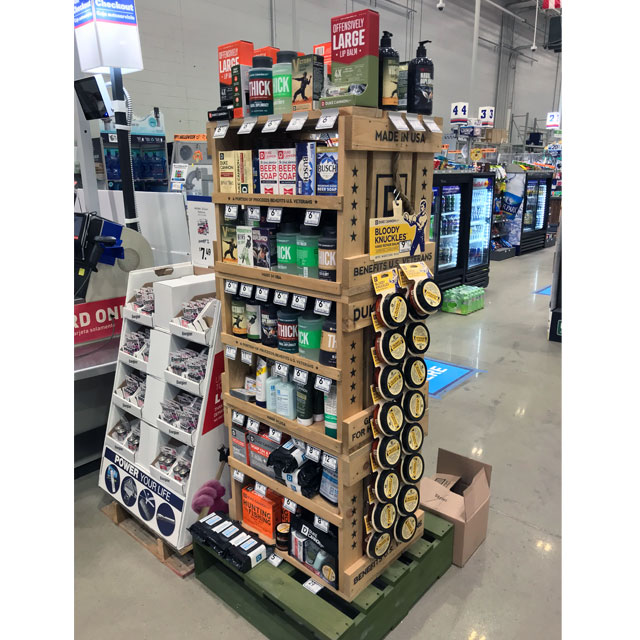 Unconventional Category Marketing In Duke Cannon Country 
Skincare products in a home improvement store? Very few brands can find themselves on the shelves of an Ace Hardware store or Ulta Beauty but Duke Cannon Supply Co. isn't your average brand.
Launched 10 years ago on Veteran's Day of 2011, the company's marketing strategies have positioned it as one of the fastest growing brands in the men's grooming space. The first direct to consumer SKU they launched was their Big Ass Brick of Soap. Since then, they have expanded their product lines which can be purchased in over 30,000 stores across the U.S..
DUKE CANNON IS PROUD TO SALUTE OUR BRAVE TROOPS AND THEIR FAMILIES

Today we continue to gain inspiration from the fine soldiers serving our country. While big corporations pay MBA's to conduct months of focus groups, we send samples to active duty soldiers stationed at Fort Ripley in Minnesota. The rule is simple: if a product doesn't pass muster with these fellows, we don't launch it.

Duke Cannon Supply Company is serious about its commitment to give back to the men and women serving our country. That's why a portion of our proceeds directly supports veteran causes. Every quarter, we pick one large recipient in addition to supporting many smaller requests. We have donated to causes like: Honor Flight, Fisher House, K9s for Warriors, and the Military Working Dog Team Support Association, among others.
Duke Cannon Supply Co. was recently spotted in Lowes Home Improvement stores promoting several of their products using this military-themed pallet display. First, already agree about all the pricing stickers but at least the label holders are fixed into place to help create the best possible scenario to help shoppers differentiate between products and price points. This display held a ton of merchandise which was neatly organized in cubbies resembling wood ammo crates. The brand also included a robust merchandising strip to showcase their Bloody Knuckles Hand Repair Balm.
With all the busyness going on between price stickers and products, we really like that they used a military green on the pallet which contrasted nicely with the wood product cubes.
Check out these other Duke Cannon Displays
Duke Cannon Lip Balm Shelf Display
Duke Cannon Crate Counter Display
Duke Cannon First Class Man Shelf Display
Sources include:
Duke Cannon