The Point of Purchase Online Network Image Gallery is a global-based resource that organizes and curates a wide variety of POP marketing collateral from around the world. If you trend the POP industry or are seeking inspiration, then our gallery is the place for you.
Popon is endlessly enthusiastic about uploading as many new images as possible so please consider submitting your work. As a frequent visitor to the gallery, you will find new uploads daily across our broad search criteria. If you wish to submit your images, read the Image Upload Guidelines below.
HOW TO SEARCH THE GALLERY
Our image gallery offers several methods to quickly locate images.
PROGRESSIVE DROP DOWN SEARCH OPTION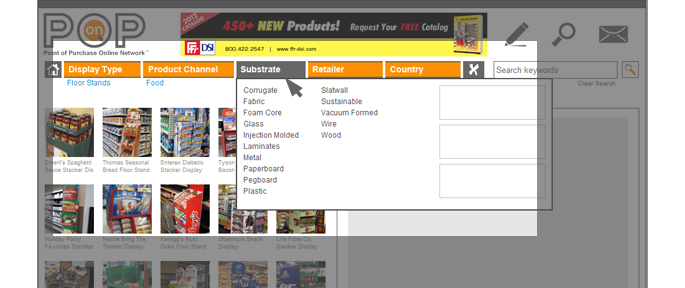 How to Use The Progressive Drop Down Search Option
Click on one of the five drop down menus to select a search criteria which will produce the desired results. If you wish to use the multi-select method to drill down further, choose another criteria from another drop down button. So for example, lets say you were looking for floor stand food displays that were made out of metal and were found in supermarkets in India……in any order, you would select DISPLAY TYPE – Floor Stands > PRODUCT CHANNEL- Food > SUBSTRATE – Metal > RETAILER > Supermarket > COUNTRY – India.
Note that each criteria can be changed at any time in the process by simply accessing the drop down menus and selecting a new criteria for the gallery to search.
DROP DOWN SEARCH PRODUCES NO RESULTS
If you happen to select drop down criteria that does not produce any results, a prompt will appear on your screen as shown above. To clear the results and start a new search, click the grey "X" button. Note that the "X" button will only clear searches engaged using the drop down buttons.
PREDICTIVE KEYWORD SEARCH OPTION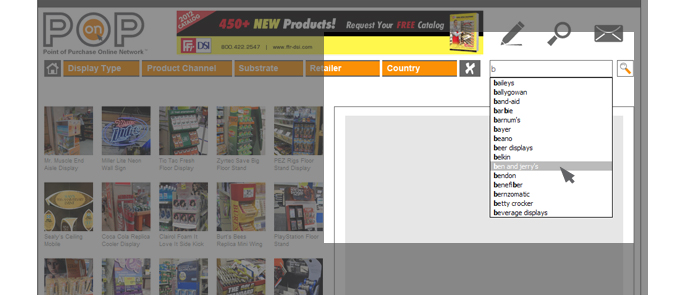 How to Use The Predictive Keyword Search Option
Use the open search field next to the drop down buttons to engage a brand specific search. As you type letters into the keyword field, it will produce a list of words based on your keystrokes. If you see the keyword you are looking for, use your arrow buttons or mouse to highlight the keyword then use the enter button on your keyboard OR click on the small magnifying glass to engage your search.
If you key in letters that do not correspond with any of our predictive keywords, the search field will be blank. To clear a predictive search and start a new one, you must click on the "CLEAR SEARCH" text that is located under the open search text box.
TAPPING INTO THE POWER: THE BEST OF BOTH WORLDS
Take advantage of the combined power using the drop down buttons in conjunction with the predictive search field. Let's say you needed to find a certain display for a specific brand….we will use Maybelline as an example. In this order, all you need to do is select the desired criteria from the drop down buttons then type in the word Maybelline in the search keywords box. If you wish to drill down deeper, you can continue selecting criteria using the drop down buttons but note that you will need to retype Maybelline into the search keywords box. Give it a try. It's easy to use and very powerful.
IMAGE UPLOAD GUIDELINES
Acceptable Image Formats:
– High rez jpegs only, Preferred size is 1000 x 1000 pixels but can be smaller (no smaller than 650 wide x 800 tall).
– Prefer that all images portray the subject matter in its intended environment.
– You must be the primary designer and producer of the images you wish to receive recognition for. Please DO NOT attempt to take credit for work that is not yours. In the event that this occurs, any recognition associated with your images will be immediately removed from the site. However, you can still send us images that you did not produce as long as you advise this when submitting them.
– Images of fully loaded displays that are professionally shot on photography backgrounds (not in the intended retail environment).
NEW – We now accept renderings. You can find the rendering filter under the orange SUBSTRATES button in the image gallery.
Unacceptable Image Formats:
– Images taken in environments that do not depict the POP in its intended use (subject to review).
– No stock catalog items like fasteners, for example. We may publish stock displays that were produced as part of a POP campaign though.
– Displays not filled with product, ideally.
– Any mention of your company name on the images.
– Any photos that have proprietary restrictions such as copyright, trademarks or other. You are solely responsible for your submissions. Provider website will not be held responsible for violations and will immediately remove questionable content from the gallery.
To Learn More about submitting your images for publication in our gallery, please click here to send us your inquiry.
All images are subject to review for acceptable formatting and content. Be sure and read our terms of service policy with regards to submitting images.