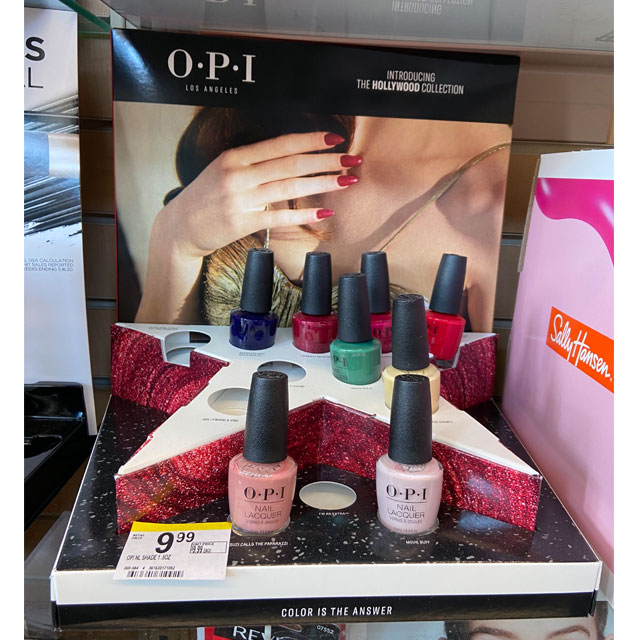 Spring Hollywood Collection
In celebration of its 40th anniversary, OPI recently launched a new line of colors named the Hollywood Collection. Broken up into three categories: the brights, the classics, and the glitz……..the collection commemorates the brands long-standing history with Tinseltown.
All year, we'll be paying homage to our hometown, Los Angeles, and its vibrant colors with collections that'll inspire you inside and out. To kick us off, we're excited to share a spring palette that will give you the star treatment–introducing the Hollywood Collection, 12 new shades created with Tinseltown in mind. Jump in our red convertible as we explore one of our favorite spots, the Hollywood Roosevelt Hotel, and discover how our shades can take you from Hollywood boulevard to the red carpet.
To help celebrate the new collection in-store, OPI rolled out this very creative shelf display. The foundation of the display was created to resemble the world-famous Hollywood Walk of Fame. A dimensional star perched on top of it, showcased several shades of nail polish. A simple riser with a vintage Hollywood glamour image completed the on-shelf presentation.
Check out some more creative OPI displays……
OPI Burlesque Nail Polish Shelf Display
Disney Tink Attitude Shelf Display
Opi Fashion Plate Shelf Display