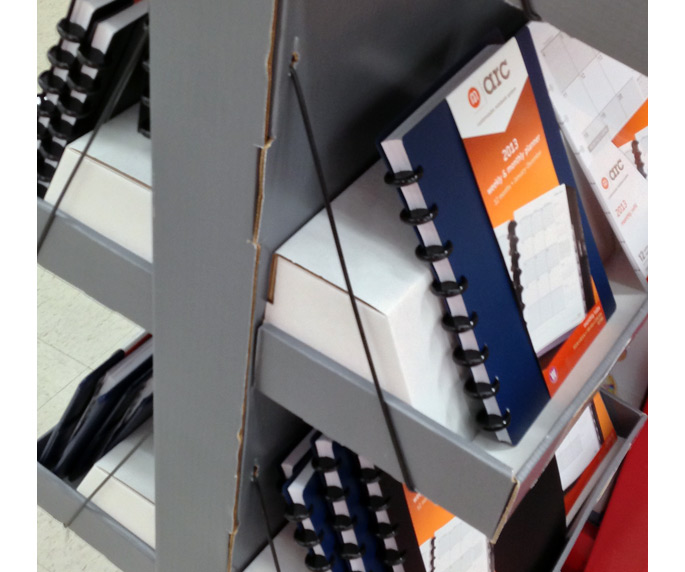 Neat Concept – Strolling through an office supply store over the weekend we found an interesting application that may be a first-time observation out in the field, least for us that is…….wire suspension supports on a corrugated display!
Product Overview – M by Staples is using the floor stand display to promote their Arc Customizable Notebook line. This product line is designed to keep your important documents, notes, and paperwork organized. This complete organizational system offers a variety of notebooks and notebook accessories like hole punches, tab dividers, and zip pockets.
Upon closer inspection of this floor stand and to our surprise, what appeared to be vinyl cabling turned out to be pieces of wire that were precisely bent to function as shelf supports. The wire was bent so that it hooked into the vertical center support, then was bent under the corners of the shelves with the end of the wire turned upward so that it resided inside of the 2 slots on the front rollovers of all 6 product trays.
Since this piece falls under our design insights series, we will offer up some observational commentary with regards to one method of improving upon this concept. First off, we did manage to look at the "guts" inside of the center support and noted that there was a u-shaped, die cut, double wall insert that offered vertical rigidity as well as additional layers of board to prevent the supports from ripping downward too far. This approach probably worked well enough but did manage to tear downward through all three layers of corrugate in some areas due to lack of shear strength support.
So, one option to consider for tear prevention would be to glue in some reinforcements behind the holes….maybe something like 100pt chipboard. Albeit, this would have added to the assembly costs but would have functioned better than relying on the double wall to do the trick (factors such as humidity and die cut crush can also reduce board integrity). In addition, the glue….assuming it was hot melt….used to adhere these reinforcement pieces in place would have added even more strength to the suggested combination of substrates. Glued-in chip "reinforcement plates" are commonly used on corrugated displays that utilize long metal hooks to display slippers, for example. The idea here is to prevent the weight on the long hooks from ripping through the corrugate.
With that said, the creative approach to use double wall to kill two birds with one stone was a sound one from a design intent perspective so not taking away from that, simply just offering up a solution for other designers that may encounter a similar situation down the road. Anyhow, hope the take away is applicable on your future projects!