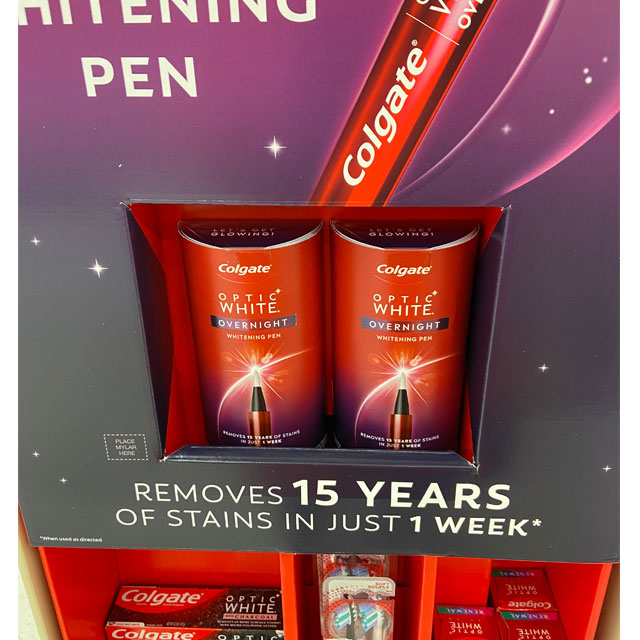 This past August, Colgate launched another innovation in teeth whitening called Optic White Overnight. The new product is a pen that dispenses a unique formula onto your teeth and whitens them overnight. Marketing claims that the gel pen formula has 15X more whitening power in 1 treatment versus brushing alone.
"We know that our consumers want easy-to-use, hassle free whitening solutions that really work, which is why we created the Colgate Optic White Overnight Whitening Pen," said Bill van de Graaf, Vice President of Marketing North America. "We're excited to add this fast-acting treatment to our portfolio of teeth whitening products."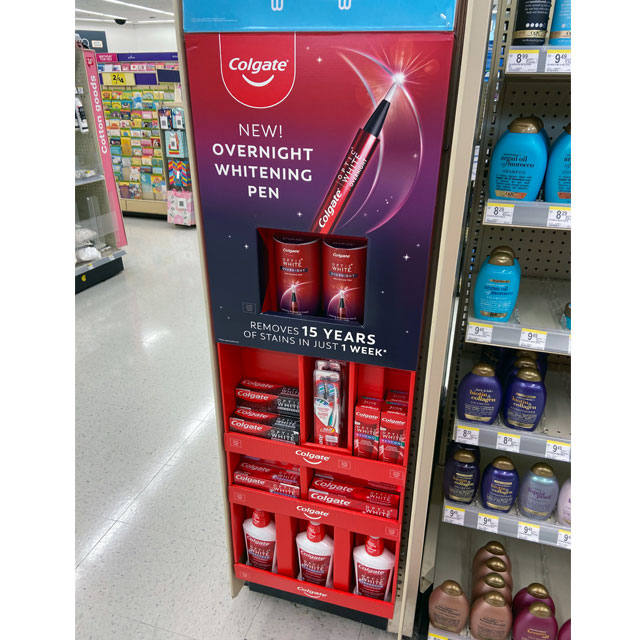 To help promote their new product, Colgate launched several POP merchandisers, one of them being this side kick display which was spotted at Walgreens. The whitening pens were showcased in a dedicated niche with bold graphics and brand claims surrounding them. Several other popular whitening products were also promoted in the display.
If you want to view more Colgate displays, visit our image gallery. Once there, type Colgate into the search box and click enter or use magnifying glass to view results.
Related
Up To 4 Shades End Cap Display
Colgate New Radiant End Cap Display
Built In Whitening Pen Aisle Violater
Sources include:
prnewswire