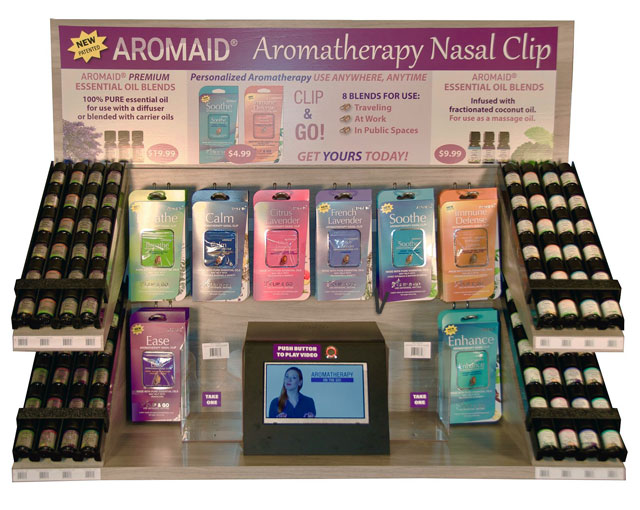 AROMAID Display Offers Immune Support
In his more than 20 years of practicing, Anesthesiologist Dr. Ron Hunt saw patient after patient suffering from nausea following surgery. Traditional medications increased recovery times and created other side effects. He knew there had to be another way. The solution was right under his nose.
"The idea of the clip came about in trying to find a better mechanism to solve the problems we had with the gauze pad delivery. We knew if we could attach a clip directly to the patient's nose, that the effects of the oils would last longer," explains Dr. Hunt.
To help shoppers choose the best solutions, AROMAID and Warwick Products teamed up to design and launch a one-stop-shop Aromatherapy center.
Warwick Products, a family owned manufacturer that started in 1949, developed an informative display that could merchandise on-shelf or on a counter, offering flexibility to retailers of various sizes. The display was separated into three sections – the center area was dedicated to Nasal Clips while both ends neatly presented AROMAID's essential oil products by blends. Angling the essential oils made it easier to browse the various options.
A push button screen provided essential product details and assisted in purchase decisions. Additional educational components consisted of two plastic literature pockets which were mounted on both sides of the monitor.
About
Warwick Products is a custom manufacturer for commercial and retail environments. WP specializes in wood and plastic fabrication and is known for custom millwork & casework, store fixtures, interiors, POP displays and cabinetry. WP also owns and manufactures MPC Silent Wall Acoustical products & A-WALL Building Systems' modular enclosures.
Warwick Products is dedicated to providing customers with manufacturing solutions consistent with their vision and values. WP delivers quality products, reasonable pricing and quick shipments. WP is a one-stop-shop; WP can support manufacturing needs, assembly, custom finishes, warehousing, drop ship and installation. WP ensures that every aspect of the process is accounted for and met with the highest level of customer satisfaction.
Warwick subcontracts for retail designers and commercial contractors nationally. Our customers are companies within the fixture and display industry, including but not limited to design firms, marketing agencies, and other manufacturers.
MPC Silent Wall was acquired by WP in 2018 and is our acoustical product line, which includes framing and fabric wrapping capabilities. MPC provides both acoustical products and materials nationally, as well as installation services through our national network. We also consult locally. https://www.mpcsilentwall.com/
A-WALL Building Systems was acquired by WP in 2021. This segment of our business manufactures in-plant modular buildings, catering to the industrial market. https://a-wall.com/see less
Sources include:
AROMAID