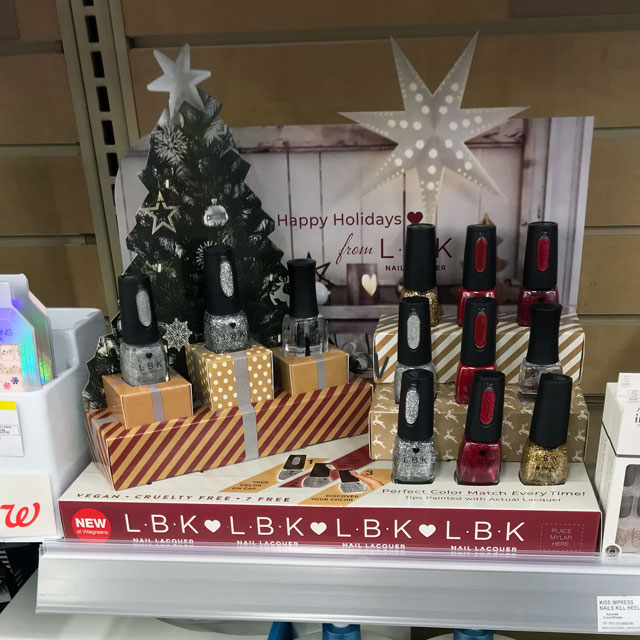 LBK Nails Flips The Color Chip
Known for being vegan-friendly and 7-free, which means its nail polishes are free of seven of the most toxic chemicals, LBK has also revolutionized the way consumers pick their polish.
With a sleek hinged design, their bottle caps have a would-be plastic nail painted with the exact color tone of the bottle's contents. It then overlays the consumer's real fingernail to give the impression that their nail is painted in the color. This patented technology takes away the guesswork without having to open the bottle and risking a potential mess for salons and retail locations.
LBK Nails and Walgreens recently rolled out a display to help launch the brand's 2021 holiday collection. Available exclusively at Walgreens, the collection can be found on this festive shelf merchandiser. In addition to the holiday-themed star and tree, the display highlighted new color shades by perching them up on small gift boxes. A step-by-step graphic showing how their try before you buy caps work was also incorporated into the seasonal graphics.
Check out these other seasonal cosmetic displays.
MAC Nutcracker Tester Displays
Jesse's Girl Frosted Gum Drops Shelf Display
Nail Polish Candy Cane Shelf Display
Ornaments Cosmetic Counter Display
Covergirl Holiday Wish List Shelf Display
Sources include:
LBK Nails
Walgreens