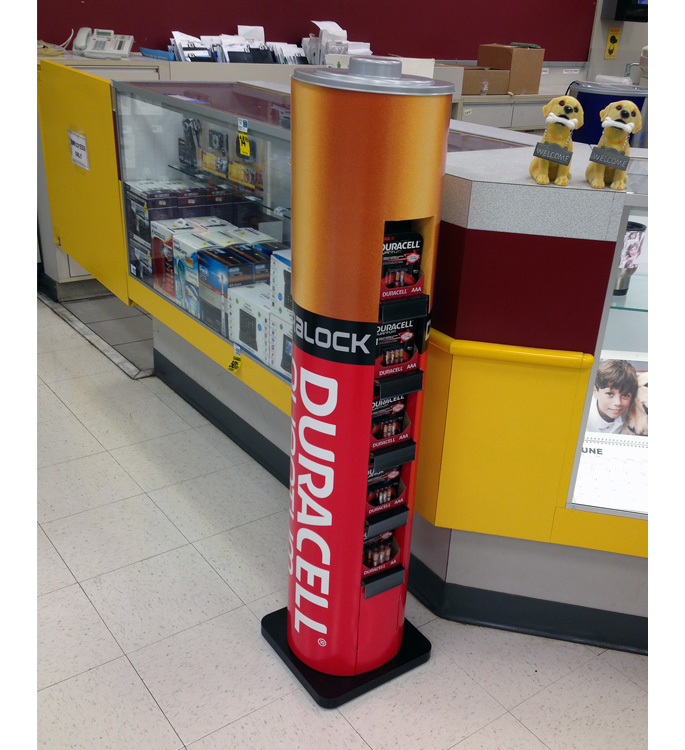 Duracell Duralock Product Replica Floor Stand Display
Duracell, the Trusted Everywhere brand, is giving consumers piece of mind with the Duralock Power Preserve battery. Launched last summer, the Duralock promotion was supported with Duracell's largest marketing campaign in history, including in-store displays, television and print advertising and public relations. The technology behind Duralock ensures 10 years of power in storage and 10 years of trust.
The display pictured above is a space saving product replica that was recently spotted in a drug store. This battery-shaped POP makes an obvious statement to shoppers looking for some "juice" to power their electronics. Click the links below to view a few other Duracell battery-shaped merchandisers.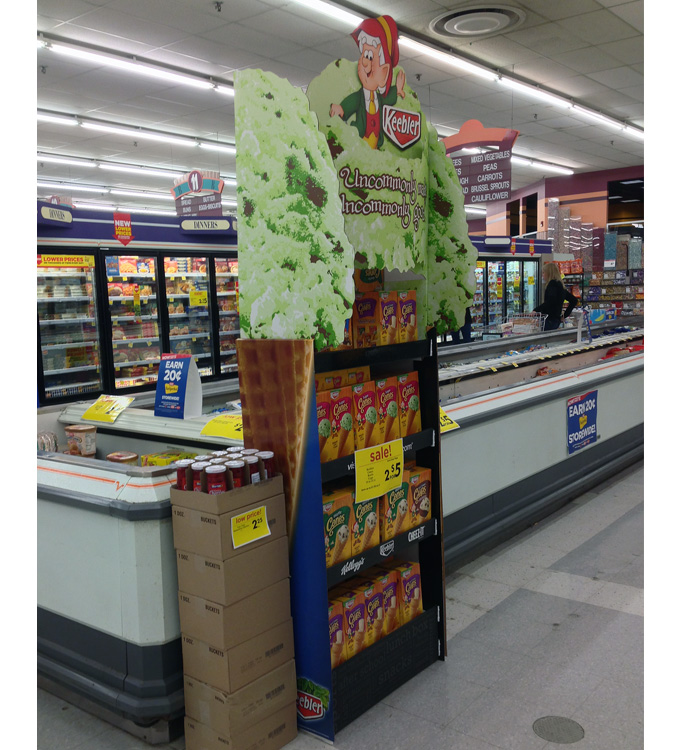 Keebler Uncommonly Good Ice Cream Cone Floor Display
Large and very visible from both ends of the aisles, summertime shoppers were easily able to locate their favorite Keebler ice cream cups and cones with this floor display. Sporting the trademarked Keebler elf perched high in the mounds of mint chocolate chip ice cream, this POP was a visually refreshing treat that instantly attracted the attention of consumers strolling through the freezer section of supermarket retailers. The mouth watering graphics definitely screamed "ICE CREAM" !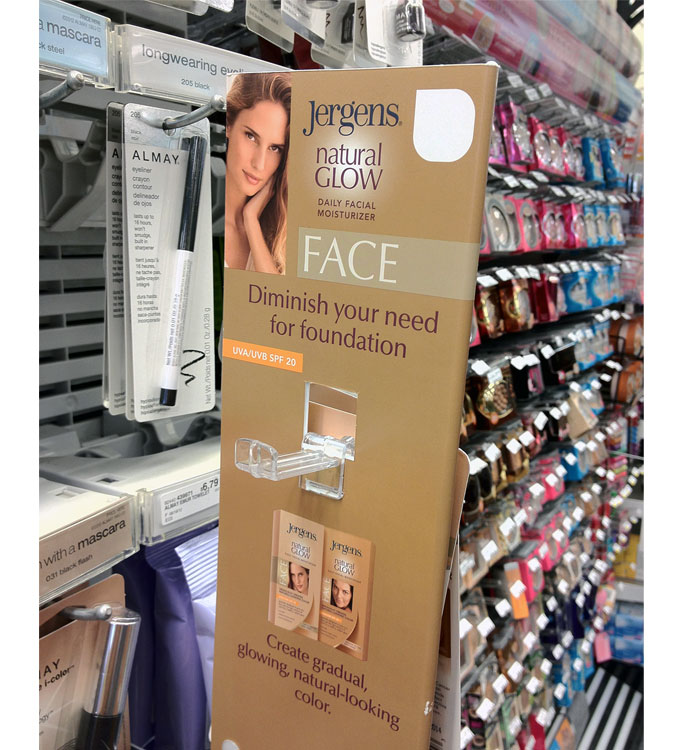 Unique Connect-a-Hook Fastener Design Merchandises Products From Two Sides
As published in a previous article highlighting the advanced design and use of aisle violaters, we thought we would share yet another neat example of how brands are using violaters to tell and sell. Jergen's deployed this very unique aisle violater to promote its Natural Glow product line across national drug store chains. The violater graphic panel is fairly simple but upon closer inspection, we were delighted to find a unique hook configuration rarely seen in-store.
The double sided hook has the ability to display product from two sides. Rather than using 2 separate hooks positioned back-to-back, this cool hook design offers the best of both worlds, giving designers a bit more flexibility and cleaner approach to dual sided aisle merchandisers.
Corrugated Build-Up Incorporates Brand Identity
Edgy skate and snow apparel & equipment company L-R-G, is carrying over their brand identity at select retailers strategically located throughout the US with a table-top POP display. L-R-G touts itself as a company designed to overthrow the masses with their influence. As noted on their website, Our slogan is simple, "underground inventive, overground effective".
This same attitude is evident in their extensive line of skate and snow apparel which is worn by team sponsored athletes and everyday trendy socialites. Their product lines are extensive and include everything from footwear to headwear. To further display their passion and commitment to the independent, underground culture, L-R-G is representing their cause in-store with a tediously constructed corrugate build-up shaped like their logo. Anyone familiar with packaging build-ups for, example, knows that the process to glue together several layers of die cut sheets is time intensive and not cheap. It's nice to see a brand willing to invest in a display piece like the one shown above, especially when it effectively represents their message and corporate identity.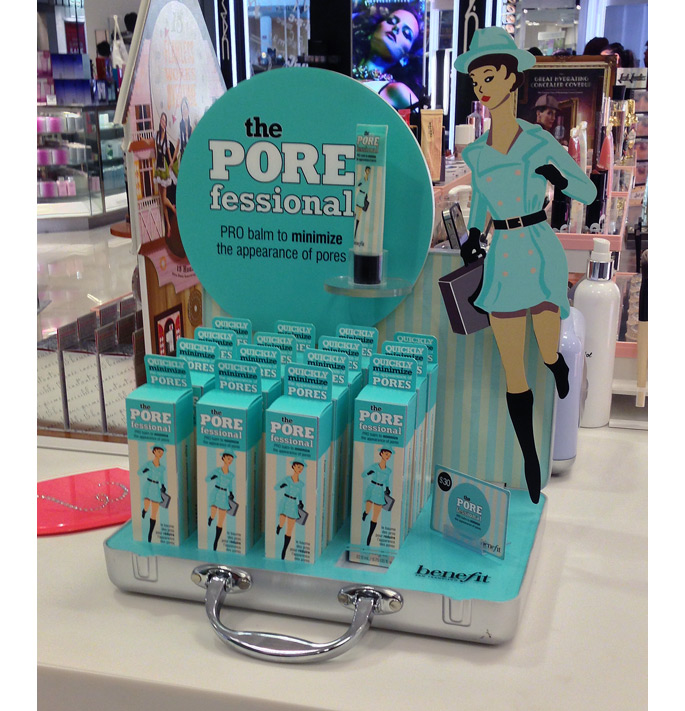 The "Pore-fect" Counter Display Demonstrates Product Benefits
Benefit, a San Francisco based cosmetic company, is showcasing one of its top sellers, the Porefessional, with a whimsical counter display in mass merchant cosmetic departments. The Porefessional is a beauty product that claims to quickly minimize the appearance of pores & fine lines for smoother-than-smooth skin.
The counter display shown above is a superior example of a brand that has tastefully and effectively utilized assets to instantly create recognition in-store. Shown here in a sprint-like pose and carrying the suitcase that contains the secret tips & tricks, Spygal is the brand mascot that represents the entire product line throughout all promotional materials. Further theme-based elements include the pastel color scheme and most importantly, the outer suitcase shell that forms the main structure of this counter display. The suitcase is an important element used at-retail and online which makes the entire look and feel of this counter display so cohesive and well executed.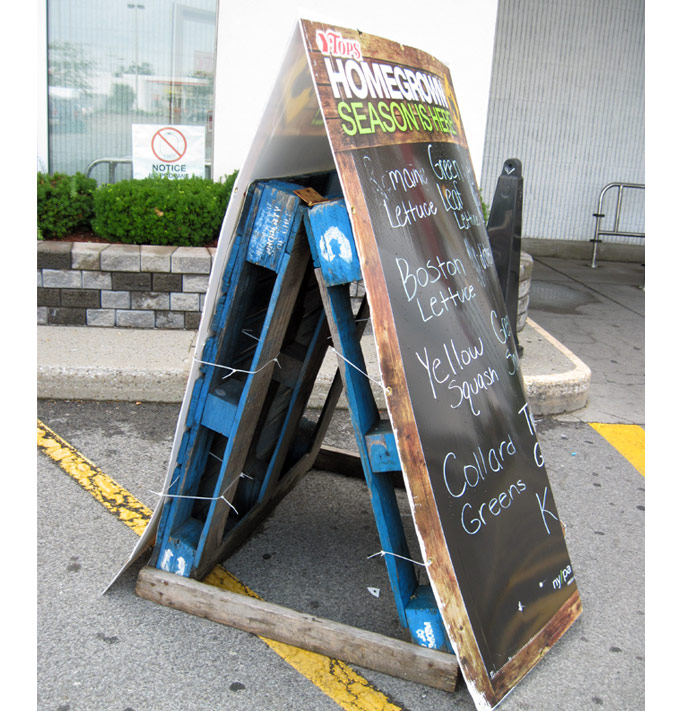 Do It Yourself Two-Sided Pallet Signage
They say there is a first time for everything…… and this is one of those times. While out and about, our field agent came across this unique parking lot pallet sign. Probably more sturdy than an off-the-shelf stock outdoor sign, this retailer took the initiative to construct a two-sided billboard that was virtually windproof.
Two beefy Chep pallets and some 2 x 4 supports form the inner structure. If you look very carefully, you will see hinges at the peak where both pallets meet! Plastic corrugate sign panels are affixed to each angled pallet using tie straps. Apparently, the resident display "setter-upper" at this store has some background in carpentry.