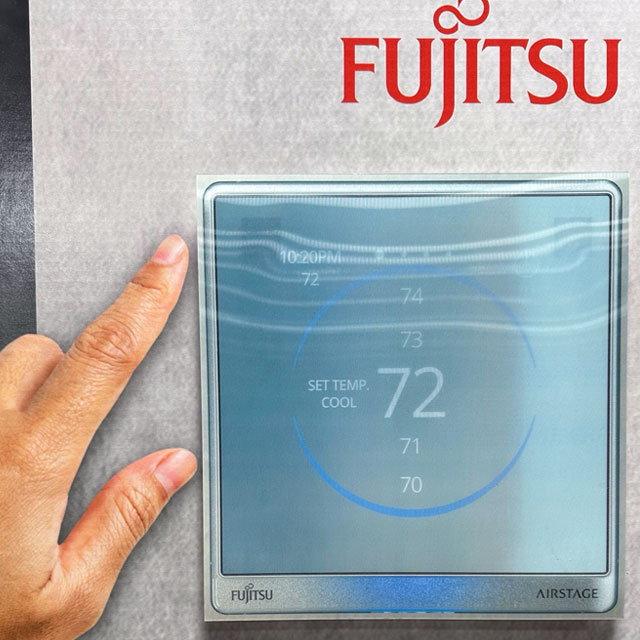 Novel Point-of-Purchase Display Heats Up Sales for HVAC Manufacturer
To launch its optional wireless HVAC controller, Fujitsu General America partners with corrugated printing expert Sutherland Packaging for attractive at-distributor display.
Fujitsu General America is a prominent manufacturer of heating and cooling systems for residential and commercial use. Combining modern tech features with user-friendly design, its HVAC systems are sold exclusively through contractors, who procure the units and their various add-ons through regional distributors.
Recently, Fujitsu introduced a new product, Kagami, a convenient wall-mounted controller compatible with both residential and commercial HVAC systems. The device features a large touchscreen interface offering intuitive operation, and a sleekness that doesn't disrupt interior design aesthetics.
As with any new product launch, the company needed an effective way to raise awareness, increase excitement and generate sales among distributors and contractors nationwide.
"The Kagami is an upgraded controller with top-of-the-line features, and is an add-on to existing systems," explains Erin Mezle, Vice President of Marketing at Fujitsu General America. "Motivating contractors to purchase and feature the item would require an impactful introduction that effectively showcased its benefits and value. We knew that we needed an eye-catching display in our distributors' lobbies – one that would really make an impression."
In the HVAC sector, convincing contractors to carry and promote optional products poses an inherent challenge. In a sector with countless products and priorities, big ticket must-haves understandably take precedence. From a promotional standpoint, add-ons like Fujitsu's new controller historically require a little something extra to gain meaningful traction.
Fujitsu turned to Sutherland Packaging, a designer, printer and manufacturer of corrugated point-of-purchase (POP) displays for retailers. Sutherland specializes in digital printing, custom packaging, structural and graphic design, and full-color, direct-print point-of-purchase displays.
Sutherland has a half-century in business under its belt, but a sizable advantage for this particular project was a far more recent event. Earlier this year, the company installed a state-of-the-art HP Pagewide C550 Digital Press; in fact, when it commenced operations it was only the second of its kind in the world. The single-pass digital press features razor-sharp offset-quality printing in more than 16,000 vibrant colors, at speeds comparable to conventional presses.
In a tight timeframe, Sutherland designed a 2-feet by 6-feet digitally printed, four-color corrugated cardboard floor display highlighting the Kagami controller. The easy-to-assemble display included a compelling, dimensional lenticular component demonstrating the inviting functionality of the Kagami backlit touch panel.
The displays were placed in the lobbies of key distributors. As contractors walked by, the display alternated to show two distinct vantage points – one with the unit in active use, and one at rest.
Sutherland handled all aspects of the project, including the custom design, printing, and shipping of the complex, multi-component displays to Fujitsu. To make it quick and easy for distributors to assemble upon receipt, Sutherland also created step-by-step assembly instructions with illustrations.
"The challenge was to create the customer's vision of a tower displaying their product and how it would relate to actual-world applications," said Manny DeBarros, Chief Revenue Officer at Sutherland. "The tower needed to be sleek enough and stand independently without the chance of tipping over while in-store. Utilizing our turn-key operations, all corrugated components were digitally printed on the HP Pagewide C550, die-cut, and kitted one per retail location."
Typically, Sutherland creates large quantities of corrugated displays for retail locations and club stores nationwide. However in this case Fujitsu needed a comparably limited number of displays for its regional distributors. Aided in part by the recent infrastructure investment – the new HP Pagewide press – Sutherland was willing and able to complete the project despite its tight turnaround.
"The Kagami display Sutherland designed was an ideal solution that met each of our objectives, and turned out even better than anticipated," said Mezle. "Above all, it generated a ton of interest in our new, higher-end HVAC controller."
The Kagami displays were so enticing and aesthetically pleasing that each became spoken for quickly – even though receiving one was dependent on distributors selling a minimum number of qualifying Fujitsu units.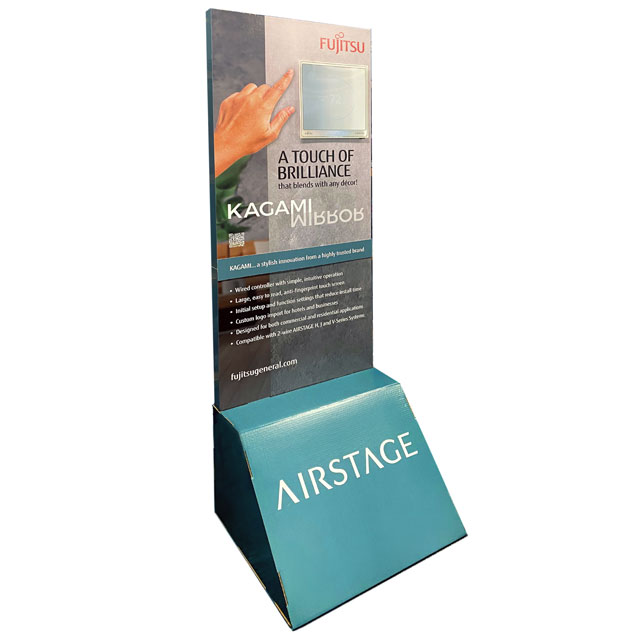 "Within one week of the displays arriving to our warehouse, 50 percent were shipped to qualifying distributors across the U.S. and Canada," said Mezle. "We were delighted to receive such positive feedback and interest from our distribution partners."
In fact, one Canadian Fujitsu distributor was so thrilled with the Kagami display they requested an additional version was translated into French. Sutherland fulfilled this special order as well.
"We always go out of our way to conceptualize and develop innovative and effective packaging solutions that differentiate our customers," said DeBarros. "Getting busy contractors to stop in their tracks for a new product is a challenging endeavor, and we're delighted that our display helped accomplish that."