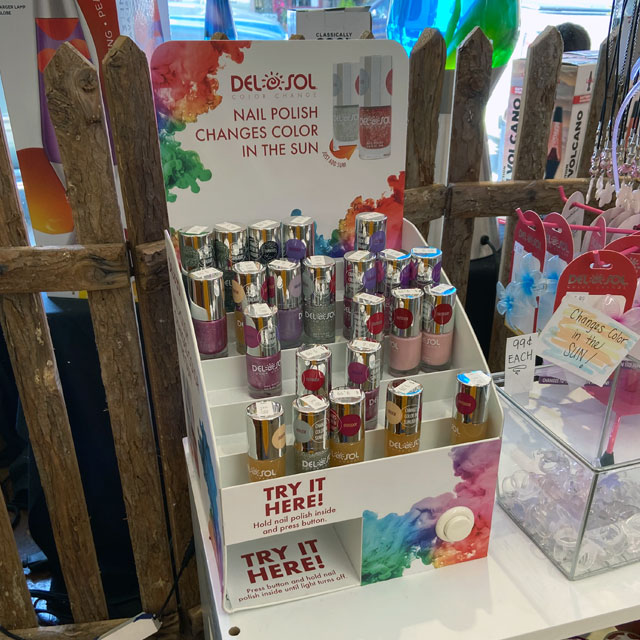 Color-Changing Nail Polish
Del Sol and its color-changing clothing and accessories all started from an idea in the early '90s about making a little sunshine go a long way. Company co-founders, Robert Pedersen, "Captain Bob," and son-in-law, Steve Schone, began searching for a way to bottle their idea in a form that everyone could enjoy whenever they stepped outside into sunlight.
Today, Del Sol's color-changing products include water bottles, sunglasses, apparel, accessories and nail polish.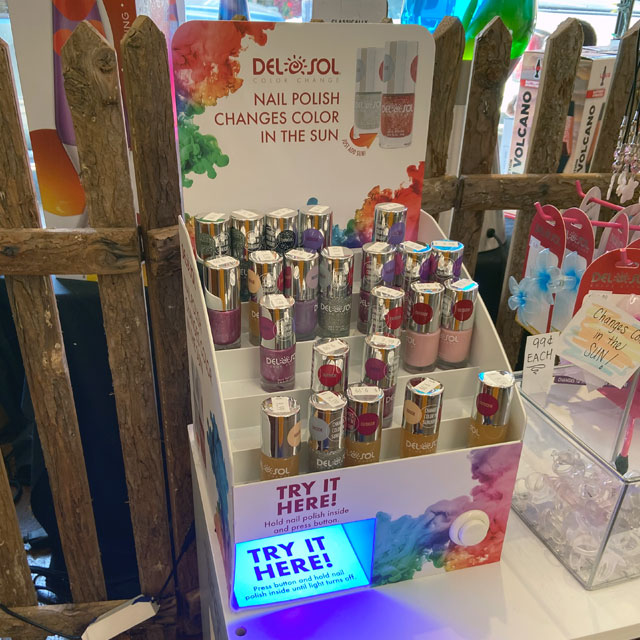 All of Del Sol's nail polishes, which are free of chemicals like toluene, formaldehyde, dibutyl phthalate and camphor, contain a special technology that reacts within seconds when exposed to sunlight. . With over 30 colors to choose from, Del Sol says that their polish will change even on a cloudy day.
To help shoppers better appreciate how the nail polish changes color, the brand rolled out this counter display which was spotted in a specialty shop. You can see from the photos how the push button activation 'replicates the 'sun', offering consumers a glimpse into the unique color-changing properties of the polish.
Each display held 35 bottles of nail polish on tiered shelving. A large riser provided additional billboard space as did both sides of the display.
Check out this side kick display Del Sol launched with Walmart.
Sources include:
Del Sol