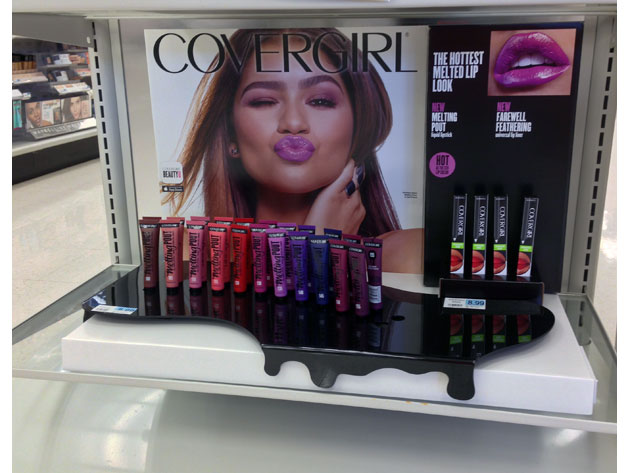 Stop The world And Melt With Covergirl
Recently launched with the Covergirl 2017 Collection, Melting Pout Liquid Lipstick is the brands most recent category innovation just making its way into major drug store retailers across the US.
Melting Pout is an all new high impact, opaque lipstick that delivers a satin finish that's not sticky or tacky. Available in 12 shade selections, Liquid Pout was being promoted in-store with this great shelf display.
Produced using a combination of corrugate and plastic, the display takes on a sculptural look with the clean lines of the white base and soft curves of the elevated, black plastic piece. The plastic was die cut and bent to form a 'dripping' finish that played well with the 'Melted Lip Look' tagline. All 12 colors were neatly on display along with some lip liner product.
As usual, Covergirl delivers another hot product that is melting store shelves! If you like the 'dripping' effect, check out a sneaker display that uses a similar technique to create a strong presence at retail.
Related
Covergirl Total Tease Shelf Display
Covergirl Use Both Floor Display
Covergirl So Lashy End Cap Display
If you're interested in viewing more Covergirl displays, go to our image gallery and type the word covergirl into the search box.