Popon is pleased to bring you our third installment of cool POP displays, trends and ideas. Our vigorous store checking schedule presents us with numerous neat examples of designers and brands coming together to deliver outstanding promotional materials that we felt needed to be shared with our audience of dedicated POP professionals.
As always, if you are interested in showcasing some of your unique designs and applications, do not hesitate to contact us to gather more details.
Campaign To "Kill a Gajillion Germs"
GOJO Industries has launched a germ-killing campaign and is asking parents, teachers and schools to take the KILL A GAJILLION GERMS pledge towards everyday healthy hand hygiene this school year. The KILL A GAJILLION GERMS campaign started July 15, 2013 with moms, dads and schools pledging to support healthy habits with the chance to win free Purell, dispensers and hand hygiene educational materials for their school along with individual prizes.
According to a recent PRNewswire press release, "Moms, teachers and principals all want a healthy school year," said Kathleen Hooker, Marketing Director, PURELL Consumer Business. "The PURELL KILL A GAJILLION GERMS campaign is celebrating and raising awareness for the everyday habit of good hand hygiene. In a study conducted in schools, absenteeism caused by illness was 51 percent lower in classrooms that used PURELL Hand Sanitizer regularly and implemented a hand hygiene educational program versus classrooms that did not."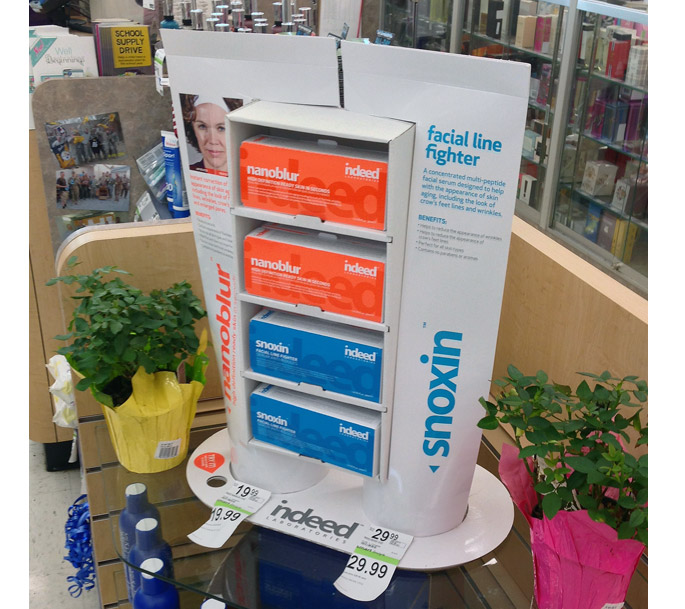 High-Definition POP Counter Display Works in Seconds
World renown beauty supplier Indeed Laboratories has partnered with Walgreens to roll-out two of their leading skin care products – snoxin and nanoblur. In a snap shot, both products are associated with minimizing the effects of aging on the skin.
To promote these products in-store, Indeed Labs chose the counter display shown above. Each side support represents the tubes that both of these products are packaged in. A simple 4 sided, rolled-over product tray is sandwiched between these supports which offer product features and benefits copy. Hard to say, as we didn't examine closely enough, but the display base appears to be layered litho labeled foam core. This display demonstrates a great effort at aligning brand assets and educating shoppers, all while maintaining a very clean and clinical appearance to the entire presentation.
A Wrench for Every Job
Since 1941 Liquid Wrench has been making premium lubricating, penetrating and protecting products for people who know that their choice of tools can make all the difference. Spotted in a rural tractor store in Ohio, this massive product replica really earns its place on the sales floor. This display is well built and can hold a variety of Liquid Wrench products. Because the display is so well constructed, it was very difficult to offer any insights into the internal gadgetry that keeps this floor stand in such fine shape. Nonetheless, excellent brand recognition and execution.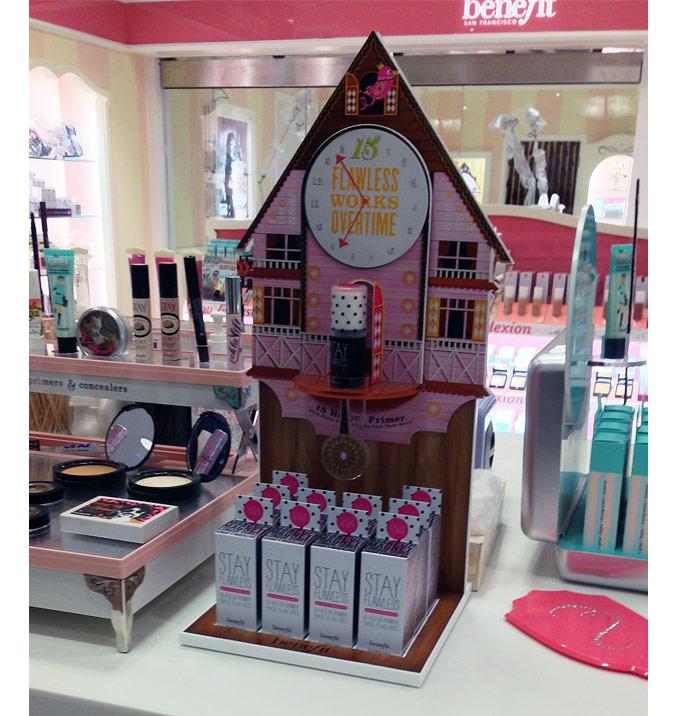 Cool Counter Display is Primed for Success
Benefit, a San Francisco based cosmetic company, is showcasing their top-selling Stay Flawless product with this whimsical display. Stay Flawless is a cosmetic accessory that acts like a magnet to lock on your foundation for 15 fresh & flawless hours. Representing consumer demographics, the house-shaped counter display is decorated with feminine colors and sports a large clock with the brands "Flawless Works Overtime" slogan. A live product was perched out on a balcony so shoppers could touch and feel the innovative primer stick.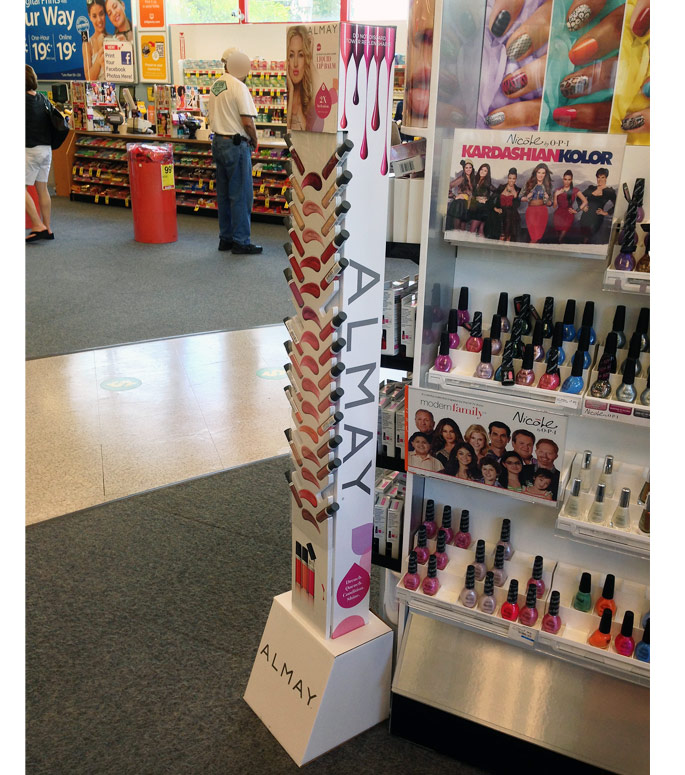 Lifesaver For Your Lips
According to their website, Almay's new liquid lip balm combines the lip conditioning care of a balm with the shiny color of your favorite gloss. Available in a wide shade of colors, the color + care lip balm is gluten free and hypoallergenic plus it provides 194% more moisture as compared to other products.
Almay recently launched color + care in several drug store and mass merchant chains across the US. One of several launch displays, the tower display shown above was spotted in CVS and really highlights the brand assets on the limited copy spaces available. Applied to a very clean white background, the front of the unit showcases the various shades available while the sides illustrate dripping moisture drops. Brand logos are represented on the base and both side panels as well.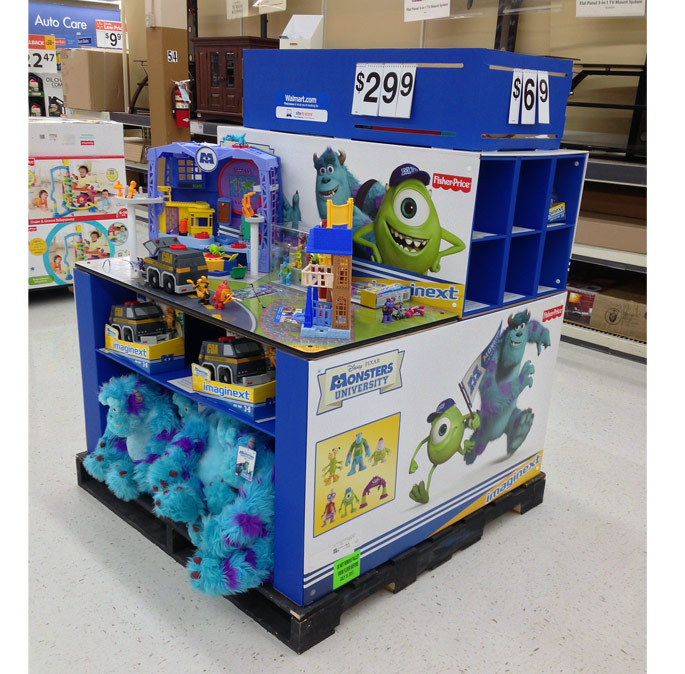 Fun…Fun…Fun…..Try Before You Buy!
Currently in theatres across the US, Monster University is A 3D computer-animated comedy produced by Pixar Animation Studios and released by Walt Disney Pictures. The film is a prequel to the 2001 Monsters, Inc. and is the first time Pixar has made a prequel film.
As we all know, movie launches these days are big to-do's, especially when it comes to merchandise and in-store promotions. The marketing folks for Monsters chose a unique way to combine both of these elements into one display. Sporting cubbies full of movie merchandise, this pallet display allows shoppers to try out some of the Fischer Price imaginext boxed product before they buy.
The interactive table-top portion of the display is strategically laid out with several toys to tease the kids and parents to the point of purchase. Abundant copy space on both sides of the pallet and on the top product area highlight some of the characters from the movie and instantly attract move fans at retail.