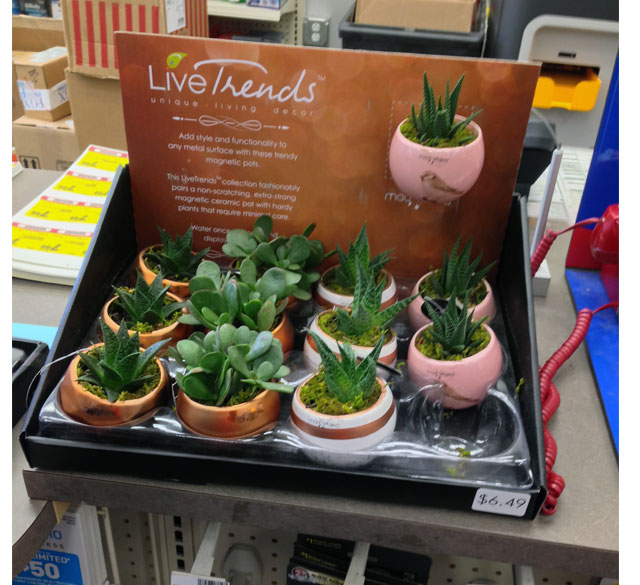 Livetrends Adds Style And Functionality to Metal Surfaces
LiveTrends is a design and marketing company that creates unique home products with live plants, trendy decor elements and fashion-forward style. As noted on their website…..'At LiveTrends our purpose is simple; to provide beautiful, living works of art that are unlike anything else in the marketplace.'
Livetrends was recently spotted at CVS promoting their line of magnetized pots. This collection pairs a non-scratching magnetic pot with hardy plant that enable decor fashionistas to adhere these living sculptures to any metal surface.
Neatly organized in a black, corrugate counter display, several different arrangements were merchandised in a vacuum formed inner tray. A magnetized section on the riser allowed retailers to adhere one of the products to it so shoppers could test the strength of the magnet and see how it works.
Related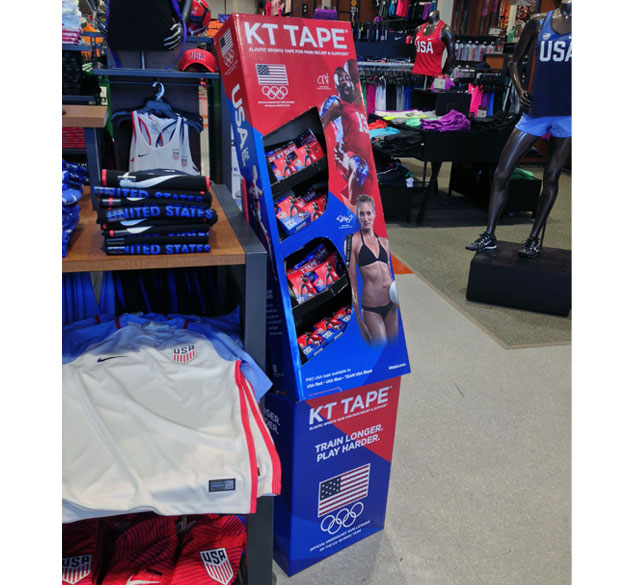 KT Tape Provides Support For 2016 Olympics
Known as kinesiology tape, KT Tape has been providing athletes pain relief with their category leading products. KT Tape is leveraging its athlete partnerships at the 2016 Olympics to create demand and further penetration into a market that still has lots of room for growth.
According to a recent report, The company has signed five-year partnerships with seven national governing bodies, including USA Gymnastics, USA Track & Field and USA Wrestling. From a sales perspective, developing relationships with governing bodies will connect KT Tape to thousands of athletes. "We can reach through to their membership at the elite level and recreational level," said CEO Greg Venner.
In addition to their exposure at the 2016 Olympics, the Utah-based company is expanding its in-store presence at major chains such as CVS, Walgreens and Dick's Sporting Goods. An example of this is the display we spotted at Dick's which demonstrates the brands vested interest in its Olympic partnership and high-profile athletes.
Related
KT Tape Sports Tape Side Kick Display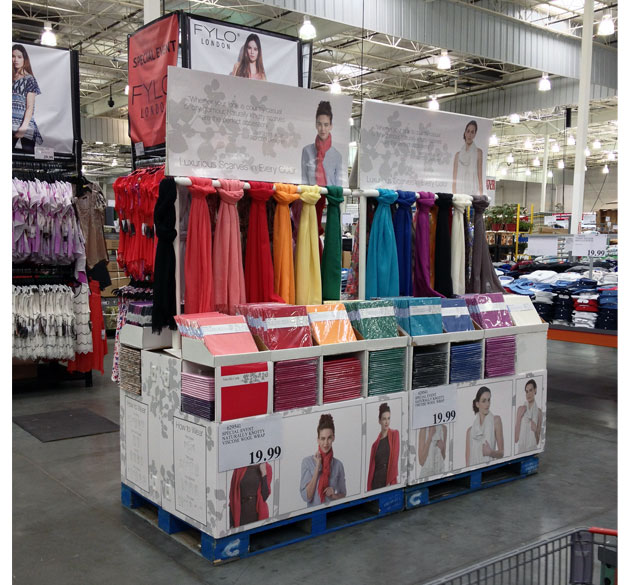 FYLO Makes Special Appearance At Costco
FYLO Clothes are perfect for on-the-go women who are not willing to kick their passion for fashion to the curb. FYLO recently made an appearance on the Costco special events schedule with this fixture-like pallet display. The back-to-back unit merchandised luxury scarves on one side and blouses on the other.
Unique to the club store environment, the sturdy display employed a combination of materials. Corrugate bases were printed with life shot models and how-to-use diagrams on the end panels. Plastic tubing formed upright supports that displayed the scarves and blouses. A large, four-sided, fabric FYLO Special Events banner sign captured shoppers attention from across the aisles.
Related
June & Daisy Leggins Pallet Display
Huggies Little Movers Demo Pallet
Habit Scent-Factor Hunting Clothes Display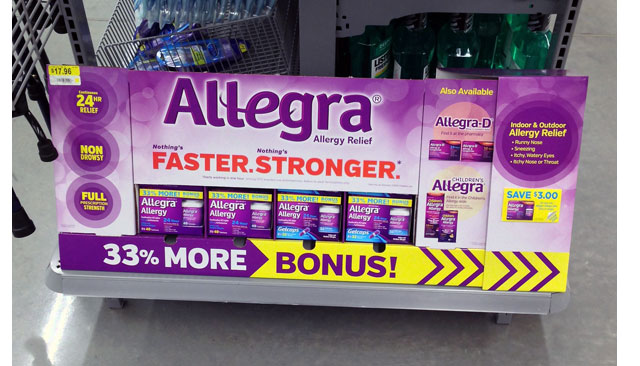 Allegra Slides Onto Walmart End Caps
Chattem, manufacturer of Allegra, recently made an appearance at Walmart with this nifty end cap display. Designed to accommodate 30″ or 36″ shelf widths, the display arrived at retail with an expandable panel on the right side that could be slid outward to fill up a 36″ shelf width. Great graphics and discount coupons made this display a real stand-out in store.
Related
Everything You Need Allergy End Cap
Nasacort Allegra Extra Care End Cap Display
Allegra Nasacort Turn Over A New Leaf End Cap Display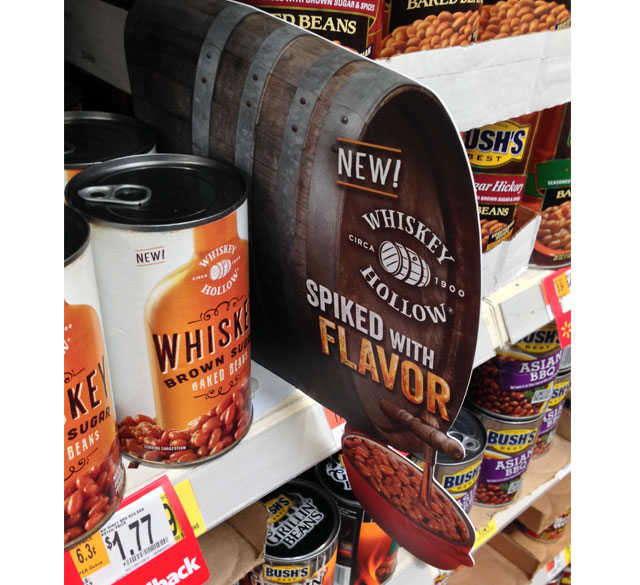 Whiskey Hollow Adds Flavor On-Shelf
Exclusively sold at Walmart, Whiskey Hollow is separating themselves from the crowded canned bean offerings with this die cut aisle violator. Available in 3 flavors, Whiskey Hollow beans are soaked in alcohol, which gives them a unique marketing advantage, not to mention a bold, rich flavor.
The aisle violator was designed in the shape of a whiskey barrel complete with a spout pouring spirits onto a bowl of beans. Very inviting and definitely noticeable in the category.
Related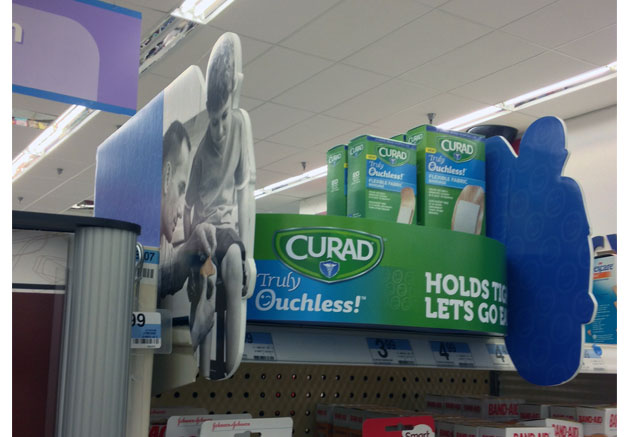 Not All Bandages Are The Same
Since being acquired by Medline in 2007, the CURAD brand has been re-energized – introducing many innovative solutions for a broad range of health concerns. Last summer, CURAD introduced their Truly Ouchless, flex line of bandages. The brand has taken this line to a new level with the new Truly Ouchless plastic, making the bandages even easier to secure after you've taken a peek at healing wounds.
To break out of the clutter and promote their new variant, CURAD launched this inline shelf display. Die cut, in-use life shots sandwiched a curved copy panel that supported several variants of their new product line. With the exception of an aisle violator or two, the bandages category is typically stagnant from a marketing perspective, which makes this display a real breakthrough.
Related
Curad Holds Tight Shelf Display