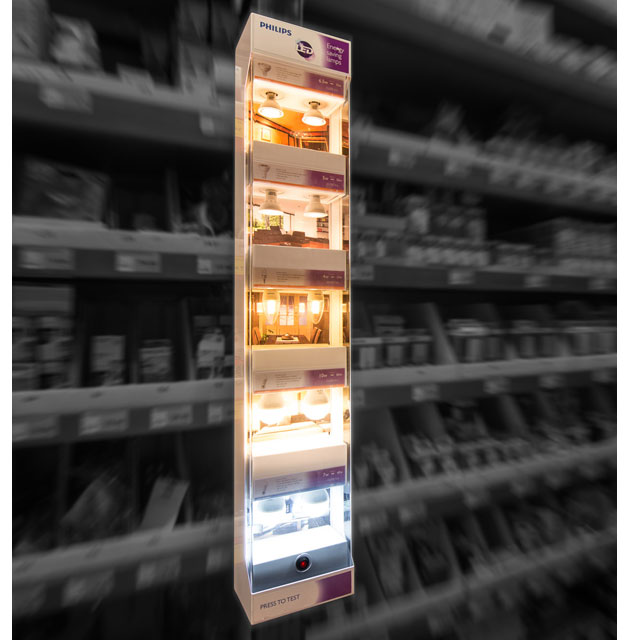 There is much discussion in the retail environment around the consumer path to purchase and it is without doubt that there is much to aid a brand moving forward in this arena including online and technological advancements. However in the cluttered retail space, sometimes the simplicity of an idea delivered with exceptional quality and execution is paramount in producing results by letting the product speak for itself. Especially if this idea is compounded across many environments with consistent brand impressions.
At Creative Instore Solutions (CIS) we recently collaborated with Philips Lighting Australia to produce a series of in store point of purchase activations, showing both retail and trade consumers transformations in LED (light-emitting diode) technology. The suite of displays, including counter, floor and hanging units provided brand consistency with a clean, modern aesthetic feel across both the retail and trade environment and are equipped to stand up to the rigors of the hardware channel.
Specifically the vertical hanging unit distributed to over 200 Bunnings retail stores nationally have become a standout in the lighting aisles. The activation with its single button test mechanism illuminates consumers on bulb options such as warm or cool lighting whilst also showcasing the exceptional quality standards of the Philips brand.
Displays such as this unit, which enhance an entire consumer category experience prove beneficial for both the brand and the retailers in the long term. This is achieved by differentiating the consumer experience from the norm. In this specific activation the simplicity in the design allowed the product to speak volumes, educating the consumers on LED technology and lighting options all whilst showcasing the exceptional brand quality. These point of purchase displays in the retail environment were complimented by trade displays of a similar look and feel ensuring consistent messaging continued across all markets and channels.
"Creative Instore Solutions encapsulated our brand vision to re-educate consumers who have been buying traditional incandescent globes for over 100 years on the benefits of what an LED globe can do, including providing immediate, significant energy savings all whilst enhancing the home atmosphere" said Jon Bell, Channel Manager – Retail, Philips Lighting Australia. "Ensuring that the displays, like our product, are long standing and credible CIS included interchangeable data strips for continued consumer education" he continued.
At CIS we continue to produce sustainable solutions that help our clients maximise the return on their investment through flexibility, unit strength and longevity which enable them to capture and maintain premium positioning in store. Our units are renowned for innovative conversion of previously unused retail spaces for clients and the vertical hanging unit for Philips Lightings, is a perfect example of this methodology in practice. Perhaps it's time for you to see the light on what in store activations can do for your brand.