As we brace ourselves for the scorching summer, beverage brands are leaving no stone unturned to establish their position in the market. The latest to do this is Rasna, which has introduced their brand new logo to kick off the season in style. Don't miss the Rabobank Beverages market report and the take on the Indian beverages brands scene by shopper marketing experts (see below).
Fairy Dharawat – VJ Media Works
Rasna is welcoming the arrival of summer with a new identity at retail created to connect health-conscious consumers with a fruity marketing campaign. With the help of Pyramid Retail Solution Pvt Ltd, Rasna was able to translate their new communication in store using three POP displays that created a strong presence for the campaign.
The brand has essentailly changed its retail communication language and logo to associate the product with fruits. Samir Jagtap, National Sales Head – Rasna adds on their new logo, "We have changed our brand identity to strengthen our association with fruits among our consumers. The idea is that the consumer should relate Rasna with fruits directly." He further adds on the design of the displays, "The customer needs simple merchandisers that are easy to understand, have ample stocking space and fruity appeal."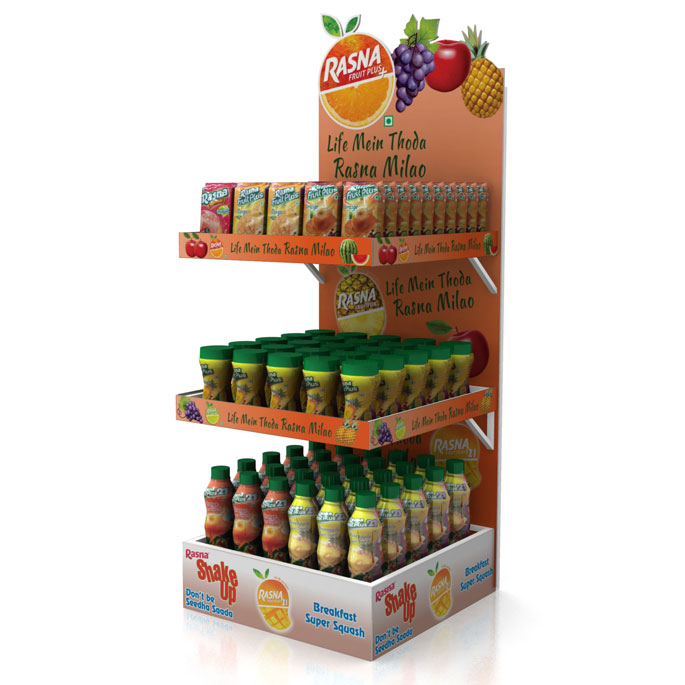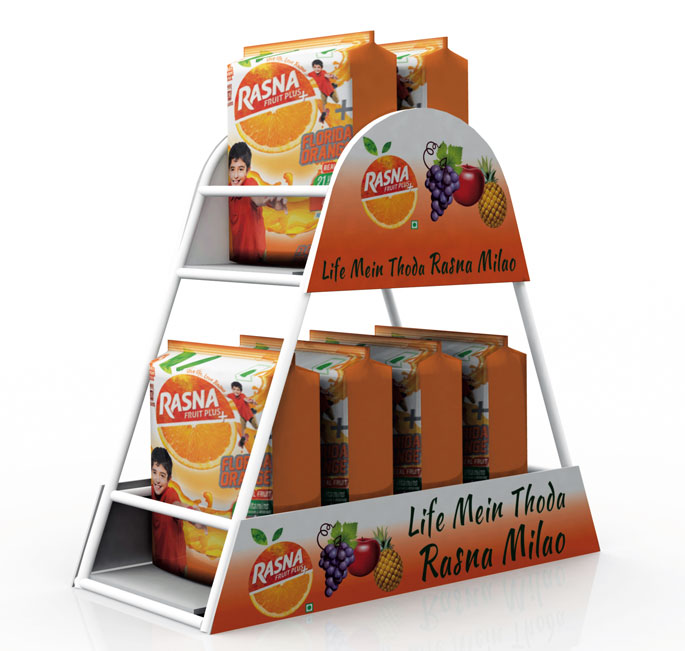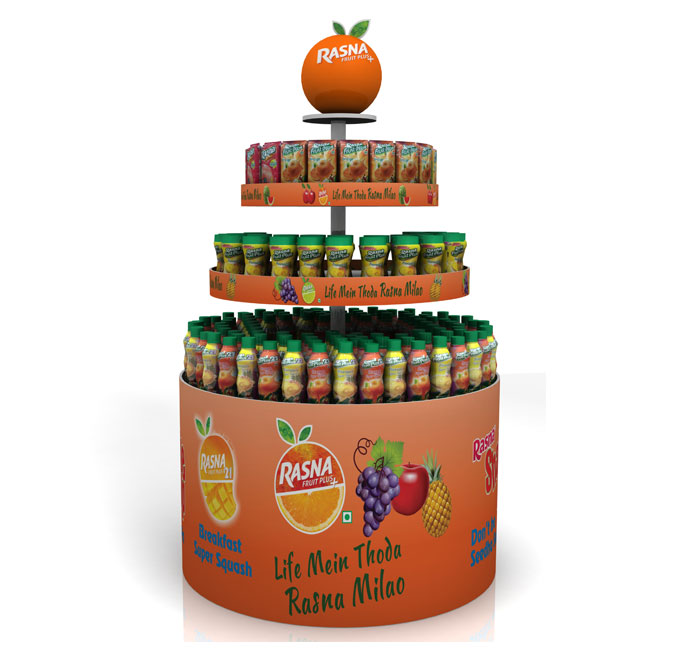 All three displays shown above were produced using mostly metal and MDF while sunboard was used for the branding spaces. Anirudh, Director, Pyramid Retail Solutions Pvt Ltd, adds, "When we created units for the last retail promotion, it was a big hit. Rasna wished to incorporate the previous successes with this new campaign." This time though, Rasna has updated their logo and the entire communication. They want to be known as the fruit product."
In closing Samir says, "We are sure this new campaign will help boost up sales this summer. We have created a strong product segment for the brand in the fruit based beverage category. We are confident that the launch is going to be a fruitful one."
>>> SPECIAL REPORT <<<
All That Fizz In Store ….
Retail consultants and shopper marketing experts share their take on the retail trends in the Indian beverages market and where it's headed.
"The nutritional drinks are occupying far greater share of shelf now and the retail off-take ratio has also grown significantly even in non-pharma stores. It would be rewarding for the marketers, however, to expand the target segment definition to sustain the momentum. The current focus is primarily on young health conscious males."- Kamaljit Anand, MD, KiE Square Consulting Pvt Ltd
"The industry is seeing a transition as there is shift in the consumers' preference for non-carbonated fruit beverages, thanks to obesity and other health related issues. There is huge potential and scope in the industry resulting in a lot of investment and growth at the point of purchase. Hyperspace ( Shoppers marketing unit of Posterscope Group) is tracking the changes and is working with clients in this ever-changing environment." – Harsh Nayak, Regional Director Posterscope Asia Pacific
"The growth in the beverage market, both in-home and out-of-home consumption, is being driven by rising incomes as well as lifestyles changes. Packaged drinks in bottles or tetrapacks are boosted by the consumers' desire to ensure hygiene and partly by convenience. The tipping point in consumption happens when these drinks become part of the lifestyle, as has happened for tea and coffee, and that is what most beverage companies aim to do, both by deepening penetration and availability and by way of their marketing campaigns." – Devangshu DUTTA, Chief Executive, Third Eyesight
"With the temperatures rising, the heat on branding and brand promotions has begun in the beverages category. We are seeing price wars, introduction of new SKUs and surely expect new variants. The shopper has multiple options to choose from, right from powdered, to concentrated, to non-fizz to fizz drinks and the list can go on. It would be interesting to see how the shopper behaves and how beverage players will woo the shoppers." – Bharat Virmani, Director, Saatchi & Saatchi X.