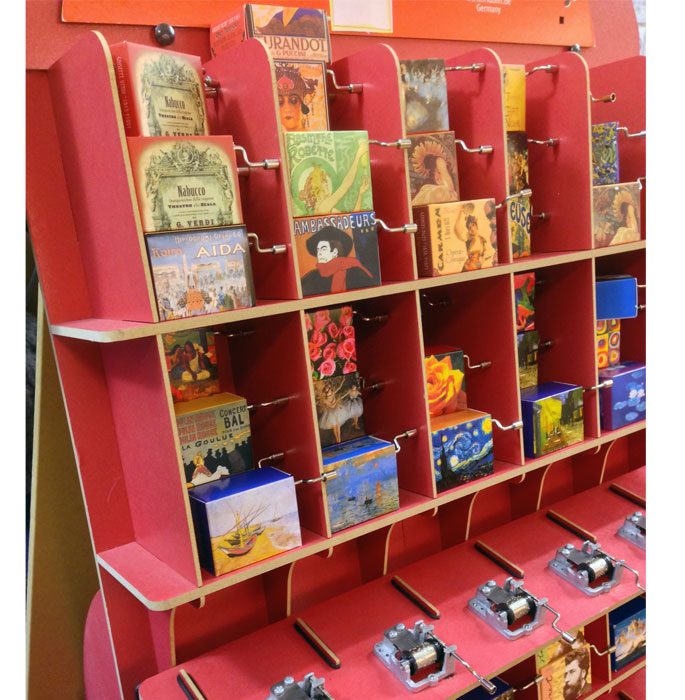 Founded in 1986, the Fridolin company was just a small toy shop located in Herrenberg Germany, a quaint city nestled snugly at the edge of the Black Forest. In 1991, they expanded their design and production capabilities to supply retailers throughout Germany with a broader range of products, one of them being music boxes. Today, Fridolin reaches all age groups with their extensive product portfolio that incorporates themes such as art, games, presents and modern design.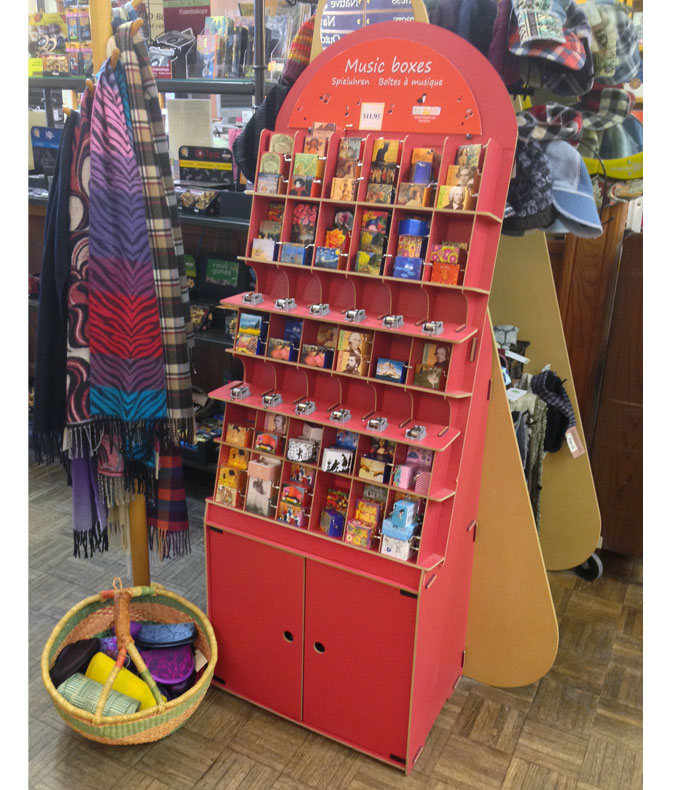 Fridolin is marketing their ornate hand-cranked music boxes in select gift shops and book stores with an interactive floor display……we found the one shown above in a book store. Besides all of the visually attractive music boxes on display, the next thing that caught our eye was the method in which the unit was designed and constructed.
The various red panels that comprise the display appeared to be some sort of laminated press board that was manufactured like puzzle pieces. The slotted components fit together with a series of strategically placed, open-ended mortise and tenon style joints. (Mortise and tenon joints have been used by woodworkers for thousands of years due to their simplicity and strength). Oval-shaped rubber gaskets were fitted onto the exposed ends of the 'tenons' to create a non-slip friction fit.
Besides the cool engineering, the display was designed to hold a lot of product. Three separate areas enable several of the music boxes to be stacked in any of the 30 product compartments. The center section showcased 12 of the music boxes – minus their decorative covers – which exposed their inner workings and most importantly……enabled shoppers to give the handles a crank to hear the melodies that Fridolin music boxes are so famous for. The bottom portion of the display was designed to hold additional products which are accessible via the two hinged doors.
The images below are a few more examples of music box POP displays, some of them employing similar production methods as the floor display.