Trending POP In-Store : Edition 6
Popon is pleased to bring you our sixth installment of cool POP displays, trends and ideas. Our vigorous store checking schedule presents us with numerous neat examples of designers and brands coming together to deliver outstanding promotional materials that we like to share with our audience of dedicated POP professionals.
As always, if you are interested in showcasing some of your unique designs and applications, do not hesitate to contact us for more details.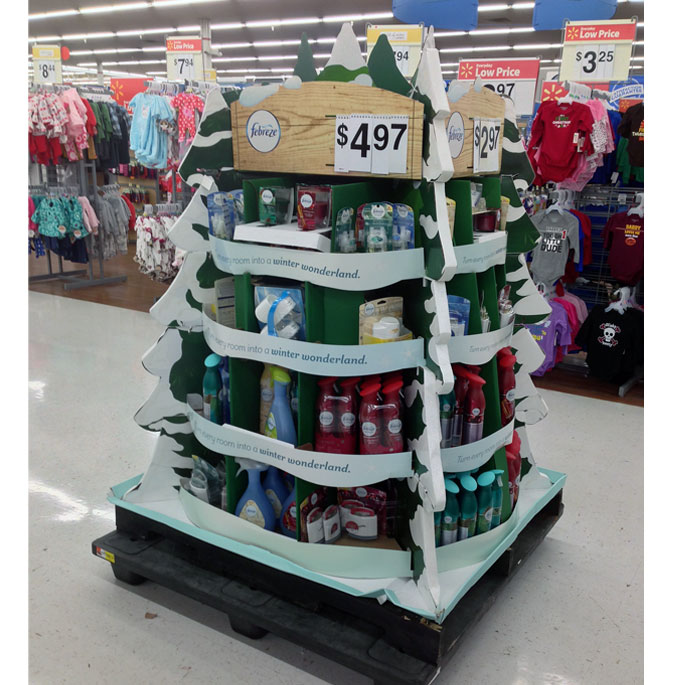 Febreze Winter Wonderland Holiday Pallet
P&G has launched a seasonal program called Secrets of the Season which aims to help consumers navigate the holidays. The program runs from November thru December and offers shoppers several different touch points. The campaign also launched a two month online sweepstakes which will be giving away weekly prizes and one grand prize valued at $4,000.
Febreze, one of many in P&G's trusted portfolio of brands, has rolled out a festive holiday-themed pallet display for mass merchant retailers. This holiday-shaped tree display holds several Febreze variants ranging from Air Effects, Set & Refresh, Candles and Car Vent Clips.
Thick pieces of shaped styrofoam were laminated with tree graphics and are the key focal point on the corners of the design. Shoppable from four sides, all of the products are neatly arranged in their own cubbies. Curved paperboard shelf lips are printed with brand messaging and are die cut to resemble soft snow mounds which visually tie in the tree components. A rolled over tray on the bottom offers a bit of protection and adds to the winter color scheme.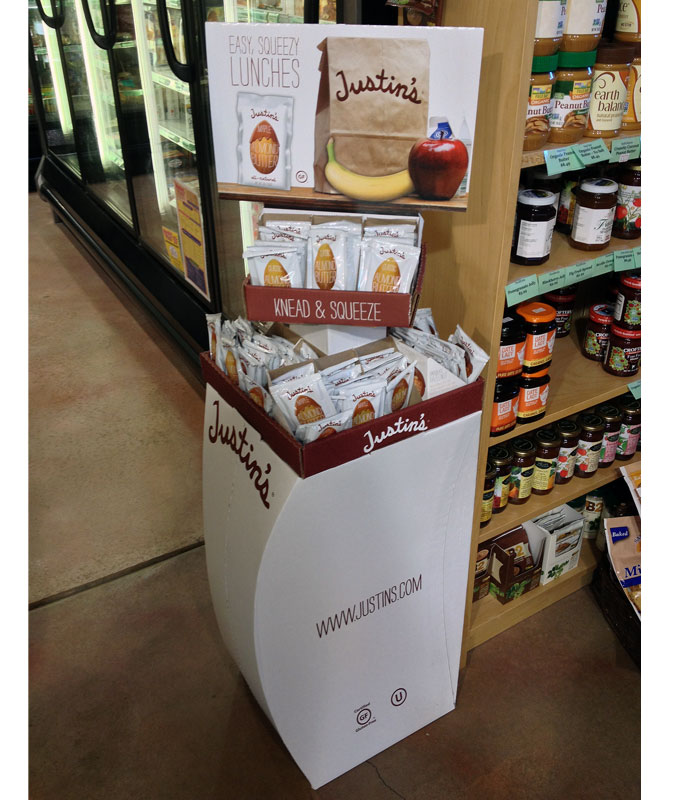 Justin's Floor Display Helps Shoppers Kneed & Squeeze
Founded in 2002 by entrepreneur Justin Gold, the brand was born after Justin started selling nut butter at the local farmer markets in Boulder Colorado. Inspired by the too-sweet energy gel packs he would take on mountain bike rides, Gold got the idea of a squeeze pack filled with nut butter as a healthy protein-rich alternative to artificial energy boosters. The squeeze-packs became a hit amongst active-types and parents looking for healthy snacks for their kids.
Source – Entrepreneur
For Gold, sustainability and organic ingredients are integral to his business approach. Today, the brand includes eight types of nut butter, peanut butter cups and a line of candy bars. To extend its reach, Justin's is making a debut in select specialty retailers with a fun and curvy floor display. Designed to hold pouched product, the overall theme is clean and simple….here is a healthy snack that you can pack in your kids lunch. Note the placement of the display…right next to other organic peanut butter products…….category disruption!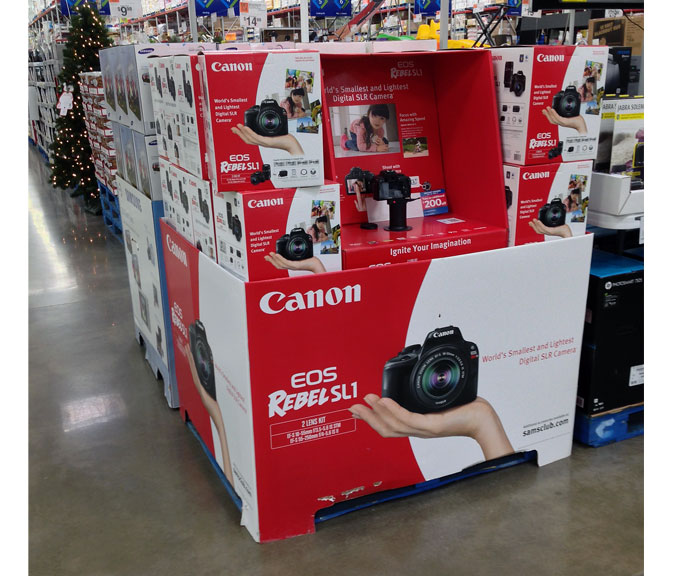 Canon Rebel Goes Interactive at Club Stores
According to Canon's website…………….As the world's smallest and lightest digital SLR camera*, the new EOS Rebel SL1 is small in size but enormous in performance. With a newly-designed Canon 18.0 Megapixel sensor and speedy Canon DIGIC 5 Image Processor, it delivers images of extraordinary quality – ideal for those stepping up from a smartphone or compact camera.
Canon has taken this camera into club stores and is showcasing all of its fine points with this pallet display. Highlighting the Rebel's compact size and weight, a large graphic of a hand holding the camera appears on all four sides of the pallet base. No need for corrugate trays as the footprint of the product is stable enough to simply stack one on top of the other. The coolest feature on this display is the angled 'try me' enclosure that lets shoppers touch and feel the camera……so they can hold it in their hand and replicate the suggestive visuals that appear on the packaging and pallet base.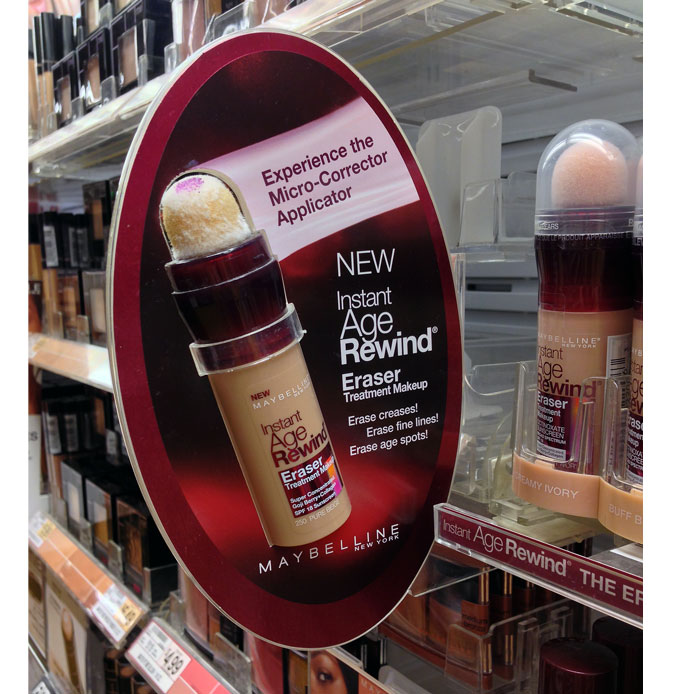 Instant Age Rewind Aisle Violator is Soft to The Touch
Maybelline's Instant Rewind Eraser is a new product that helps reduce puffiness and fine lines around the eyes. Maybelline has conducted 7 years of research and received 5 patents on the product. The proprietary formula consists of goji berries and haloxyl which erase the appearance of dark circles around the eyes.
Of the 5 patents granted, one of them was for the unique applicator which micro-fills and smoothes imperfections on the skin's surface. Maybelline is bringing attention to this feature with an interactive aisle violator that enables shoppers to 'Experience the Micro-Corrector Applicator' by touching a live product that was designed to be seen from both sides of the aisles.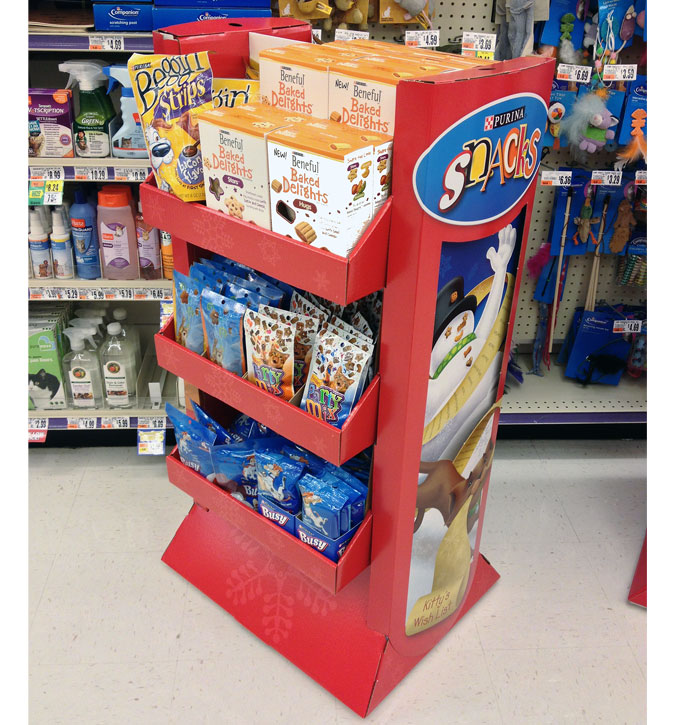 Purina Snowman Appears to Pop Out of Shadow Box
This holiday Purina floor display is actually an older find we stumbled upon in our archives. We had every intention of bringing it to you when it was fresh but just didn't work out that way. Anyhow, better late than never. The thing that caught our eye on this display was the unique shadow box treatment to the curved side supports. If you click here, you can view a better shot of the clever approach taken with the graphic and structural design that gives the illusion of even greater depth to the snowman, cat and snowflake background…….very unique for a pet food entry.
If you notice, the side support pieces were designed to fit a pole into the top of them. Unfortunately, the retailer we spotted this unit at didn't finish the job, or so we assume. Would have been neat to see the display in all of its glory.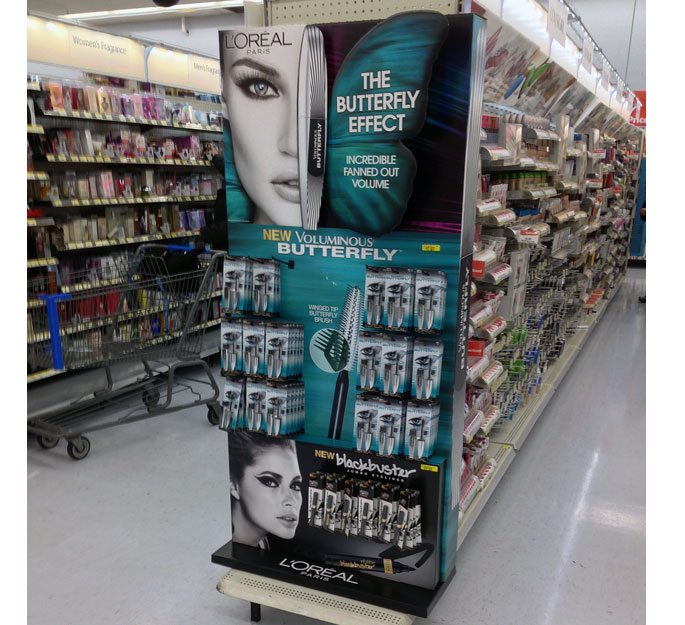 End Cap Display Catches The Butterfly Effect
L'Oreal Paris delivers another breakthrough with their new Voluminous Butterfly Mascara. Touted as one of L'Oreal's most exciting mascara innovations yet, the new fiber infused formula delivers lashes with up to 6x more volume. The unique cocoon fibers of the butterfly brush wrap lashes in a soft, delicate veil to create silky, spectacular lashes that flutter and fan out.
If you wish to view additional displays associated with the Butterfly Effect launch, click here.