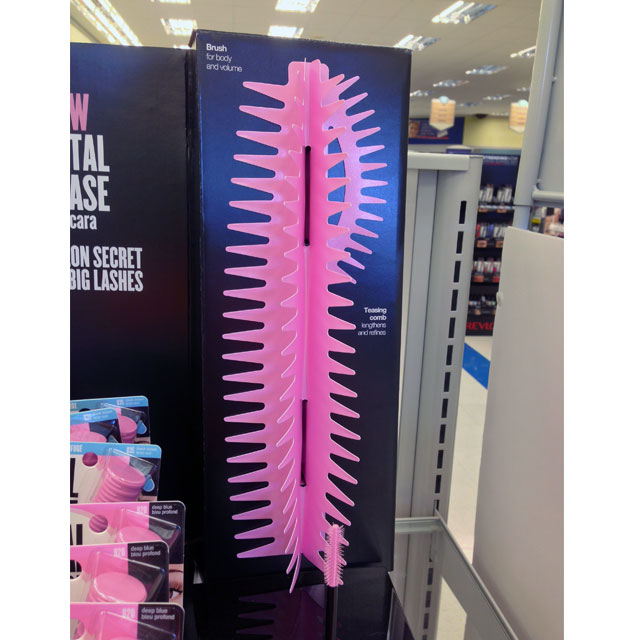 More Volume Than Ever With Total Tease
Always on the cutting-edge with inventive mascara releases, Covergirl has done it again with their New Total Tease. Available in 5 shades, Total Tease Mascara is revolutionizing the mascara wand with its two-sided precision lash comb.
The normal side of the wand coats lashes first, then the small, precise end enables you to pinpoint where you want your tease-to-be. The 'tease end' , which adds volume and separation to lashes, is what makes this product unique in the mascara category.
To promote the Total Tease in-store, the brand deployed several POP displays, including the shelf display shown here. Designed using mixed materials, the display does a great job of delivering the story and highlighting product assets.
As with most new mascara wand launches, Covergirl is known for incorporating a tactile component with their merchandisers so shoppers can touch and feel the innovation. This display utilizes a plastic, oversized, interactive wand to demonstrate the unique tease wand. In addition, a live product was placed in front of the demo wand to complete the touch and purchase experience.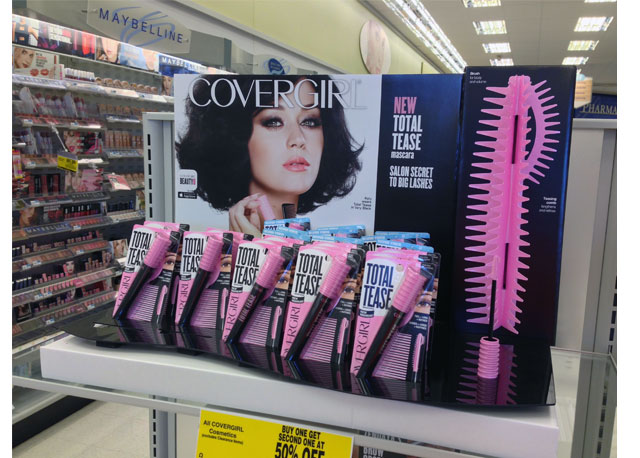 Related
New So Lashy Covergirl Shelf Display
Covergirl So Lashy End Cap Display
Covergirl Corner to Corner Shelf Display
If you're interested in viewing more Covergirl displays, go to our image gallery and type the word covergirl into the search box.