Add Organic Appeal to Food Displays with Wood-Look Melamine Platters
Add a natural, organic look to food displays with the Wood-Look Melamine Serving Platter, new from FFR Merchandising.
The Wood-Look Melamine Serving Platters feature the natural look and high-end appeal of wood with the benefits of food-safe melamine. Available in two unique finishes: Elm and Bamboo are both attractive and appealing.
Available in both square and rectangular shapes, the platters are flat to maximize merchandising area. The platters can be used as a full set for maximum impact or with an individual piece as a case accent.
All pieces are constructed of durable food safe melamine and are commercial dishwasher safe.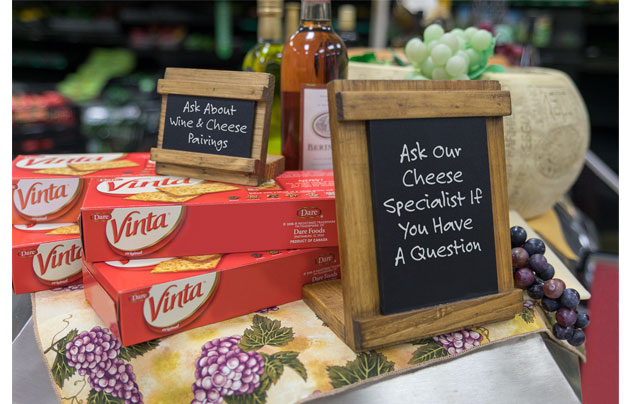 Eco-Friendly Reclaimed Wood Chalkboard Stand Adds Charm to Displays
Eco-friendly Reclaimed Wood Chalkboard Stand, new from FFR Merchandising, allows quick sign changes for specials, menus and more. With a rustic feel and plenty of charm, the stand adds appeal to displays, counters and tables.
Available in three sizes, the wood stand with a black wet erase board is easy to write on, and ink can be removed with warm soapy water and a soft cloth. Use with FFR's Chalkboard Pen for an authentic chalk writing look.
Chalkboard sizes available: 3-1⁄2″ W x 2″ H, 4″ W x 6″ H, and 8-1⁄2″ W x 11″ H.
FFR Merchandising, Inc. leads the industry in providing Total Retail Solutions® designed to increase sales, improve category management, limit shrink and reduce labor at the point of sale. These products include merchandising and loss prevention systems; label, sign and literature holders; product merchandisers and display components; as well as fresh area merchandising products, supplies and backroom organization solutions. FFR offers start-to-finish solution delivery, including consultation, design, prototyping, production, fulfillment and purchase consolidation. From the front door to the backroom, FFR provides merchandising, display, and efficiency tools for the entire store.
For more information, or to request a free 2017 FFR TOTAL RETAIL SOLUTIONS® catalog, call toll-free (800) 422-2547, or visit www.ffr.com.