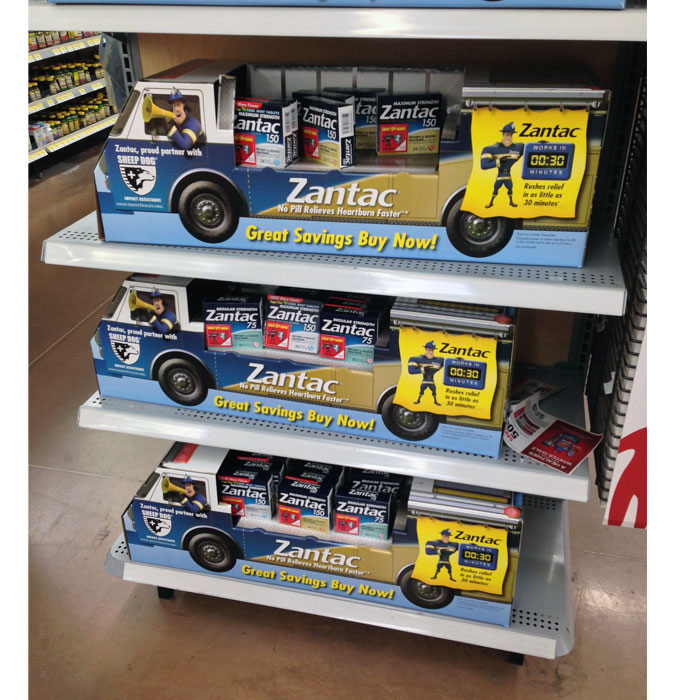 Zantac End Cap Displays Fight Heartburn
Captain Zantac and his firefighter crew raced into Walmart recently to help heartburn sufferers get relief. In addition to offering shoppers a $3.00 savings with purchase, Zantac used this on-shelf opportunity to showcase their partnership with Sheep Dog.
According to Sheep Dog's website, Sheep Dog Impact Assistance (SDIA) is an all-volunteer non-profit organization that serves the needs of the men and women serving in our military, law enforcement, fire & rescue and EMS services – a community of people we call "Sheep Dogs." A graphic call-out was placed near the front of the display to denote Zantac's involvement with this great cause.
Zantac To The Rescue – The end cap displays were designed in the shape of a fire truck which continues the brands long-standing campaign using Captain Zantac as the hero who provides fast relief to heartburn sufferers. Over the years, the fast-acting…..fire fighting theme has been supported with very effective print and television ads, but has now taken on a dimensional marketing role at retail with this POP merchandiser.
Several graphic details, such as the sirens on the roof, can be found on all surfaces of the display from bumper to bumper. Brand icon Captain Zantac is depicted driving the fire truck and also demonstrates the speed in which Zantac goes to work with a countdown clock near the tail end of the display. Zantac's website reinforces these claims that 'No Pill Relieves Heartburn Faster" using a similar countdown clock which compares their product against the recently launched Nexium24HR. Sandwiched in the middle, several Zantac variants offer shoppers a wide range of solutions for their heartburn relief needs.