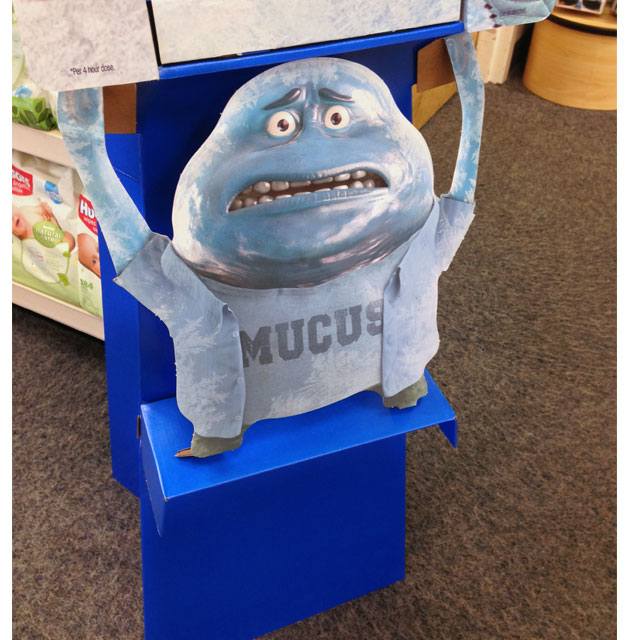 For over a decade, Reckitt Benckiser has been a category leader with products that help fight mucus and offer congestion relief. According to the brand's website, Mucinex started out as a 12-hour, over-the-counter cough medication, helping break up mucus that causes coughs and chest tightness. Now it has developed into a range  of cough and chest congestion, multi-symptom, and sinus remedies for adults and children.
Reckitt Benckiser recently launched a new variant in their congestion relief line called Mucinex Fast-Max Clear & Cool. The new formula in Clear & Cool is specially formulated to coat your throat and release a menthol burst, which you can feel all the way into your nasal passages.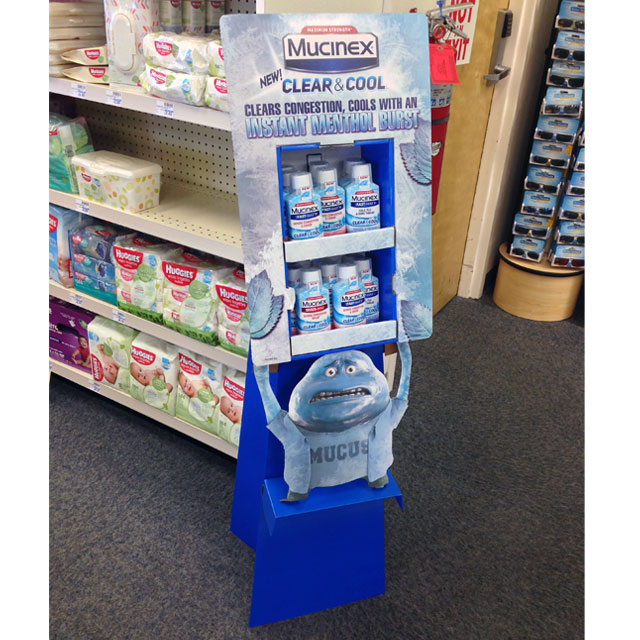 The brand deployed this floor display to help promote their new product in drug stores across the U.S.. Designed to hold 12 six ounce bottles (Fast-Max and Sinus-Max), the display does a great job of instantly conveying product attributes with the refreshing, menthol-themed graphics printed on the tray shroud. Typically shown in slime green, Mr. Mucus was given a makeover for this launch. The new blue brand icon was chillin' on a corrugated shelf, positioned like he was supporting the tray above his head.
Related
Mucinex Hologram Floor Display
Mucinex Fast Max Arch Aisle Display