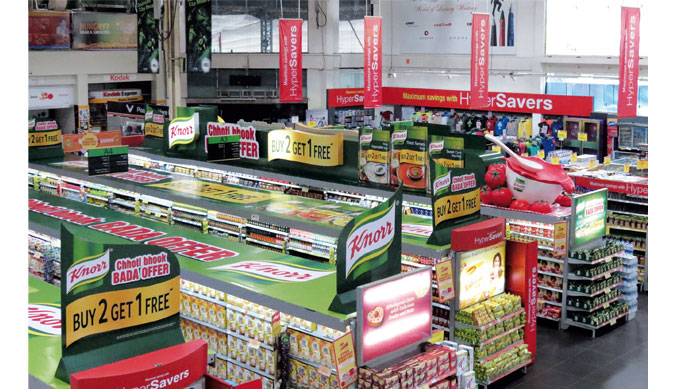 Knorr Soup, the popular brand from Hindustan Unilever, recently created an "extremely impactful" innovation for the entire Knorr product line to gain high visibility at MT retail touch points. Executed by Sab Creations, the novel point-of-purchase units have been rolled across 100 stores pan India.
As Knorr has introduced a Buy2 Get1 offer on select Soups, they wanted the POP to highlight this offer along with the communication "Choti Bhook Mitao". For the brand campaign, Sab also had to develop visibility ideas for Knorr's instant soups which hinged on its preparation time of only 1 minute.
Sairam Thiagaraja, CEO, Sab Creations Pvt. Ltd, shares, "Since the Knorr brand has multiple product lines, we had to develop different P-O-S elements for each. Also, as this was a nationwide activity in standalone stores as well as many of the super and hypermarkets, we developed customized solutions for different retailers…..but the main focus was to maintain the uniformity of the P-O-S in terms of look and feel irrespective of the store type. This project also proved to be extremely challenging for us since most of these outlets required a store visit or recce in order to finalize the customized solutions."
For this Knorr campaign Sab created several display solutions:
• Category Arch Headers with 3D Cutouts
• Hypercity Canopy Dummy
• Innovative clock type parasite hangers (Instant Soups)
• Eye-catchy FSU with Splash and Croutons (Instant Soups)
Also, they developed the design provided by Knorr for a portfolio unit which carried the whole Knorr range. This was aptly called the "Meal Station". Other elements like Entrance Arch-gates, Dump-bins, Floor Graphics, Category Branding, etc. were also deployed for this campaign.
On the manufacturing process, Balaji Murugesan, Director, Sab Creations Pvt. Ltd, said, "Our capabilities in multi-material fabrication was key during the manufacturing process. The display elements used various types of materials which had to be combined in order to get the optimum look and feel without compromising on cost effectiveness or quality."
Thiagaraja added: "For fabrication, we used materials such as FRP, MDF, MS pipe, Duco-paint, digital prints, corrugated plastic, etc.  It took 30 days to complete the entire project. The main challenge was to connect different collaterals for different chains without any mix up. We also adopted various process like hand sketch, 3d proto-typing and clay modelling to minimize overlap."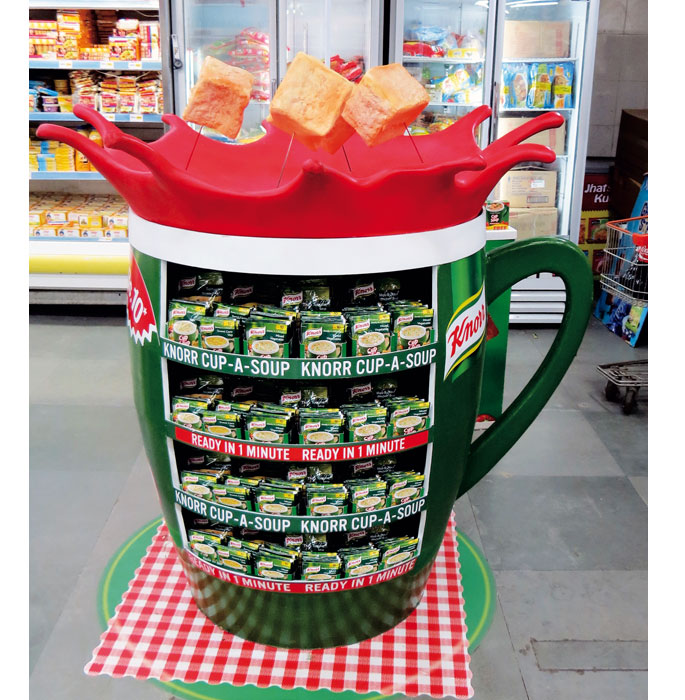 Murugesan observed that the "deployment was again extremely challenging, primarily due to the sheer number of different elements that were to be connected to the individual outlets, with some  stores requiring 10 types of P-O-S. The primary highlight (in most of the stores) across India was the Cup floor display. This was a 4ft x 4ft unit with soup splash and croutons on the top. To move and install this unit without damage or breakages was extremely difficult to say the least."
He added, "Thus, if we look at the activation highlights by order of importance, for Sab they were the Cup FSU (Big & Small), putting up the branding work accurately in Hypercity – Malad ( especially the Outside Pillar & Canopy), category branding in select hypermarkets (Hypercity, Reliance, ABRL & Foodbazaar), parasite hangers and lastly the meal station displays (single & double sided)."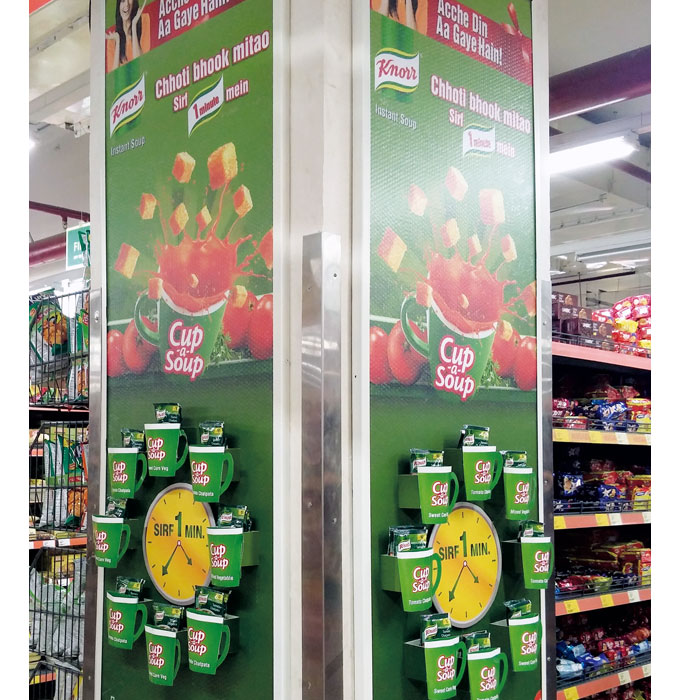 On a concluding note, Thiagaraja said, "The Knorr campaign proved to be a major effort in the category. The "Chhoti Bhook Mitao" activation was also well advertised in outdoor and other forms of media, enabling Knorr to bring in more shopper involvement to the food category. This was amply supported by wet sampling at the point of purchase which resulted in conversions. This activity is expected to grow the category and Knorr's portfolio which is a welcome sign for the retailer as-well. This promotion is a classic example of the perfect marriage between Brand, Shopper and Retailer."