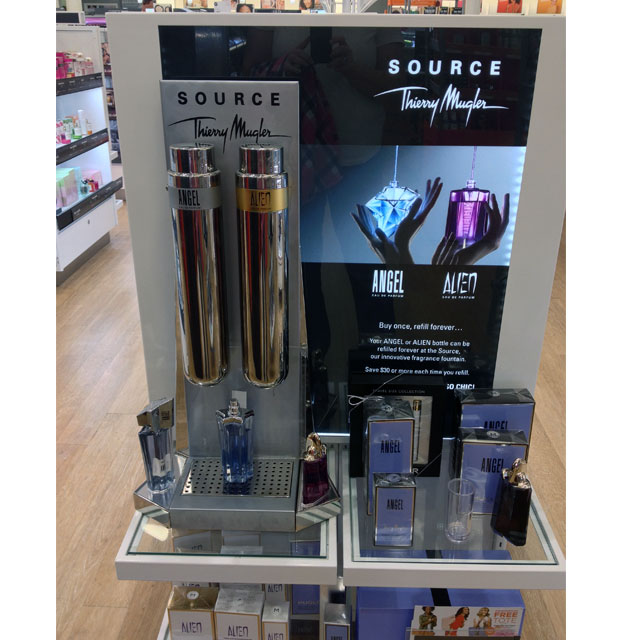 Since 1992, The Source has reinvented the tradition of perfume fountains born in the 18th century. Exquisite perfume bottles from major perfume houses, often designed by famous Crystal Engravers, were refilled as desired with their original fragrance. It was a special service for a select circle that showed respect for the splendor of the bottles. This was true luxury. Queen Marie-Antoinette even had her own personal perfume fountain. Loyal Mugler customers can now enjoy The Source to mirror this magical experience. *
Thierry Mugler was recently spotted at Ulta Beauty using this dedicated 'perfume fountain' end cap display to promote their Angel and Alien perfumes. A changeable illuminated panel showcased the two variant bottles right next to the refill tubes, adding a touch of elegance and luxury. Metal shelves with glass inserts completed the look.
Related
Chanel Les Parfums Counter Display
Dior Fragrance Counter Display
Sources
__________________________________________________________________________________
In honor of Earth Day, here's a way to make your beauty routine a little easier on the
environment. This past February, Thierry Mugler took its Source fragrance fountain
nationwide so that customers can refill their ANGEL Eau de Parfum or ALIEN Eau de Parfum
right at department store beauty counters.
It not only allows Mugler fans to reuse the brand's intricate bottles, but it also saves
money since the perfume refill costs less than buying a whole new bottle. The fragrance
fountain looks futuristic, but it's based on a very retro idea. There's a century-old
tradition of refilling perfume bottles in-store, instead of constantly buying new bottles.
https://dc.racked.com/2014/4/22/7604599/thierry-mugler-the-source-fragrance-fountain