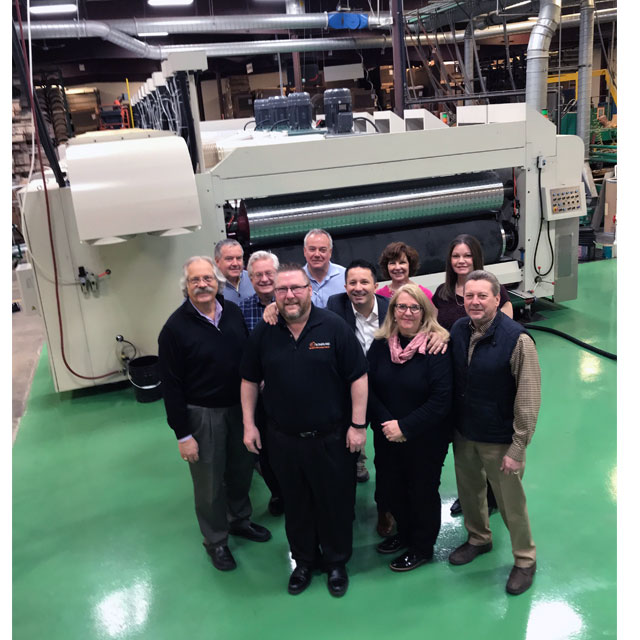 Strong Demand for Innovative Direct-to-Corrugated Printing Leads to Surge in Hiring and Multimillion-dollar Infrastructure Investment
Sutherland Packaging, a leader in corrugated point-of-purchase (POP) displays and packaging for retail locations and club stores, saw a 30 percent year-over-year jump in business from 2016 to 2017, with the upward trend expected to continue well into 2018. Driven by a spike in demand, the growth directly led to some three dozen new employees, expanded operations that now entails three-shift, 24/7 production, and a multimillion-dollar infrastructure investment that will further broaden the company's portfolio of printing capabilities.
Among its range of specialties, Sutherland Packaging has gained market share thanks to its innovative direct printing technique, which circumvents the traditional practice of mounting a lithographic label over corrugated substrates. Ideal for the retail consumer products sector and club store displays, this maximal impact, cost-effective full-color technology enables customers to save on both material expenditures and shipping times.
Increasingly, however, Sutherland Packaging has become known for its versatile solutions and cutting-edge capabilities. In addition to direct-to-corrugated and more mainstream lithographic label printing, the company offers high-speed digital production with exacting color matching, and has made steady headway into the burgeoning e-commerce sector with its impactful, brand-bolstering shipper containers.
Equipment investments also have increased Sutherland's one-pass, double-sided printing abilities – an efficient yet historically challenging process highly sought-after by many current and prospective customers.
"More and more customers are coming to appreciate the way our broad portfolio of print services lends itself to ultra-customized, hybrid solutions," said Tom Sutherland, President of Sutherland Packaging. "Considering all the variables attached to point-of-purchase displays, e-commerce packages and other sales solutions, our ability to mix and match printing techniques – for example, by combining direct-to-corrugated with litho printing or conventional printing methods with digital – makes Sutherland a highly attractive partner."
Key milestones of Sutherland's banner 2017 included:
– An increase in the number of employees from 65 to 100
– Expanded three-facility operations that now comprises:
– A 100,000-sq-ft Andover, NJ manufacturing facility/headquarters, with three shifts and near-24/7 production
– A 24,000-sq-ft warehouse in Green Township, NJ
– A 20,000-sq-ft warehouse in Newton, NJ
– Multimillion-dollar infrastructure investment, including a High Graphics single pass two sided printer/die-cutter, enabling capabilities that will differentiate Sutherland Packaging from a host of competitors
"At Sutherland Packaging we pride ourselves on our commitment to ensuring both a superior product and experience for our customers," explains Manny De Barros, Sales Manager for Sutherland Packaging, "and hold true to our promise to remain innovative and aggressive in the pursuit of printing and packaging excellence."
About Sutherland Packaging Inc.
A privately held company, Sutherland Packaging Inc. was founded in 1964 and is a leader in corrugated displays and packaging for retail and club stores. Its specialties include custom packaging, structural and graphic design, 5 color direct-print point-of-purchase displays, fulfillment, and on-box marketing. For more information, call 973-786-5141or visit www.sutherlandpackaging.com.