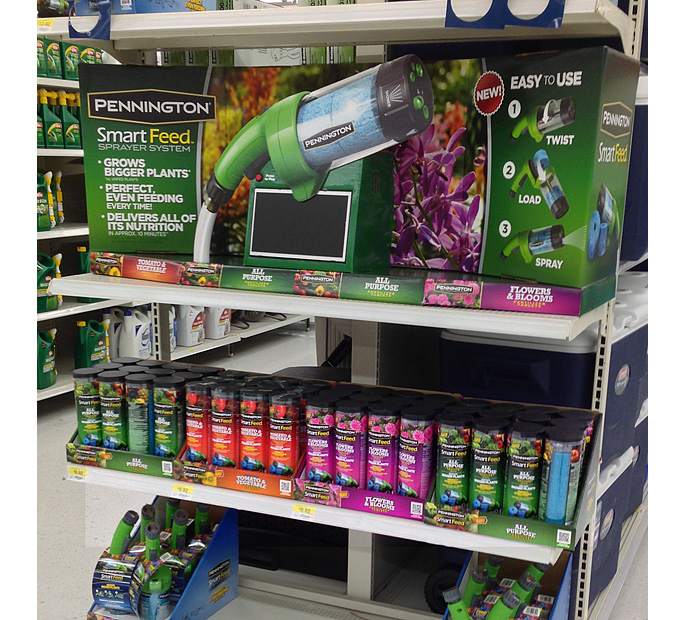 For over 60 years, Pennington®  has become a trusted source for smart yard solutions. One of the largest manufacturers and distributors of lawn, garden and turf products, Pennington® recently launched their Smart Feed Sprayer System which has the ability to unlock your plant's growing potential.
The new Pennington®  Smart Feed (TM) Sprayer System takes the guesswork out of feeding and ensures proper nutrition and vigorous plant growth. The four-way, adjustable sprayer ensures a faster and more uniform delivery of nutrients, while using less water and providing more consistent feeding. The easy-to-use system requires no measuring, pouring or mixing. Simply (1) twist off the clear sprayer canister (2) load one or two water-soluble fertilizer tablets into the sprayer and (3) spray on target area.
The Pennington® Smart Feed Sprayer System(TM) is available at Walmart, Lowes and Home Depot at a suggested retail price of $9.99 – $12.99. To support the launch at these major retailers, Pennington® chose the end cap display pictured above which does a great job of showcasing key messaging and educating shoppers.  This particular display was spotted at Walmart.
Visible on all three sides, the display consumes the entire shelf in grand fashion. The center section features a life-like product replica tip-on which is attached to a push-button monitor that enables shoppers to learn more about the Spray System. A very inviting and colorful image of blooming flowers served as a back drop behind the monitor and tip-on.
Two angled end panels neatly and clearly demonstrated product attributes and the easy-to-use 3 step system. A raised platform created space to print graphics of all three refill formulas available for the Spray System. Refills come in three convenient formulas (All-Purpose, Tomato & Vegetable and Flowers & Blooms) to satisfy the unique needs of various growing environments, plant types and applications. As you can see above, the three refills were merchandised on-shelf in color-coded trays which made variant identification a snap.
By trying the new Pennington® system this growing season, consumers will learn there is an easier, more productive approach to growing bigger blooms and produce using this cutting edge all-in-one technology.