Popon is pleased to bring you our 11th installment of cool POP displays, trends and ideas. Our vigorous store checking schedule presents us with numerous interesting examples of designers and brands coming together to deliver outstanding promotional materials that we like to share with our audience of dedicated POP professionals.
As always, if you are interested in showcasing some of your unique designs and promotions, do not hesitate to contact us for more details.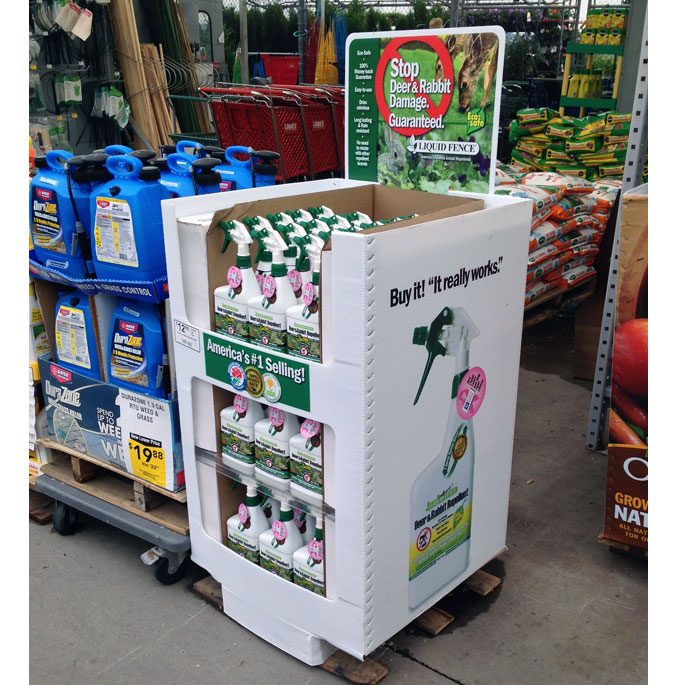 Liquid Fence Pallet Helps Shoppers Protect Their Plants
Liquid Fence, America's #1 selling deer and rabbit repellent, is gearing up for the planting season in garden centers across the US. Long lasting and environmentally safe, Liquid Fence is well known for keeping nature's critters from eating plants and is backed up with a written 100-percent money back guarantee if it doesn't work.
Supporting brand messaging and product assets, Liquid Fence has launched this extremely durable pallet display to promote one of their best-selling products. The plastic corrugate outer shell, which also wraps the pallet, serves as a protective barrier for the trays full of Liquid Fence product that sit inside of the shroud. In addition to protecting the product, the outer shell also provides longevity against the rigors and activity associated with garden centers. Note the condition of the all-corrugate display to the left as compared to the Liquid Fence pallet.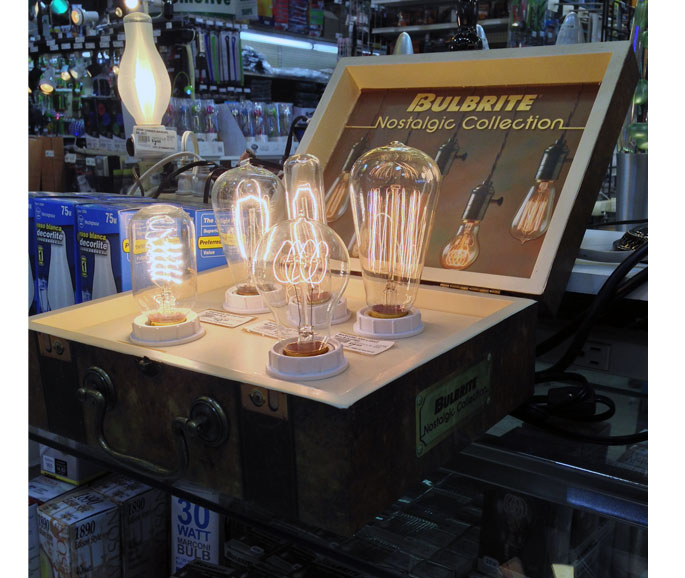 Bulbrite Lights Up Retail With Nostalgic Counter Display
BULBRITE, a leading manufacturer and supplier of innovative, energy-efficient light source solutions is lighting up retail shelves with a very cool display to promote their nostalgic collection of bulbs. Meticulously crafted to preserve the look of early 20th-century lighting, Bulbrite's Nostalgic collection is the most extensive in the industry and is perfect for any vintage or contemporary decor…..according to their website.
Showcasing five nostalgic lamps, this vintage-style valise counter display is offered to retailers to help promote Bulbrite's unique lamps. Reminiscent of a door-to-door salesman case, this display brightly radiates nostalgia. From the old-style graphic on the lid to the exterior finish,  the details really provide the bygone look that the brand was after.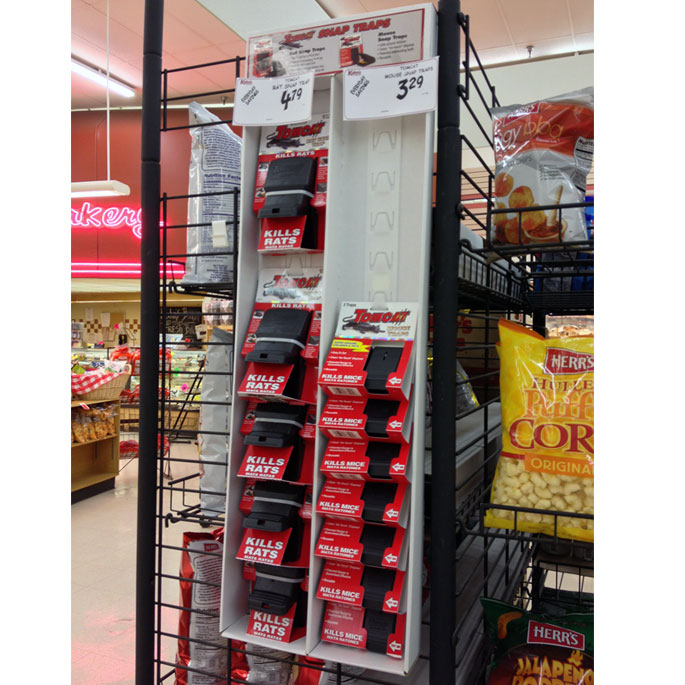 Snap Traps Catch Dual Product Side Kick
The old adage about building a better mouse trap is very applicable when it comes to Tomcat rodent control products. With over 30 years of research, Tomcat's patented products are proven effective and easy-to-use to get rid of unwanted pests. Tomcat is making a retail presence with this unconventional side kick. Both variants in the display are merchandised on individual product strips which are integrated into the tray. This approach minimizes the tray depth (material reduction) without compromising overall product capacity and prevents the product strips from being separated. This clever hybrid design also gives the brand more facings because the product is merchandised in a waterfall format as opposed to being displayed on hooks.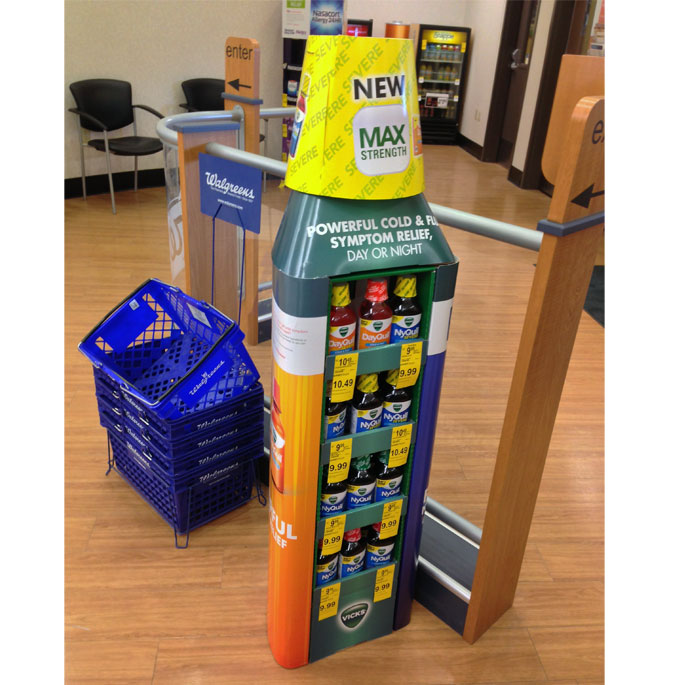 Vicks Floor Display Offers Powerful Relief
With the arrival of spring, many think that flu season is past them until they come down with a late season cold. It is not uncommon for the flu to stick around as late as May. One of the most recognized brands that has been helping families fight cold and flu symptoms for decades, Vicks recently launched DayQuil Severe and NyQuil Severe which offer daytime and nighttime relief.
To promote these new variants, Vicks has deployed a product replica floor display. Designed in the shape of Vick's iconic bottle, this display certainly lets shoppers know where to find their favorite cold and flu relief brand. Offering ample copy space for each product, the display is well designed with nice standout details such as the curved bottle neck and cap features.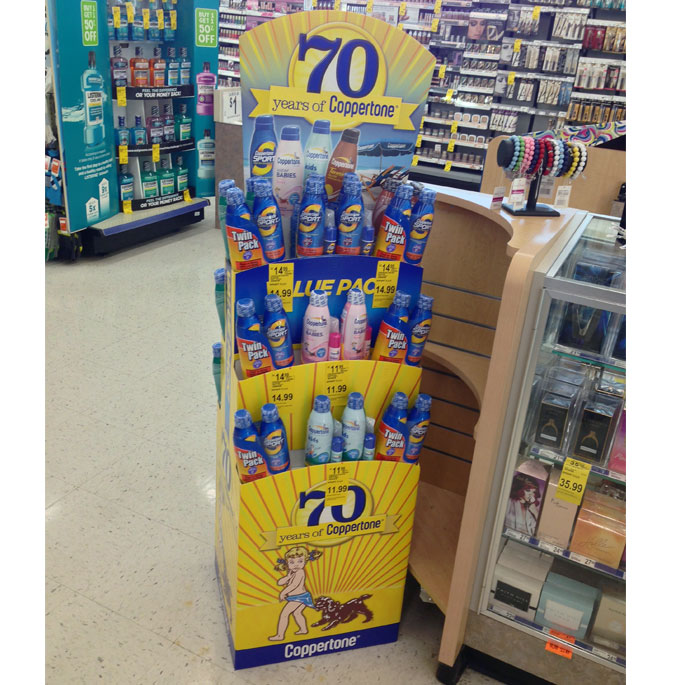 70 Years of Skin Protection
For over 70 years, Coppertone has been protecting families with their wide range of sunscreen products. Just in time for the hot days of summer, Coppertone has launched a two-sided floor display to promote several of their products and celebrate seven decades as the go-to-brand for skin protection.
Highlighting the iconic girl and dog imagery on the base, this colorful floor display merchandises value twin packs offering savings and protection for everyone from babies to adults. Rather than your typical vertically-arranged format, the product in this display is presented in an arc pattern which flows nicely with the riser and curved product retainer sections.
Revlon Floor Display Offers Collectible Craveable Colors
Revlon recently introduced their ColorBurst Crayon Collection which consists of 16 craveable, collectable colors that are infused with Triple Butter Complex for comfortable, vibrant lips. Available in three different on-trend finishes in the convenience of a crayon….Matte Balm, Lacquer Balm and Balm Stain….this new line offers the best of both worlds.
Revlon chose to debut their Craveable Colors with the product replica floor display shown here. Mounted on a sturdy base, the crayon portion of the display merchandises several variants from each of the three product lines. There are call-outs printed on the sides of the crayon to help shoppers make the right color and finish choices. Adjacent to the crayon structure, a copy panel further informs consumers and invites them to pick up one of the tethered products mounted to the graphic panel.