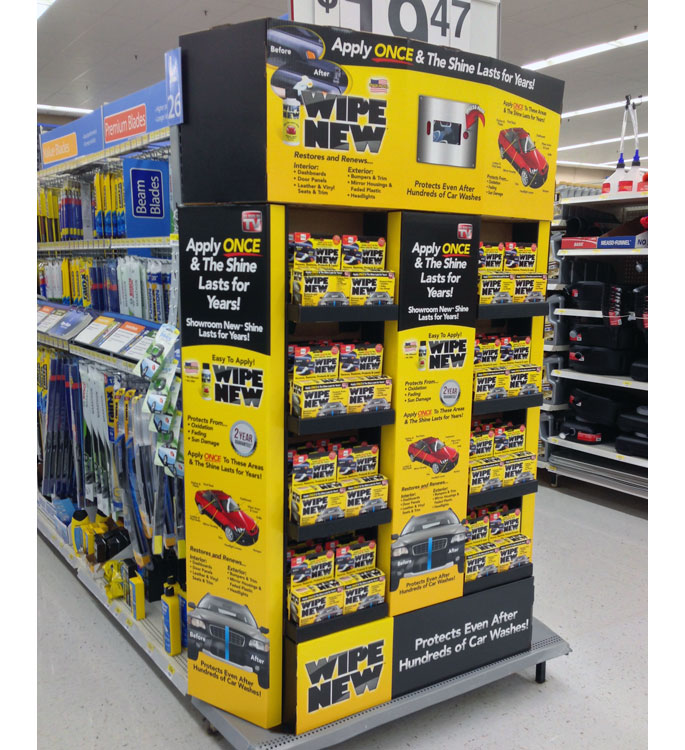 As Seen on TV – Wipe The Years Away From Your Car!
Wipe New is a car detailing product that claims to restore a vehicles surface back to it's showroom shine without having to spend hundreds on professional detailing shops. Unlike most other car detailing products that are designed to clean one part of the car, Wipe New has the ability to clean both the interior and exterior of vehicles.
In addition to vehicles, the product works on RV's, boats and motorcycles.
How does this stuff work? The formula works by bonding with the vehicles surface which enables the nano-polymer technology to absorb into the grooves and cracks to restore the luster and shine of the vehicle as it once was – after only one application. Most other similar car detailing products are silicone based which require continuous applications. Wipe New is guaranteed to last two years and can also protect a vehicles surface against other things such as road salt, ice, UV damage, water and other environmental elements that can take its toll on a vehicle's surface.
Wipe New has been widely promoted across the United States and Canada and has been covered by multiple media channels and review sites.
Making it's debut on retail shelves, Wipe New has launched a huge end cap display to grab consumers attention in the aisles. We spotted this appropriately-placed display in the automotive section at a Walmart store. First thing that catches the eye is the sheer size and color combination chosen by the brand. Yellow and black dominate the color palette which compliments the similarly decorated and neatly merchandised product packs.
Since this product is heavily "claim-based" it is quite evident that presenting the claims to car-detailing aficionados was tops on the marketing priority list. Consistently printed on the riser, as well as all three sides of the end cap, the product claims are the key visual cues used to inform shoppers about Wipe New and all of the benefits associated with it. In addition to the all-important "apply once" copy, the As-Seen-On-TV logo was also utilized throughout to connect with shoppers who viewed the product in a TV commercial.
A button-activated monitor was designed into the riser for educational and product reinforcement purposes. When activated, a short instoremercial demonstrating product usage and a few testimonials are played on the screen. Based on first impressions, looks like the Wipe New marketing team is firing on all cylinders with their retail debut and overall in-store launch strategies for this product.