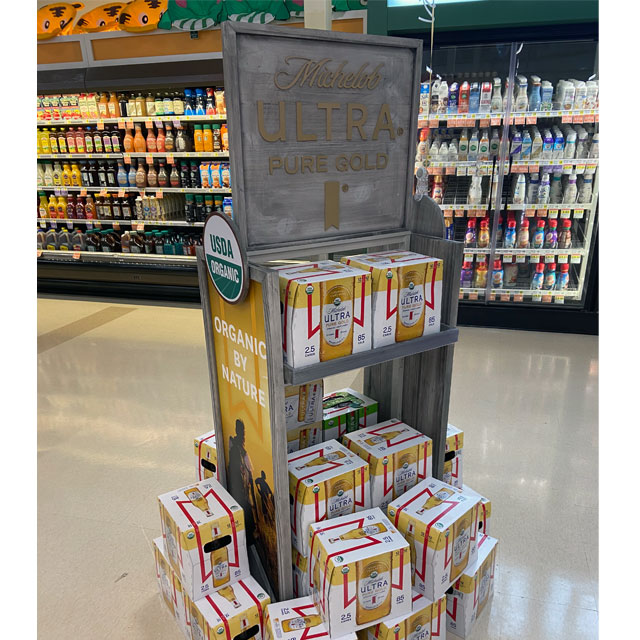 Anheuser-Busch, the largest brewing company in the United States, was recently spotted promoting their Michelob ULTRA Pure Gold with this stacker display. Michelob ULTRA Pure Gold, the first nationally available USDA certified organic lager, is brewed with 100% renewable electricity from solar power. It is the first brand in the Anheuser-Busch portfolio to take on this sustainable initiative.
Michelob ULTRA Pure Gold Organic Light Lager is an organic beer made with ingredients from the country's finest fields. This light beer is brewed with organic grains, triple filtered and brewed free of artificial colors and flavors, giving it a pure and refreshing taste. Michelob ULTRA Pure Gold is an organic alcohol and low carb beer that contains 2.5 grams of carbs and 85 calories per serving.
This past summer, Michelob Ultra launched a campaign called "Contract for Change' which involves transforming over 100,000 acres of farmland to produce ingredients for Michelob ULTRA Pure Gold organic beer.
To help further support the brand's sustainability vision, they chose this wood floor display which was rolled out in supermarket stores across the US. Simple, eco-friendly messaging on the side panels and the dimensional USDA Certified lug-ons, quickly conveyed their environmentally conscious approach for brewing the beer. Able to shop from two sides and support several 12 packs of product, the display's versatility provided several placement options in-store. Not sure why the dimensional letters on the riser appear more bronze-looking than gold…………but here's a quick rendering comparing both. What do you think?
Sources include:
Anheuser-Busch