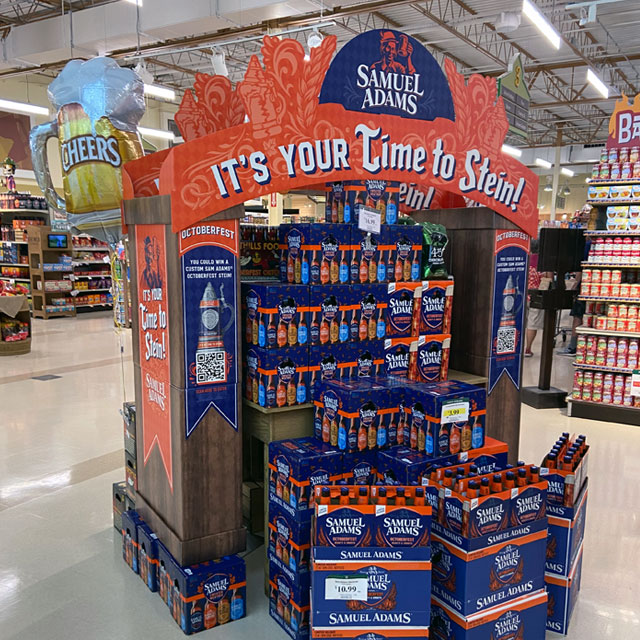 Oktoberfest is a brief moment of fall beer drinking beauty. The world's biggest fest started in Munich, Germany in 1810 to celebrate the marriage of the crown prince of Bavaria to Princess Therese von Sachsen-Hildburghausen. The party was so off-the-chain it became an annual 16 day festival from Mid-September to Early October. It's a time celebrate beer for beer's sake, with food and friends to kick off cooler weather.
With fall fast approaching, Samuel Adams is wasting no time making their seasonal Octoberfest beer available in retail outlets across the US. In addition to TV and social media campaigns, the brand has also launched this stacker display to help promote their Time To Stein Sweepstakes.
Get gifted with a unique prize that you can flaunt when you party with your gang! To sip Sam Adams' full-flavoured beer and create a moment of fall beer drinking beauty, take away the unique and custom, handmade beer mug proffered by The Boston Beer Company. You've got a chance to briskly enter now and post a Photo of the picture you want to be printed on the prize. Over 600 winners could win a customized beer stein and it might just be a reality to toss at your party. This beer giveaway can't get better than this, so rush into Sam Adams Oktoberfest 2022 and win a free Sam Adams Beer and enjoy the launch of Its Your Time To Stein Sweepstakes with your picture pasted mug!
The stacker display was designed to merchandise 6 and 12 packs of beer which were accessible from two sides. The display featured a huge arch topper which was supported by two vertical end pieces that were printed to mimic a wood finish. Four pennant graphics  featured the custom stein giveaway along with a scannable QR code which directed shoppers to a mobile Web page.
Check out some other Samuel Adams Displays
Sam Adams Seasonal Rotating Sign
Samuel Adams Holiday Fireplace Stacker
Raise The Stein Stacker Display
Samuel Adams Winter Scene Stacker Display
Sources include:
Samuel Adams