With the leaves changing and cool weather rolling in, fall is in full swing and so are retail promotions offering limited-time products to celebrate the season. Since 1960, Little Debbie, a McKee Foods brand, has been providing delicious seasonal cookie and cake-based desert snacks to people of all ages.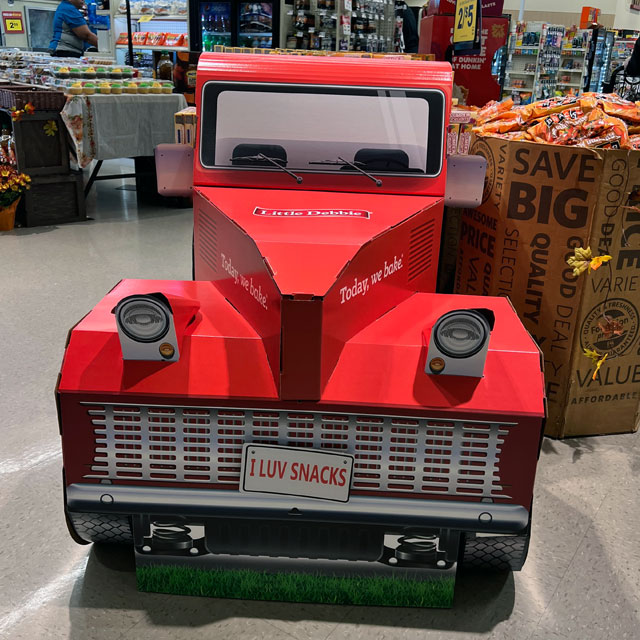 Named after the granddaughter of O.D. McKee, who founded the snack cake company along with his wife and business partner, Ruth, the real "Little Debbie," Debra McKee Fowler, now sits as the Executive Vice President of McKee Foods, and runs her eponymous line of products.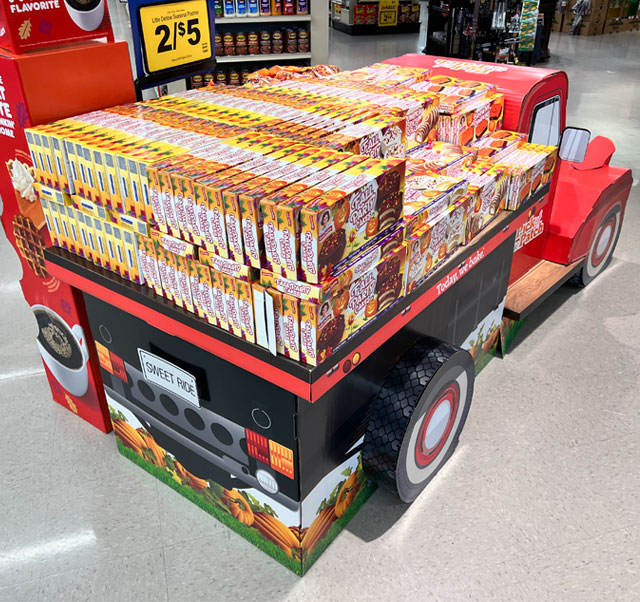 Little Debbie has created five fall-themed cakes to kick off the 2022 season. To help promote their Chocolate and Vanilla Fall Party Cakes, the brand rolled into retail with this awesome stacker display.
The truck-themed merchandiser was designed to resemble an old timey delivery truck bringing in the fall harvest. The structural and graphic designers on this project hit it out of the park with their incredible attention to detail on every surface of the truck. From the tire treads to the pumpkin patch skirt, the loads of tasty treats on this truck bed are sure to sell.
For all the Little Debbie fans out there, the company is getting ready for the Christmas holiday season and hopes that you make all their holiday snacks a part of your family traditions.
Check out some other Little Debbie displays
Little Debbie Fall Snack Wagon
Little Debbie Harvest Fun Pallet Display
Unwrap A Smile Holiday Floor Display
Little Debbie Holiday Snack Train
Little Debbie Harvest the Fun Floor Displays
Sources include:
Little Debbie
All recipes