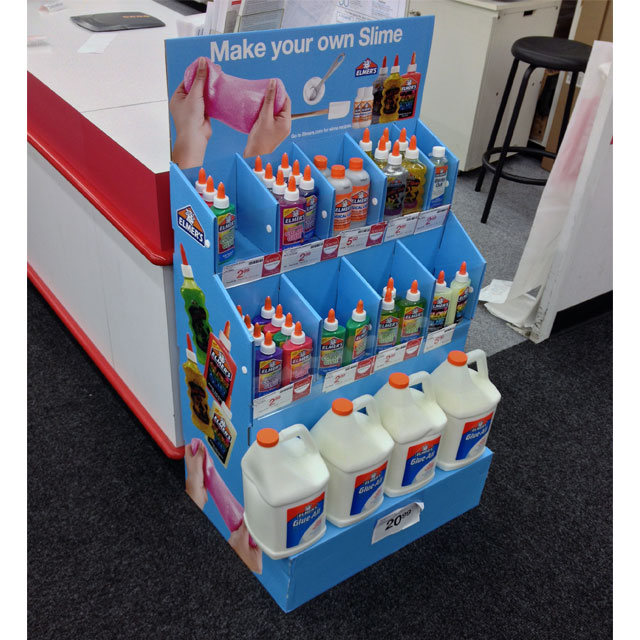 Just recently, Elmer's, the crafting brand recognized for creativity-inspired crafting solutions, kicked off its first-ever Ooey Gluey Slime Games challenging young people to show off their slime creations for a chance to win awesome prizes like a year's supply of Elmer's glue, materials for a slime party for their class, cash, and a new tablet.
"The slime trend took social media by storm and continues to grow as kids seek fun new ways to express their creativity with Elmer's," said Victor Misawa, senior vice president of Marketing, Writing, Newell Brands. "The Ooey Gluey Slime Games were designed to inspire people to show off their unique slime creations with our products. This is also an opportunity for kids to become famous for their slime making skills."
To help promote all of the fun-filled materials for the contest, Elmer's and Office Max developed this display to help kids create their slime submissions. The stair-stepped floor display was sturdy and held several variants of slime-making products, each neatly categorized in bins and kept in place by clear plastic retainers. The overall branding was kept generic, with no mention of the Ooey Gluey Slime Games.
Related
School Projects End Cap Display
Elmer's Let's Create Shelf Display
Elmer's First Day of School Floor Display
Sources:
Prnewswire