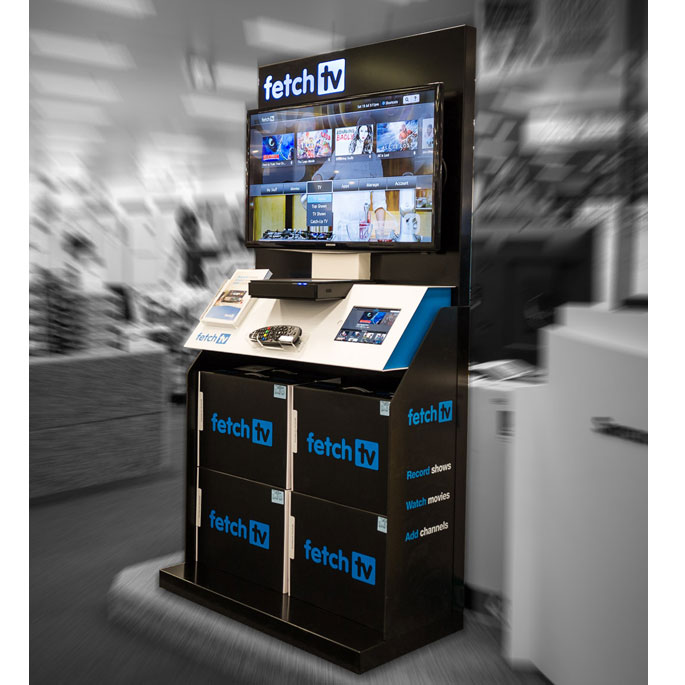 Creative Instore Solutions (CIS) recently collaborated with client Fetch TV to produce an in store point of purchase display showcasing the Fetch TV IPTVentertainment service. The Australian founded Fetch TV has been available from selected Internet Service Provider partners for several years, and is now moving into the consumer retail market.  A display unit was required for installation in 180 Harvey Norman stores nationally to both display the entertainment service and to hold box stock on the sales floor.
The display unit includes a 32″ TV monitor and a Fetch TV box connected to a concealed wireless bridge providing broadband connectivity. The components are all mounted on a durable mild steel frame plinth and backpanel complete with satin black powdercoated finish. Wheels on the base of the unit provide for easy relocation in store. An iPad mini mounted into the demonstration shelf, and a remote control on a retractable cable to prevent theft, allow consumers to experience the full range of features offered  by the  Fetch TV service.
Creative Instore Solutions produced a visually impactful unit which cuts through the clutter in the electrical appliances sales area of retail stores to successfully deliver brand prominence with the use of a raised and illuminated Fetch TV logo. The premium display draws consumer attention and provides a clean, modern aesthetic feel complementing the Fetch TV product and brand.
The Fetch TV entertainment service is delivered to the TV over an unmetered broadband connection to a set top box containing a 1 terabyte personal video recorder for recording TV. The Fetch TV box will initially be available exclusively in selected Harvey Norman, Domayne and Joyce Mayne stores, where it will be sold predominantly as a PVR with an option for customers to subscribe to add more content.