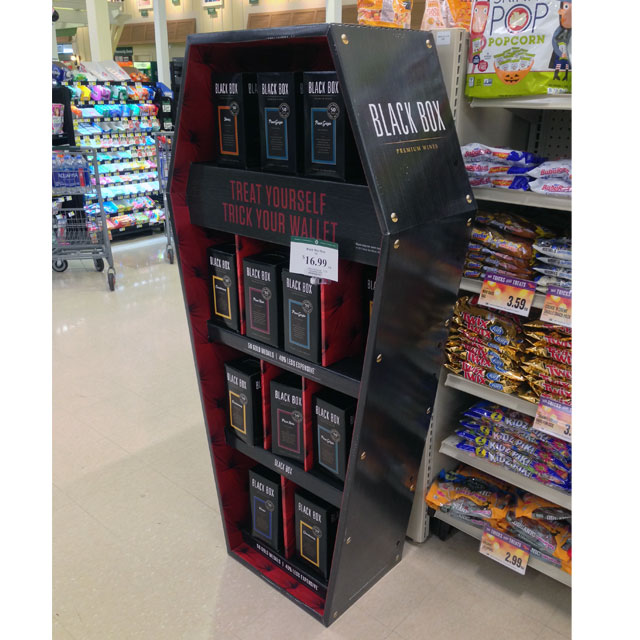 Black Box Wines, the #1 selling premium boxed wine in the U.S., was recently spotted in-store scaring up sales with this seasonal coffin display. At first we questioned the placement of the unit.  In the candy aisle….really?  Think about it though……parents buying candy for trick or treaters……. might just need a box of wine……. for an adult Halloween party!
Either way, the display stood out regardless. A slick, black exterior and splotchy, red interior reinforced the 'seasonal look' and complemented the shelved product quite nicely. The copy on the shelves boasted the brands 50 gold medal wins as well as mention of the 40% less expensive price point. A large copy panel near the top of the coffin created a '3 product feature area' above it and highlighted the tagline, 'Treat Yourself – Trick Your Wallet'.
On another marketing note for the company, this past summer, the brand announced the debut of Black Box Rewards – a new loyalty program for its U.S. consumers that features a system of easy-to-earn and redeem points. One of the first wine brands to launch a loyalty program of this caliber, offering rewards like event access, discounts, gift cards and products from brands like Hulu, Sephora, Uber and many others.
Related
Charles Vancin Wine Stopper Counter Display
McKenna Corrugated Wine Floor Stand
About Black Box Wines
Black Box Wines produces a variety of high quality, premium 3L boxed wines from some of the world's leading appellations. The philosophy at Black Box is to seek the best value in wine, regardless of region, in order to provide the best possible quality and price to consumers. These food-friendly wines are meant to be consumed right away and stay fresh for six weeks (3L) after opening. Black Box Wines are available in both 3L (suggested retail price $24.99) and 500mL Go-Pak (suggested retail price $4.99) containers. Constellation Brands Inc. distributes Black Box Wines and is the world's leader in premium wine, the number three beer company in the U.S, and the leading multi-category beverage alcohol company in the U.S. For more information about Black Box Wines, please visit www.blackboxwines.com.