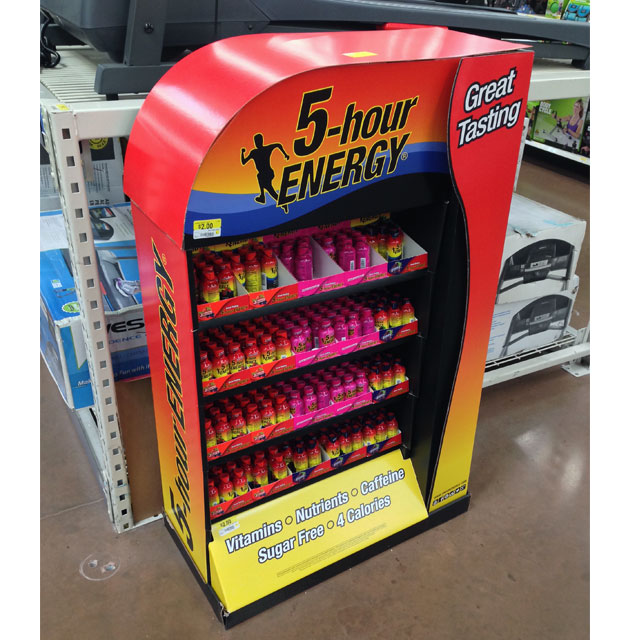 5-Hour Energy Great Tasting Floor Display
Since launching the caffeine-based power-drink in 2004, 5-Hour Energy has been helping 67% of the U.S. population who say they need more energy to power through their day. A leader in category marketing, 5-Hour Energy was spotted in the sporting goods section of Walmart with this shapely floor display. Vibrant colors and great lines made this floor display a real standout. Several flavors of the energy drink were merchandised in their inner packs which sustained the life cycle of the secondary product trays.
Related
Energy Shots are Targeting Shoppers At The Counter
5-Hour Energy Fixes Tired Fast Floor Display
5-Hour Energy Half Pallet Display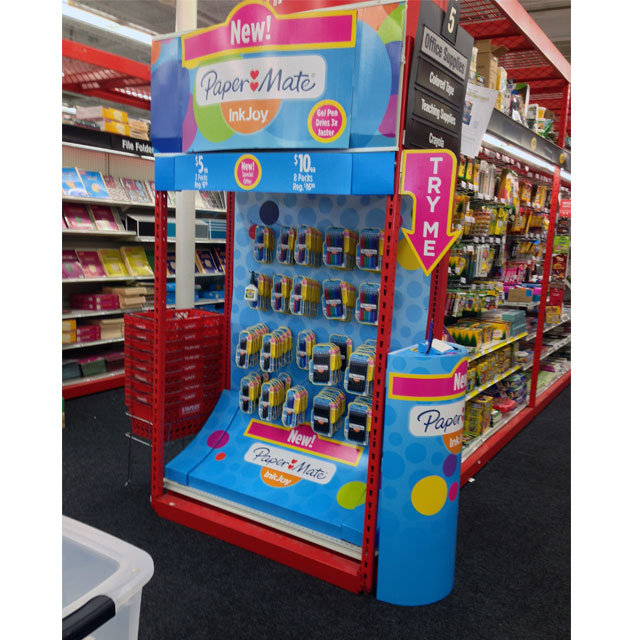 Paper Mate End Cap Spreads Joy Not Smears
Newell Rubbermaid and its Paper-Mate InkJoy Brand were at-retail promoting the company's latest writing innovation, the new InkJoy Gel Pen. The pen is available in 14 brilliant colors and touts its quick drying ability. According to the brands website, 'With vivid gel ink that dries 3X faster*, it's like a party on the page where smudges aren't invited'.
The end cap display shown above was located in Staples and merchandised their 3 and 8 packs of gel pens. Festive colors on the upper and lower header called out brand logos and the NEW graphic, alerting shoppers across the store. A curved TRY ME pedestal enabled shoppers to try out the new pen.
Related
We Love Mistakes End Cap Display
Sharpie The Original Paper Mate End Cap
Color Bold Save Big End Cap Display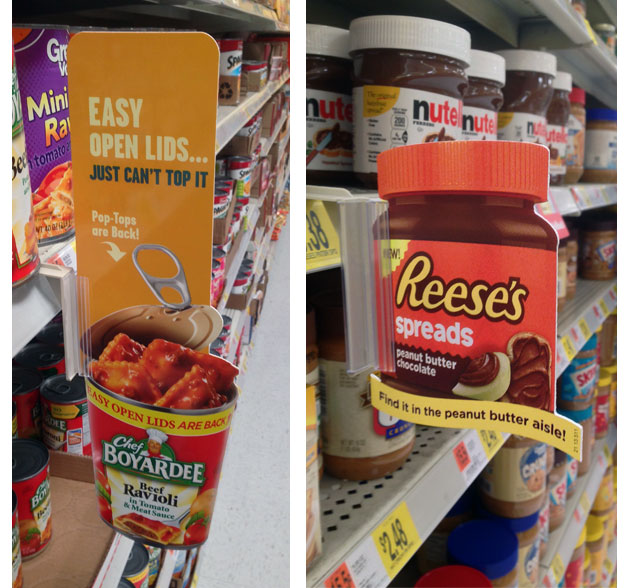 Die Cut Violators Add Visual Interest In Store Aisles 
Sometimes overlooked by brand marketers, Aisle Violators are an effective way to make a splash at shelf with minimal costs. In addition to that, these small signs are often substitutes for traditional POP when space is minimal in 'clean-floor' retailers. It always fun to see these important pieces of marketing real estate when designers add their creative flair to them. From plain old shapes, to die cut versions, to interactive ones, aisle violators have the potential to be powerful marketing pieces when budget and design are applied.
Related
Air Wick Aisle Violator Smells Like Mom's Baking
Aisle Violator Helps Amope Grow Its Foot Care Range
Alexia Sweet Potato Aisle Violater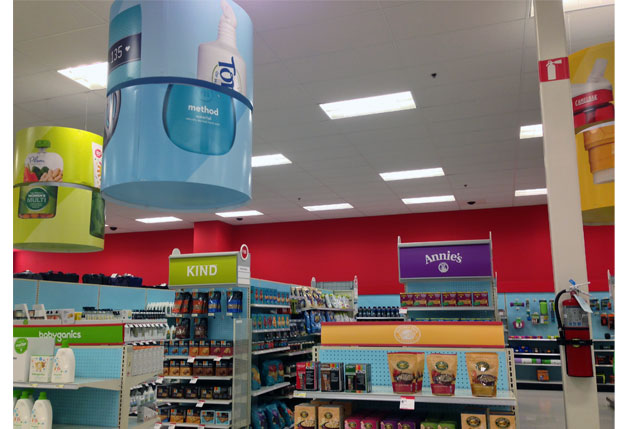 Target Puts A Twist On Spinning Brands
Well Known for having some of the best ceiling signs in the retail industry, Target topped them all with a series of rotating ceiling displays. The can-shaped displays featured brand product shots that were sliced in half and printed on top and bottom cylinders. The bottom half rotated, creating visual interest. Not sure why the sliced images never matched up to form a complete product shot but nonetheless, these spinners are a big departure from the static ceiling signs typically found at Target.
Related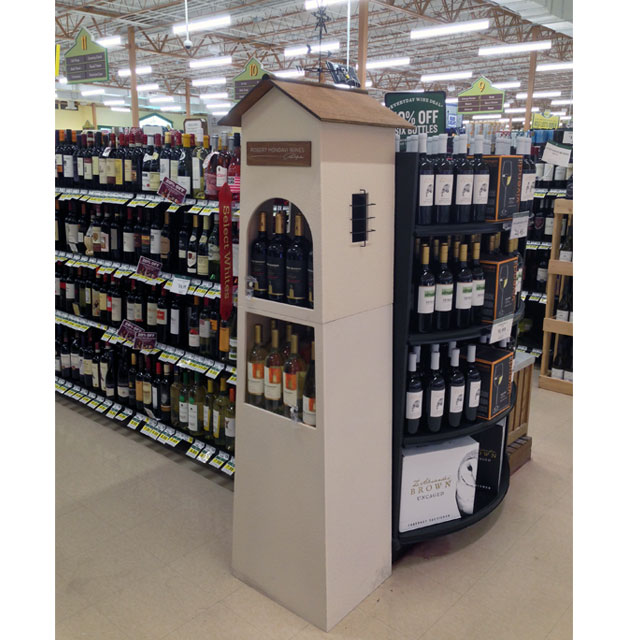 Wine Display Brings Napa Valley To Shoppers
Founded in 1966 by winemaking pioneer and icon Robert Mondavi, the award-winning winery that bears his name is an enduring presence and shining symbol of California's Napa Valley.
The winery hit retail floors with a really nice floor display that utilized one of the graphic elements from their logo to create a 3D merchandiser. The simple structure was brought to life with several details such as the stucco finish, wire covers over the windows and the authentic weathervane perched on top of the wood roof.
In addition to producing world-class wines, Robert Mondavi Winery hosts a summer concert series that has raised more than $2 million dollars to support a number of Napa Valley-based charitable organizations.
Related
Dreaming Tree Floor Display Strikes A Chord With Wine Aficionados
Croser Wine Gift Counter Display
Brown Brothers Take a Chair Wine Display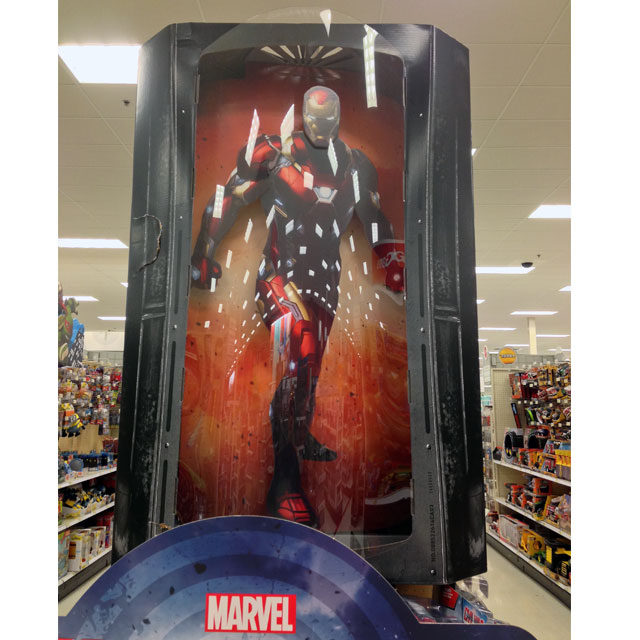 Marvel Puts A Spin On Target End Caps
Marvel is making an impressive appearance in Target stores across the U.S. with this rotating end cap display. Featuring Captain America and Iron Man, the display was huge and very visible in the toy aisle.
The corrugate outer shell housed die cuts of both super heroes which spun around via a motor driven mechanism (couldn't see this is detail). A clear, curved plastic piece served as a protective barrier and extra space to enable the carousel to rotate 360 degrees. As you can see by all of the overhead light reflections on the plastic, kinda made it difficult to view the characters from a distance. All in all, very well executed and definitely an attention-grabber once you were in optimal viewing area.
Related
Avengers Feature End Cap Signage
Heroes Work Here Pallet Display