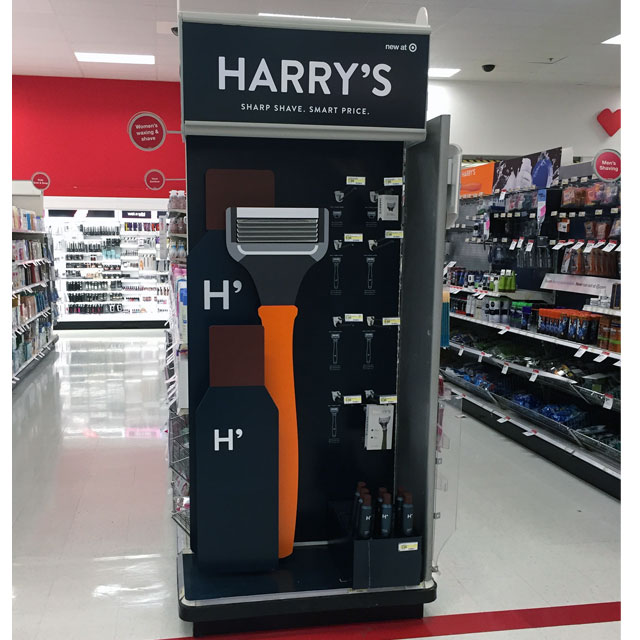 As retailers continue to face stiff competition from lower-priced private-label upstarts , Target has done something about it. They joined forces with two subscription-based online brands, Harry's and Bevel. The Minneapolis-based company negotiated exclusive deals to be the only retailer allowed to carry their product lines and since then, Target's market share in the shaving category has increased by double digits.
As noted in a recent online article……The disruption in Target's shaving aisle highlights the retailer's increased willingness to make room on its shelves for up-and-coming specialty brands in order to stay relevant, putting the big national brands on notice that they might lose some shelf space, said Carol Spieckerman, a retail consultant.

"Up to this point, there were certain categories that have been sacred spaces for national brands," said Spieckerman. "A national brand can't afford to turn down Target's business so there's not much they can do about it."
Many folks in the shaving industry were doubtful that Harry's could put a dent in the high-margin positions that category giant Gillette already owned. Earlier this year, Gillette was forced to implement price cuts across the board in an effort to curtail the surge created by startup brands. To give you an idea of the impact Target's and Harry's new strategy has had, about 50% of the retailers handle sales and 15% of its cartridges now come from Harry's.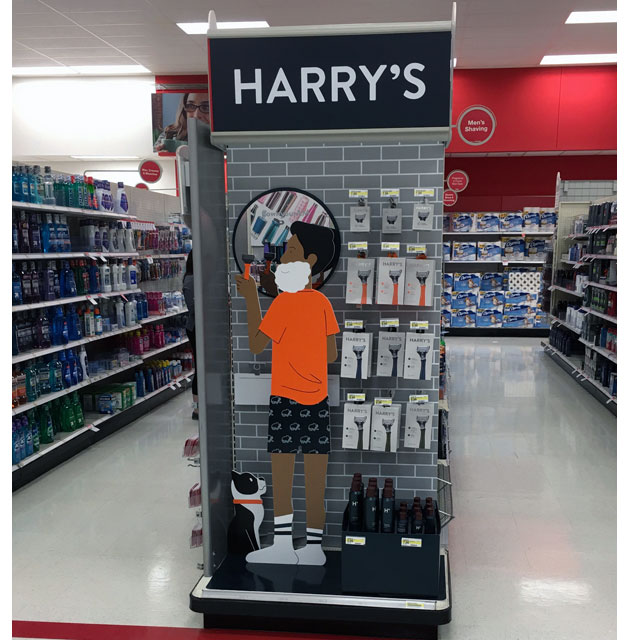 A key ingredient to the Harry's – Target in-store marketing relationship has been the eye-popping end cap displays dedicated solely to Harry's products. When the displays were first deployed last summer, they included huge 4′ tall razors designed to disrupt shoppers in the aisle.
Earlier in 2017, the brand freshened up the dedicated end caps by swapping razors for a die cut of a guy standing in front of a mirror in his boxer shorts. Let us not forget the pooch sitting next to those sporty tube socks!
If you want to view more details on the new end cap display or other Harry's related products, please visit Fixtures Close Up. You can access their shaving research by typing harry's into their search box.
Related
Shields Shave Side Kick Display
Gillette Swirl Feature End Cap
Gillette Fusion Limited Edition Team Razor Pallet Display