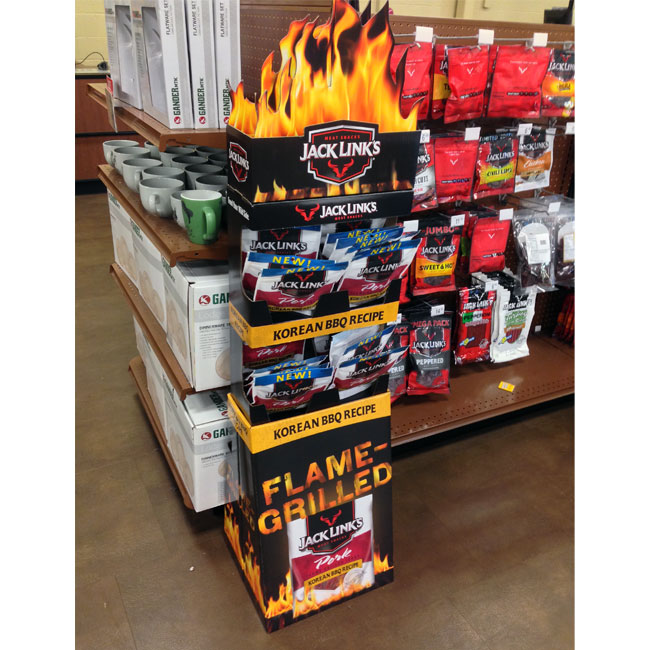 Jack Link's, a global leader in snacks and the No. 1 meat snack manufacturer worldwide, recently made a presence in-store to promote their Korean BBQ Pork Flame-Grilled Jerky.
Known for meat snacks that help feed your wild side, the brand says this bold jerky is the perfect snack to "pork" up your next tailgate, camping trip, or even a nature hike. In addition to these snacking adventure suggestions, the Jack Link's website offers up tips on how best to pair the jerky up with your favorite beverages.
According to an online press release, "Jack Link's loves to introduce jerky flavors that are adventurous and deliver on great flavor; Korean barbecue has been a flavor we've been perfecting over the last several years," said Mike Gerber, vice president of research and development at Jack Link's. "We were inspired by bulgogi, the classic way to cook Korean barbecue. To develop that authentic Korean flavor, our jerky lightly touches the flames throughout the grilling process. We even double toasted our sesame seeds to provide a unique and authentic experience sure to feed your wild side."
We found Jack Link's promoting their Korean BBQ Jerky in the snack section at a local sporting goods store with this hot-looking floor display. From the top down, the display showcases the 'one-of-a-kind' flame-grilled jerky with bold colors and a flaming riser. This visual combination supports the innovative cooking technique the company uses to finish off the jerky over an open flame, not to mention enticing the curiosity of snack lovers at retail.