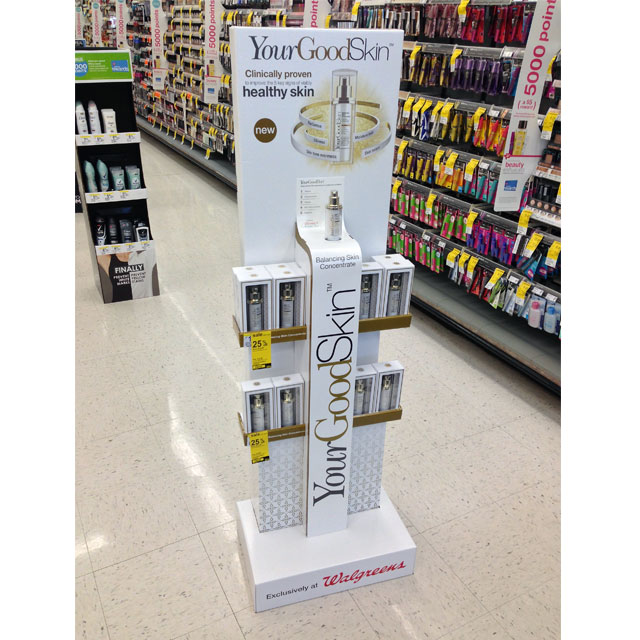 Walgreens recently launched a new skin care line made up of products that seek to eliminate skin problems before they occur. The new product line is the retailers' first brand in 15 years and was developed using a team of customers, dermatologists and scientists.
In an interview with Drug Store News, Kristof Neirynck, VP and global brand director of skin care for Walgreens Boots Alliance said, "This is the first time we've co-developed a brand with a community and are leveraging a community as part of marketing a brand."
According to the brands website, Your Good Skin was designed to improve the five key signs of visibly healthy skin: skin texture, skin tone evenness, moisture levels, oiliness and radiance.
To support the launch, Walgreens rolled out the new skin care line with this great looking floor display. Starting from the top down: the upper copy area showcased the science and the five key signs of healthy skin. Just below that, a sleek, curved center divider housed a live product for in-store demos. Flanking both sides of the center divider, 16pcs of product were neatly merchandised on cantilevered trays. Last but not least, the base highlighted the exclusivity of the product. Even though minimal color was used on the display, the super clean look really stood out in-store.
In addition to the links below, you can visit the gallery to view more skin care-related displays. Type skin care displays into the keyword search box once you land in the gallery.
RELATED
Aquaphor Tube Shaped Shelf Display
New Hydra Genius End Cap Display
SheaMoisture Love Floor Display
https://www.yourgoodskin.com/