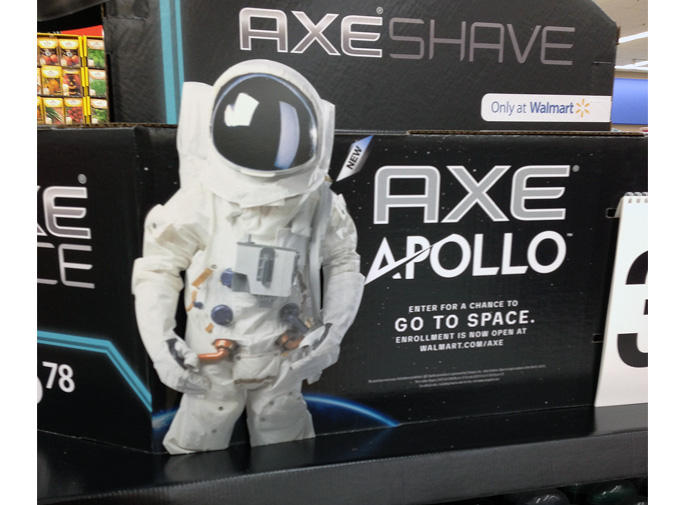 Unilever's Axe is Going to a Place Where Only a Few Have Been Before – Outer Space – Leave a Man Come Back a Hero.
Announced earlier this year, the Axe brand entered the men's skin care business with the launch of the Axe Face Line which includes a face wash, shave gel and a post-shave hydrator in four variants. As noted on Unilever's website, "AXE is reminding guys how important, yet easy, it is to take care of their skin," said Rob Candelino, VP of AXE Skincare. "We listen to our consumers and understand what guys want when it comes to grooming. Face care is a natural next step for the brand."
To prepare consumers for the journey, Axe has created the Axe Apollo Space Academy with one of the first men to walk on the moon. "Space travel for everyone is the next frontier in the human experience," stated Buzz Aldrin, legendary astronaut and pilot of the Apollo 11 spacecraft that landed on the moon in 1969. "I'm thrilled that Axe is giving the young people of today such an extraordinary opportunity to experience some of what I've encountered in space." Over 100 contestants from across the globe will be selected for training at the Academy to determine which of the 22 lucky winners will be boarding the suborbital spacecraft that will take passengers more than 100 kilometers into space beginning in 2015.
There are three ways to enter the promotion. One – beginning February 4th and ending April 27th, 2013, future space travelers can create an astronaut profile on axeapollo.com explaining why they deserve a trip to outer space. Two – starting April 28 and running to July 31, 2013, participating retailers will offer unique promotional codes on select Axe products which will be used by entrants completing the online registration form. Three – mail-in sweepstakes, no purchase necessary.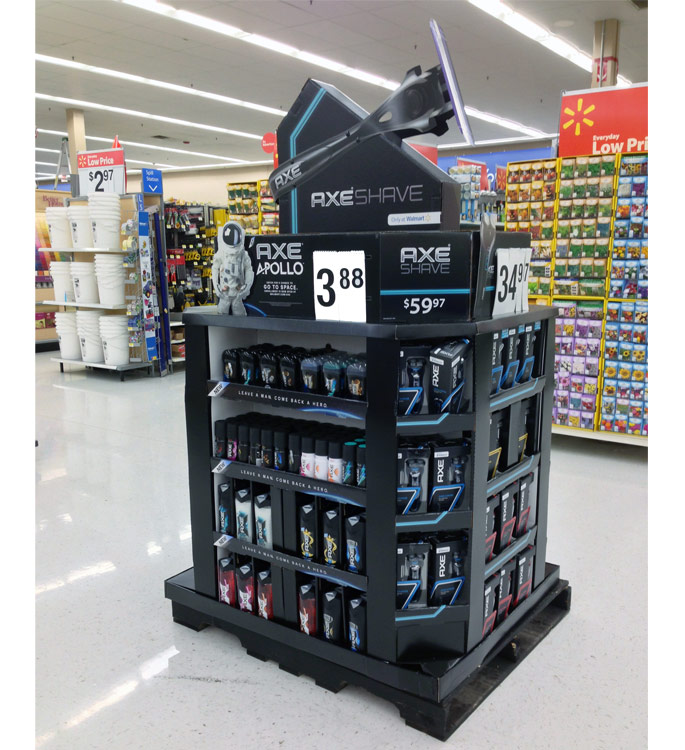 Several other marketing initiatives have been launched to support the Axe Apollo campaign which include YouTube, Facebook, in-store sweepstakes, POP displays and a Tumblr "Facescore" promotion. According to Mark Link, Axe US brand manager for Unilever, "The brand chose Tumblr for the launch of its digital campaign because it's a very visual medium, as compared to Facebook, which ties in better with the idea of contestants posting pictures and receiving "Facescores."
Some of the POP in-store promotions include this full pallet display that merchandises the entire line of skin care products. Printed completely in a "spacey" black, all of the products on-display are neatly organized into their own "skin care" compartments which are labeled on the riser and shelf lips. The feature on this display that commanded instant attention was the large Axe razor product replica. Printed two sides with a great level of detail on the top and bottom of the shaving head, this gigantic angled razor appears to be launching into space. The brand highlighted the razor to support the recent partnership Axe has formed with Schick and Philips Norelco who have teamed up to offer consumers co-branded grooming kits.
This particular display was spotted at Walmart who is the only retailer offering Axe Apollo Promotion Instant Win Game Cards as well as the complete Axe Shave line of products.