Popon is pleased to bring you our 10th installment of cool POP displays, trends and ideas. Our vigorous store checking schedule presents us with numerous neat examples of designers and brands coming together to deliver outstanding promotional materials that we like to share with our audience of dedicated POP professionals.
As always, if you are interested in showcasing some of your unique designs and applications, do not hesitate to contact us for more details.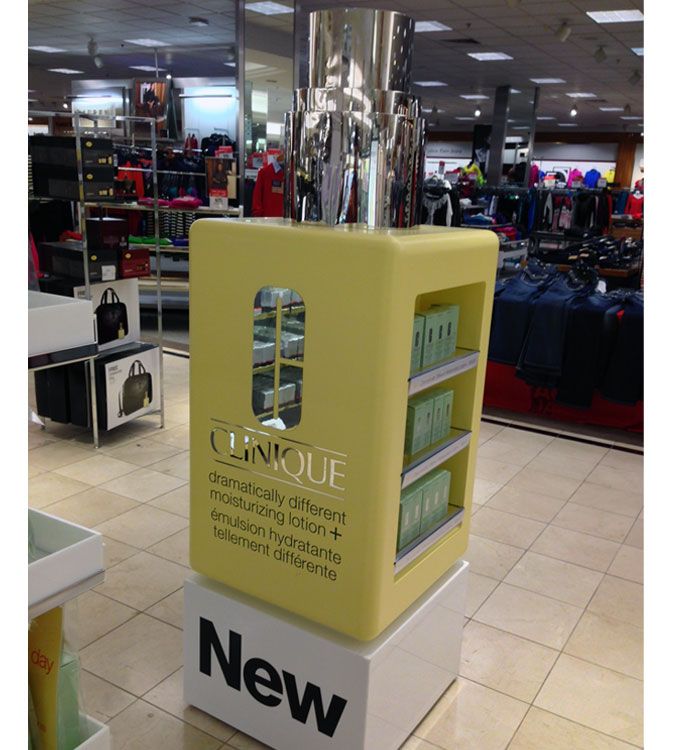 Clinique Floor Display Creates Larger Than Life Presence In Store
Clinique has recently improved their Dramatically Different Moisturizing Lotion with a new formula that provides all of the same benefits as the original – plus more. Touted as the world's go-to moisturizer, the new formula was designed to strengthen skin's moisture barrier, giving skin a soft and springy glow.
To quickly communicate the new formula message to shoppers, Clinique has launched a large product replica floor display in mass merchant cosmetic departments. Shoppable from two sides, the well proportioned merchandiser incorporates brand messaging, mirrored Clinique logo, product colors and chrome dispenser top. All of these well executed elements sat on top of a white base with call-outs letting loyal Clinique brand users know that the company is marketing a NEW and improved skin care product.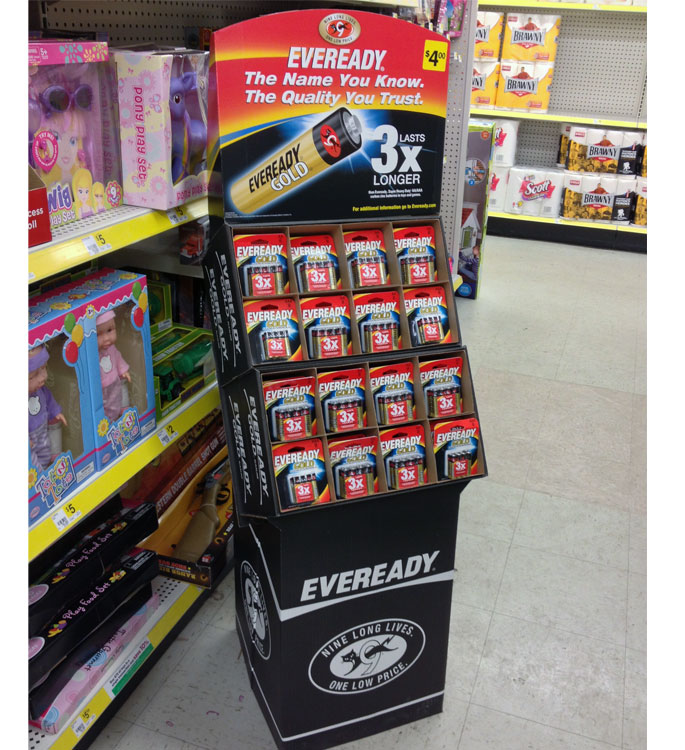 Eveready Gold Floor Display
For those who frequent stores often, you've probably seen your share of battery merchandisers. Since 1896, Eveready batteries have been providing dependable portable power for a myriad of electronic devices. Their Gold battery line provides long-lasting power for devices that require heavy current and continuous use……like toys.
On a recent store check, we spotted this Eveready floor display in the toy aisle at a mass merchant retailer. The display is your typical base-tray-riser with a slight twist. Notice how the product trays were broken into four individual compartments. The trays were probably designed individually for logistical purposes. By this we mean that a single tray design would have been extremely heavy to lift for folks working on the POP assembly line or setting up the displays at retail. The other nice feature of the individual tray design is that product capacities can be tailored to each stores needs and can easily be freshened up as inventory is exhausted.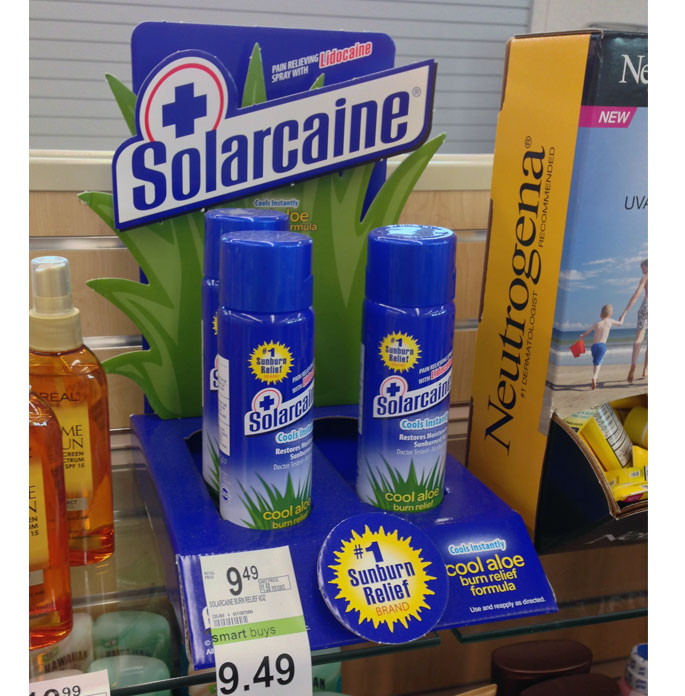 Solarcaine Shelf Display Offers Cool Relief For Sunbathers
With summer fast approaching, skin care companies are getting their products out to retail with several great promotions. Solarcaine, the #1 sunburn relief brand, is one of the brands helping shoppers beat the heat. Known for providing fast cooling pain relief from sunburn, minor cuts, scrapes and insect bites, Solarcaine is recognized  in the skin care category for using aloe in their formulas.
Merchandising six pieces of their Cool Aloe Burn Relief Formula Pain Relieving Spray, this compact shelf display sent a refreshing message to shoppers. Conveying the feeling of cool, the blue base color was visually enhanced with the layered tip-ons behind the product. Die cut aloe leaves and brand logo created a lot of depth as did the round product claim tip-on adhered to the angled front lip.
Under Armour Floor Display Shows Some Backbone
Light, Breathable, and Comfortable…..is what runners who use the Under Armour Spine Lazer Running Shoes are saying. How Does It Work? According to BusinessWire (dot) com, a high-density but flexible foam "cage" is cored out to remove all unnecessary weight while delivering total support and maximum traction. A thin, light, super-responsive layer of Micro G foam is fused inside the shoe's chassis for great feel and comfort. Laser-cut foam and breathable mesh combine to fit the foot perfectly and keep it cool.
Under Armour launched their new shoe with the two-sided floor display shown above. Appropriate to the sole's function and shoe name, the sides of the display were designed to resemble a spine. You can see further spine-related tie-ins with the two pairs of shoes on the header area of the display. See how both soles, when backed up to one another, form a backbone shape?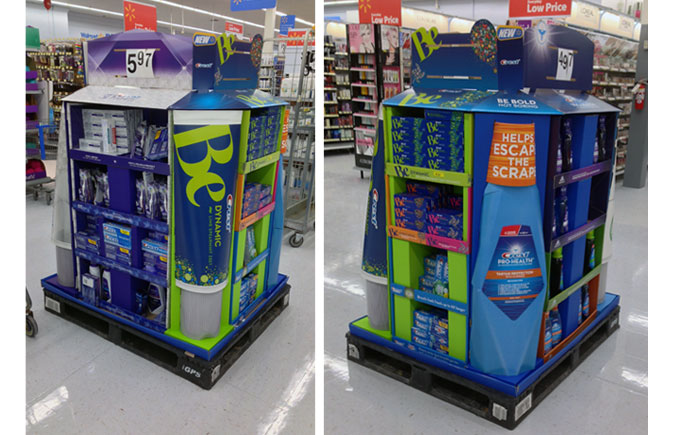 Product Replicas Highlight P&G Multi-Product Pallet
Proctor and Gamble recently rolled out a multi-product pallet display that showcased several variants in their Crest oral care line. Everything from toothbrushes to mouthwash were merchandised on this four-sided pallet. Each section was customized brand specific as well. The heros on the pallet were the four product replicas positioned on each corner of the pallet. Not only was it great use of space, the replicas were shaped and decorated to accurately represent key variants on the pallet.
Giant Boot Steps On The Competition
A bit of a departure from traditional POP, this large boot made quite the tall statement in the close out footwear section of a neighborhood sporting goods retailer. Replicated in every detail from the top down, this giant boot was very visible amongst the dozens of 'normal sized' boots. We observed shoppers that weren't even interested in purchasing any footwear stop to check out the huge boot…….obviously quite the effective prop!