With spring fast approaching, the category leading air freshener brands are competing for sales at retail with their limited edition scents. We spotted the four pallet displays below at a mass merchant which were all positioned in one of their feature aisles. As you check out the displays, be sure and click on some of the image links which will take you to other fragrance displays that also made a statement in store.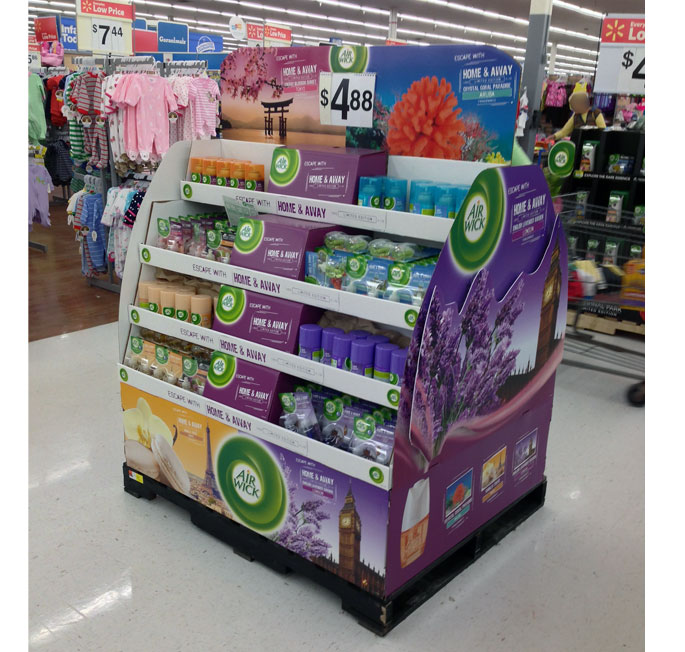 Airwick Home & Away
Air Wick is running a Home & Away promotion that features limited edition fragrances that were designed around exotic destinations from around the world. This two-sided pallet merchandises theme-based scents from destinations like Paris, Tokyo, London and Aruba. The large copy spaces on all four sides provided brand messaging and the locations that each scent was inspired by.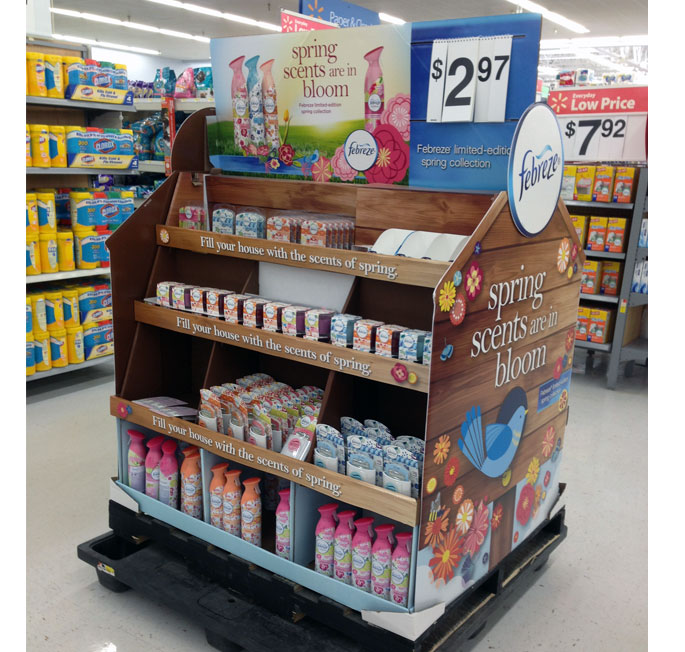 Febreze Fills Your House With The Scents of Spring
Febreze is helping celebrate the arrival of spring with a new line of Spring inspired scents. The new scent collection includes Sweet Pea Petals, Rain Air and Wildflowers…………..all of which are available in melts, oils, sprays and vent clips.
Febreze is introducing their spring collection with this country-themed pallet display. Decorated with blue birds and festive blooming flowers, the side panels and riser offer shoppers a warm and inviting visual to inspire them to freshen up their homes.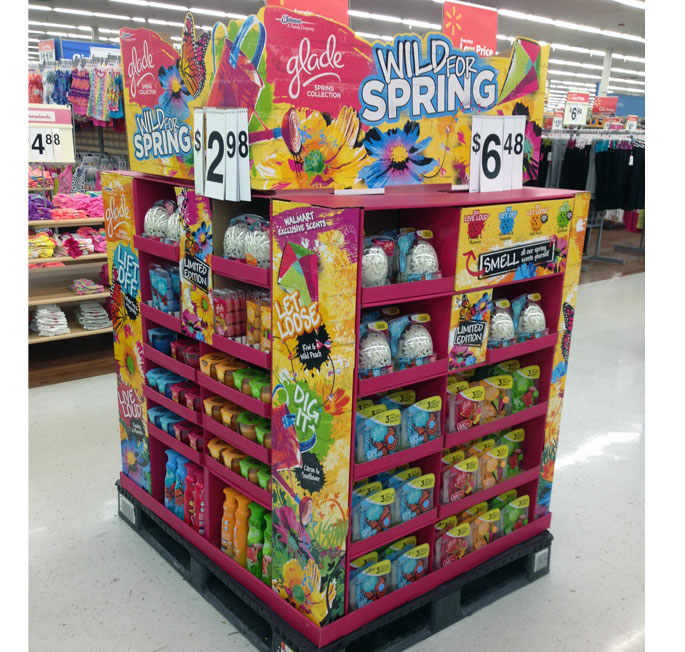 Glade Pallet Display is Wild For Spring
Glade rolled out this very colorful pallet display to give shoppers a fragrance experience to make their spirits soar. The first thing one notices are the super vibrant colors that were printed on every available copy panel and on the product packages…..very impactful.
Each limited edition scent was created with its own lively theme…..Lift Off – Live Loud – Let Loose – Dig It…..which were also printed on all four of the corner graphic fillers. These particular limited edition scents were exclusive to Walmart stores only.
A very cool interactive feature we found on this display were the Smell inserts. These inserts were die cut to enable shoppers to try a sample smell to see which scents intrigued them. Not a bad idea….better than using live product to make the purchase decision.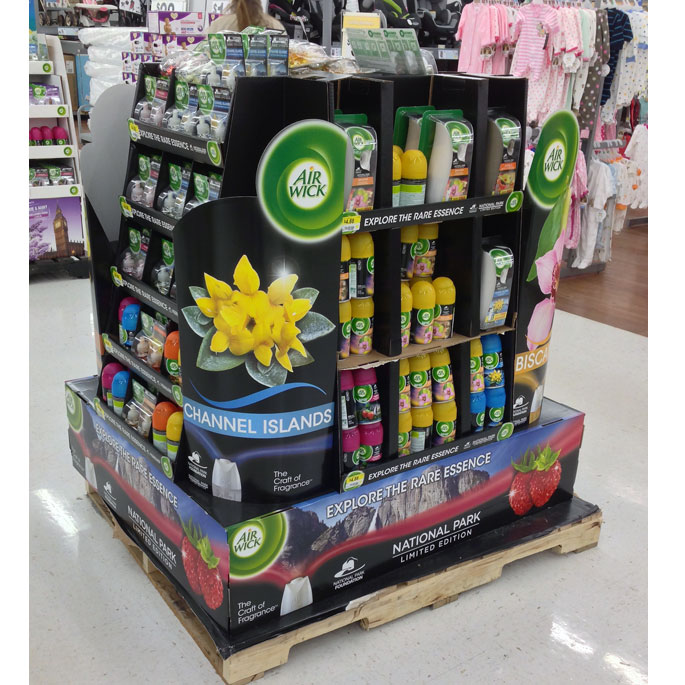 Air Wick Explores The Essence of Our National Parks
Air Wick and the National Park Foundation continue their ongoing partnership by promoting limited edition spring and fall fragrance collections uniquely inspired by America's national parks. Each specially designed fragrance focuses on one famous national park to create a memorable experience that people can enjoy without leaving the comfort of their homes.
The spring fragrances for the pallet shown above were developed for the following national parks: Hawaii, Channel Islands, Biscayne Bay and Yosemite. To showcase the scents, each park was given exclusive copy space on the curved corner fillers. The black really makes the product and copy spaces stand out.