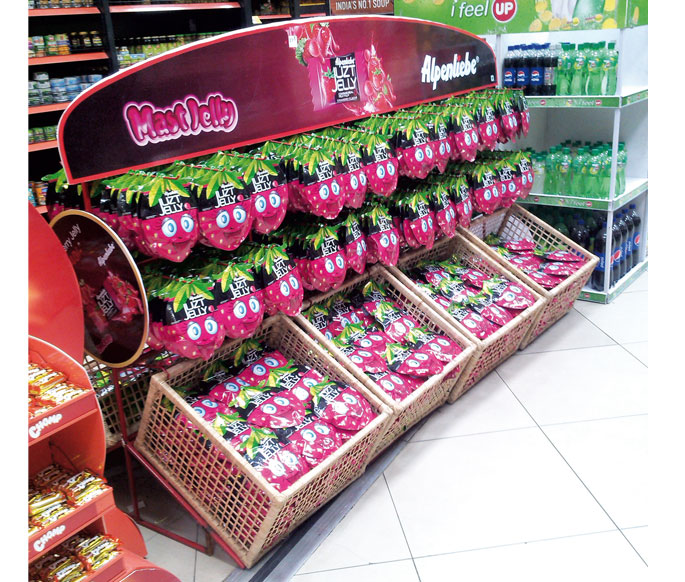 A look at how confectionary brand Perfetti Van Melle-India Pvt Ltd created a vibrant presence at retail that draws the attention of kids and adults alike. 
Perfetti Van Melle India Pvt Ltd, the confectionary leader with major brands such as Alpenliebe Creamfills, Alpenliebe Lollilop, Centre Fruit, Centre Fresh, Mangofillz, Chlormint, Chocoliebe, Fruittella, Happydent White etc in its stables, recently went in for a retail visibility drive aimed at grabbing the attention of the consumer.
The idea behind the initiative, executed in collaboration with Fourth Dimension, was "To create an out of shelf engagement point to the consumer themed around the concept of creating Jelly Island", according to Vijay. V. M, Manager – Visibility, Perfetti Van Melle India Pvt Ltd. These displays stand out at-retail with their innovative and vibrant designs. Perfetti Van Melle India has always focused on innovative marketing initiatives and presence and all these display units are in line with that."
Speaking on the development end, Vipul Kumar, Executive – Visibility, says, "Two concepts were zeroed in after a lot of brain storming which helped us create a clear brief for developing an 'out-of-shelf Jelly Island'. Besides being engaging, another requirement was that the display had to be sturdy and offer long term durability. Hence the materials chosen were a combination of metal and sunboard.¨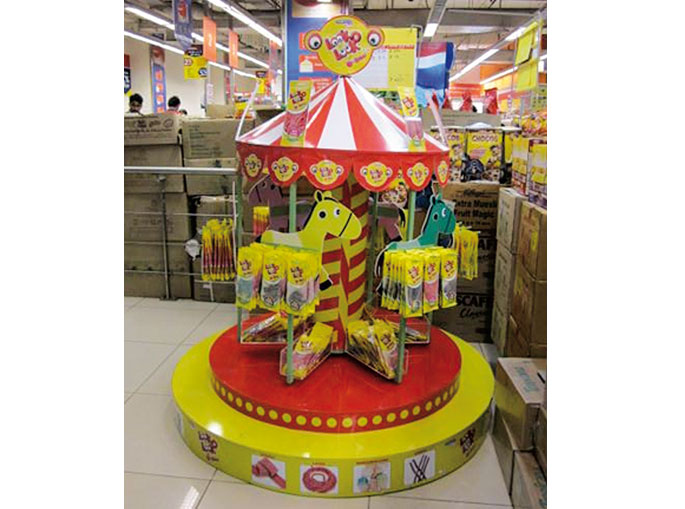 The visibility team and vendor performed several retail space studies to understand the various elements that would further impact the design and development of the unit. As Vijay says, "It was important to understand the space available, the layout of the outlet and the kind of ambiance it offered so that the display could readily sync- in and create a unique experience for the consumer."
Speaking about the effectiveness of the merchandisers which were installed at Spencer's, Gurgaon & Spencer's and Kolkata, Vijay says, "They have driven good impact for the brand in terms of both visibility and off-takes. The sales clogged by 3 times."
Speaking further about the importance of a good vendor collaboration for any retail promotional drive, Vijay adds, "Vendor collaboration is an integral part in planning of any visibility activation as we need to work on a platform which has convergence from both stake holders. While a qualified vendor can add immense value through his creative expertise, it's important for him to be aligned with the brand guidelines and core elements to churn out a design that not only enhances brand equity but also connects the TG with it. Hence the vendor has to have an in- depth understanding of the brands they associate with and be well acquainted with the guidelines, communication strategy, brand positioning and the TG that we are targeting. Most importantly, they need to be clear of the objective of the whole exercise.¨
Perfetti Van Melle's new visibility initiative by the brand is certainly an example of a successful collaboration as is evident from the impact and presence of these displays.