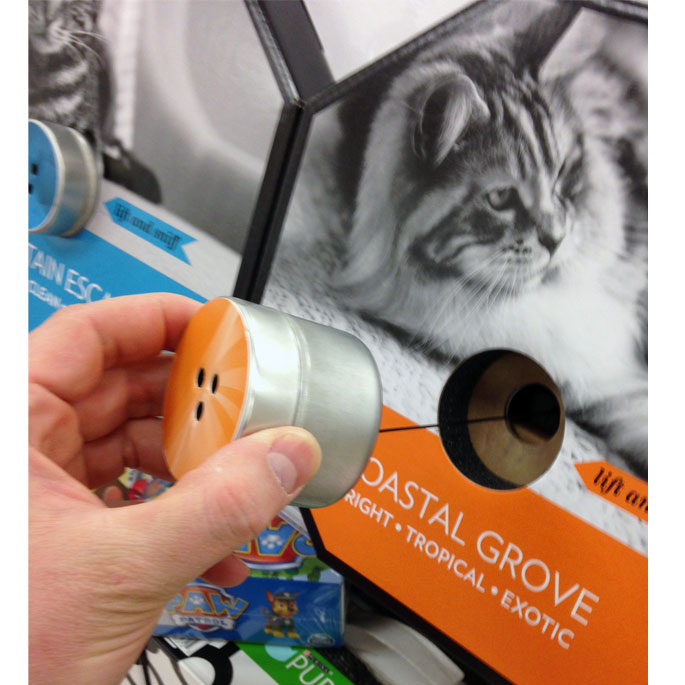 Designed exclusively for Target, Purina has partnered with the retailer to launch a new litter product called Purpose which is available in three modern, fresh-scented varieties….Coastal Grove, Secret Garden and Mountain Escape.
According to Purina's Petcentric website, they describe Coastal Grove as having a light, bright scent with a splash of sunshine. Secret Garden has a lush, green scent with a hint of lavender. And Mountain Escape has a crisp, clean scent with a wisp of evergreen. Shoppers were able to smell the three scents using the retractable scent testers.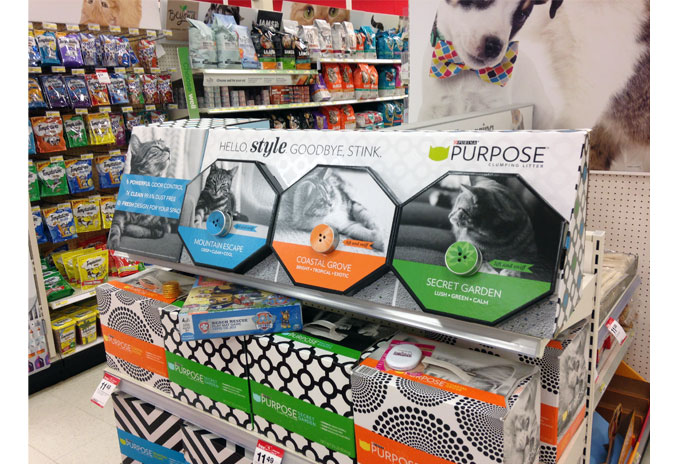 Doing Cat Litter In Style
Not only does the new litter work well and smell good, it comes in attractive packaging featuring bold colors and funky patterns. Using the help of agency Resource/Ammirati, the packaging was designed to look great in your home and put a bright face on a dirty chore…..cleaning the litter box.
Target launched the new litter using this interactive display. Featured on an end cap, the display sat on the top shelf above the brightly decorated packaging. The three main colors on the packaging were translated to the hexagon-shaped variant lug-ons, stitching brand assets together……resulting in a visually-attractive presentation in-store. Affixed to each of the lug-ons, three color-coded scent testers enabled shoppers to evaluate and determine which litter was best-suited for their kitty.
The Purina Purpose end cap display and packaging is a great example of the holistic solutions brands can achieve when they approach the design process looking both up and downstream.