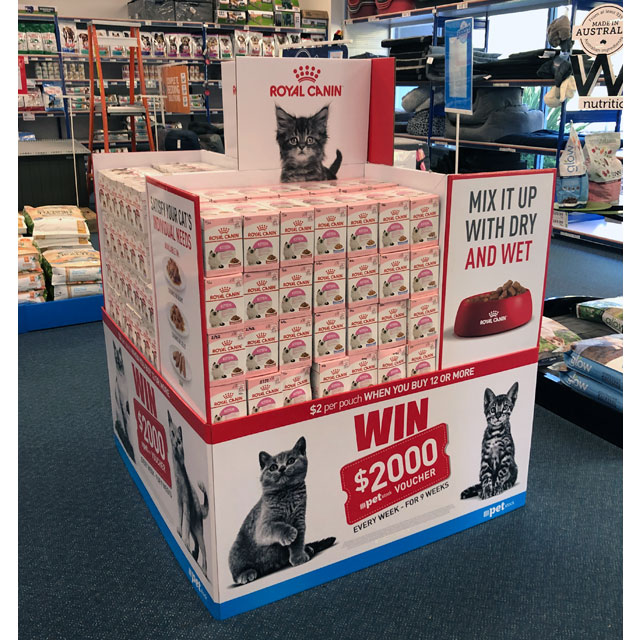 Royal Canin recently partnered up with the creative team from 5P Group to create a pallet display for the PETstock store chain that helped promote a $2000 Pet Voucher sweepstakes.
Shoppers who purchased 12 or more $2 pouches of cat food products were eligible to win $2000 every week for 9 weeks. The pallet displays, which were launched in PETstock stores across Australia and New Zealand, did a great job of communicating the benefits of feeding a combination of wet and dry to food to cats as well as highlighting the chance to win a weekly gift voucher.
Some of the key considerations in the design were:
Stock holding needed to be maximum 160kg
Ability to add stock limiting infills for smaller retailers
Large communication space
Flat packed and easy to set-up
Must be 100% recyclable
The campaign ran for 9 weeks and was 100% recycled at the end of the promotion.
We are 5P Group
We began in 2000 with one client.
We brought a passion for brands to the Australian POP industry. With this passion, we have grown a wonderful team of designers, manufacturers and clients who together, embark on daily journeys of building and nurturing retail brands.
Today, we still love what we do.
More importantly, we love working with those who love their brands too.
We are dedicated to Empowering brands at retail.