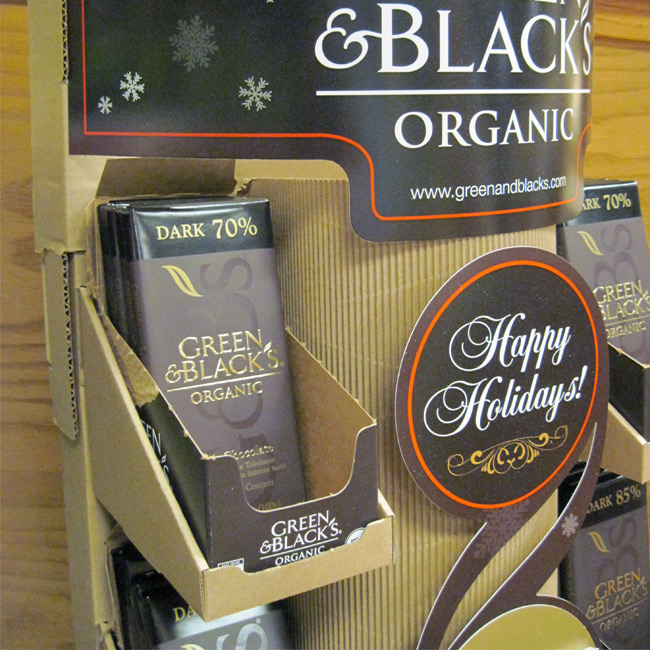 Bars. Baking. Hot Chocolate. Green & Black's makes wonderful chocolates in each of these categories. All of their products are exquisitely delicious because they believe that every step of the chocolate making process is equally important – whether it's harvesting the finest organically grown cocoa beans, or taking extra production time and care that brings out their trademark intense flavor.
Founded in 1991, the UK based company uses fairtrade cocoa, grown amongst  indigenous plants in Central America, which is purchased from Maya farmers in Belize. The company name (Green for organic and Black for the deep, rich brown color of the chocolate) was founded on the very principles that make their award-winning products some of the best in the world.
To celebrate the holiday season Green and Black's created an "all-natural" floor stand merchandiser to complement their eco-friendly organic line of chocolate bars. Designed using mostly brown, kraft corrugate and some sbs graphic pieces, this display reinforces the company's founding principles and manufacturing processes.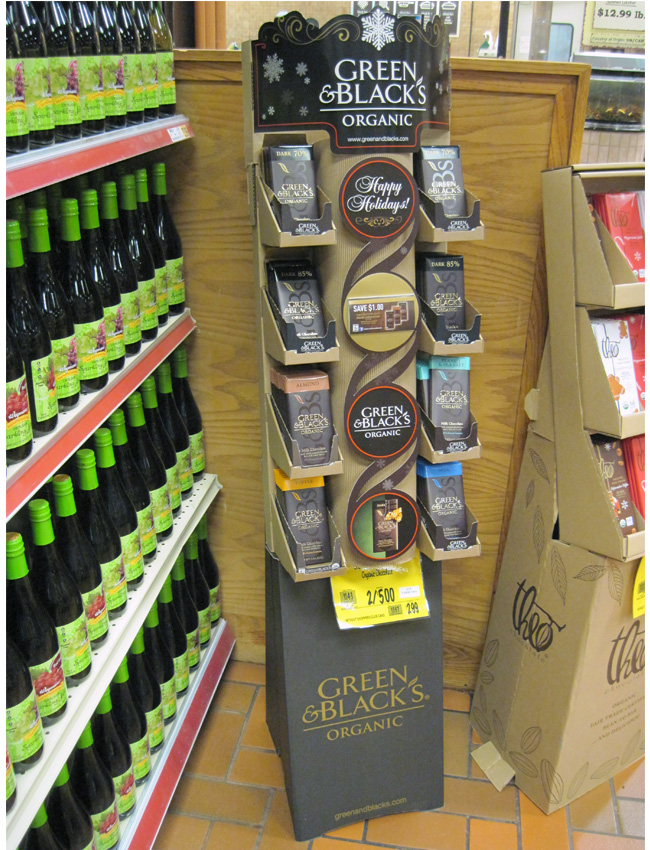 No waste – Shelf-Ready-Packaging was utilized in all eight e-flute product trays to merchandise the chocolate bars.  Note the finishing touch that the curved, single face e-flute wrap provides behind the intricate swirling die cut. A $1.00 off coupon pad offered shoppers a discount with purchase.
View additional candy displays in our image gallery.
Arcor Mes de la Dulzura Mega Display
Cadbury The Hunt Starts Here Floor Display
Werther's Original Table Display
Cool Blasts Ice Breakers Floor Display