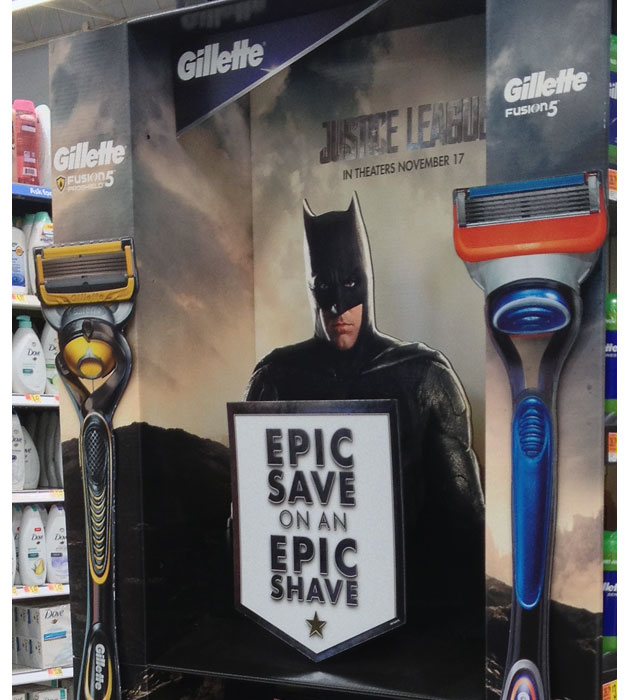 Gillette has partnered with Warner Bros. Pictures new film Justice League to develop its grooming technology to meet the needs of powerful super heroes. Having already developed a variety of products that are engineered to be "The Best a Man Can Get", Gillette is raising the bar to meet the challenge of uncovering technology that lets super heroes be "The Best a Super Hero Can Get."
As reported in the Cincinnati Business Courier……"We know the depth of R&D that it takes when it comes to engineering razors that meet the needs of regular guys, and now we are applying that knowledge in a way we've only dreamed of doing before," said Max Menozzi, P&G's vice president of Gillette North America. "In the process, we are also looking to 'Justice League' experts – the fans – to provide us with additional insights to consider for their favorite superheroes."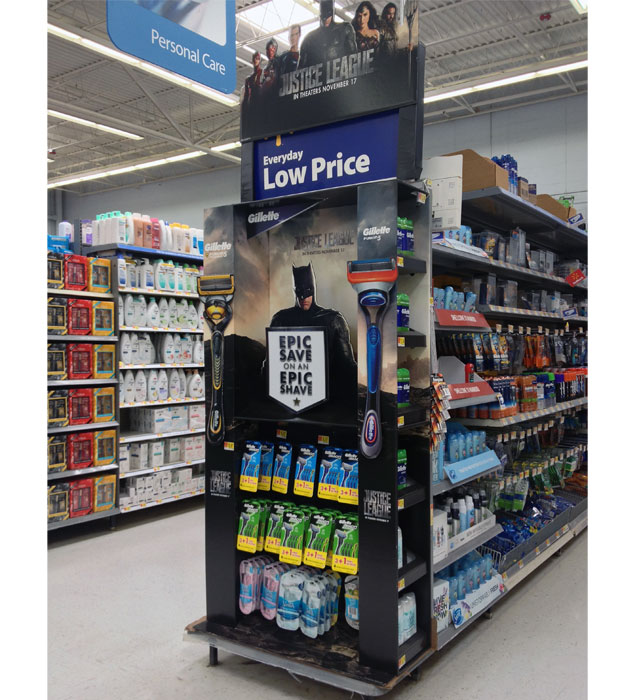 Procter & Gamble Co. and Warner Bros. Pictures collaborated with in-store promotions, one of which included this feature end cap at Walmart. The multi-sided 'Epic Save On An Epic Shave' display featured several skin care products on all three sides. The massive 'header area' has several layered elements that provide a great backdrop for the two oversized, dimensional razors.
In addition to the offerings shown on the end cap display, Gillette will release six limited edition gift packs, one for each Justice League character – Batman, Wonder Woman, Superman, The Flash, Aquaman and Cyborg. Other promotional activities include commercials and virtual reality content that lets players step into the shoes and feel the powers of the iconic DC Super Heroes.
The Warner Bros. film is set for release Nov. 17 in 3D and 2D in select theaters and IMAX.
Related
Batman Dark Knight Pallet Display
Dawn Of Justice Pallet Display
About Gillette
For over 110 years, Gillette has delivered precision technology and unrivalled product performance – improving the lives of over 750 million men around the world. From shaving and body grooming, to skin care and sweat protection, Gillette offers a wide variety of products including razors, shave gel (gels, foams and creams), skin care, after shaves, antiperspirants, deodorants and body wash. For more information and the latest news on Gillette, visit http://www.gillette.com/. To see our full selection of products, visit http://www.gillette.com.
About Procter & Gamble
P&G serves consumers around the world with one of the strongest portfolios of trusted, quality, leadership brands, including Always®, Ambi Pur®, Ariel®, Bounty®, Charmin®, Crest®, Dawn®, Downy®, Fairy®, Febreze®, Gain®, Gillette®, Head & Shoulders®, Lenor®, Olay®, Oral-B®, Pampers®, Pantene®, SK-II®, Tide®, Vicks®, and Whisper®. The P&G community includes operations in approximately 70 countries worldwide. Please visit http://www.pg.com for the latest news and information about P&G and its brands.
About "Justice League"
From Warner Bros. Pictures comes the first-ever big screen epic action adventure "Justice League," directed by Zack Snyder and starring as the famed lineup of DC Super Heroes: Ben Affleck as Batman, Henry Cavill as Superman, Gal Gadot as Wonder Woman, Raymond Fisher as Cyborg, Jason Momoa as Aquaman, and Ezra Miller as The Flash.
The "Justice League" screenplay is by Chris Terrio and Joss Whedon, story by Chris Terrio & Zack Snyder, based on characters from DC, Superman created by Jerry Siegel and Joe Shuster. The film's producers are Charles Roven, Deborah Snyder, Jon Berg and Geoff Johns, with executive producers Jim Rowe, Wesley Coller, Curtis Kanemoto, Chris Terrio and Ben Affleck.