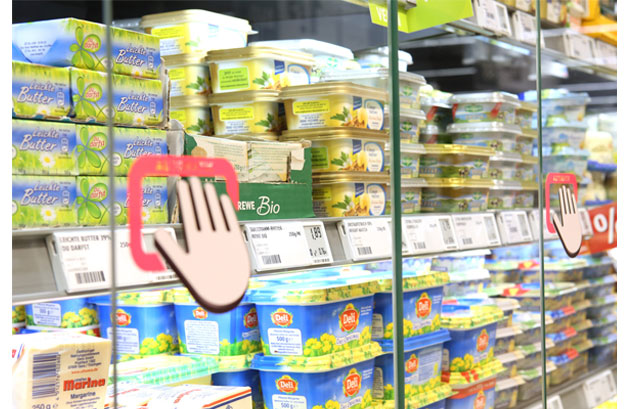 Winning Streak Continues: Smart Access from SCHOTT lands Gold in 2018 German Design Award
The hands-free glass door system SCHOTT Termofrost® Smart Access has won over the judges for the 2018 German Design Award, an international competition run by the German Design Council, and received the Gold prize for its excellent product design in the "Retail" category. Previously, at EuroShop in March 2017, SCHOTT was awarded the AIT (Architektur Innenarchitektur Technischer Ausbau) innovation award.
SCHOTT Termofrost® Smart Access doors for refrigerated cabinets open hands-free using motion detection sensors. Made entirely of glass with no frame, this virtually invisible door system provides shoppers a panoramic view of and easy access to products.
In an effort to differentiate themselves from growing online retail outlets, supermarkets are investing in shop design concepts that create a feel-good atmosphere and provide exceptional customer experience. Product freshness and convenience are the two most important contributing factors, according to the EHI Retail Institute. Appealing product presentation in particular can set retail outlets apart from online retail.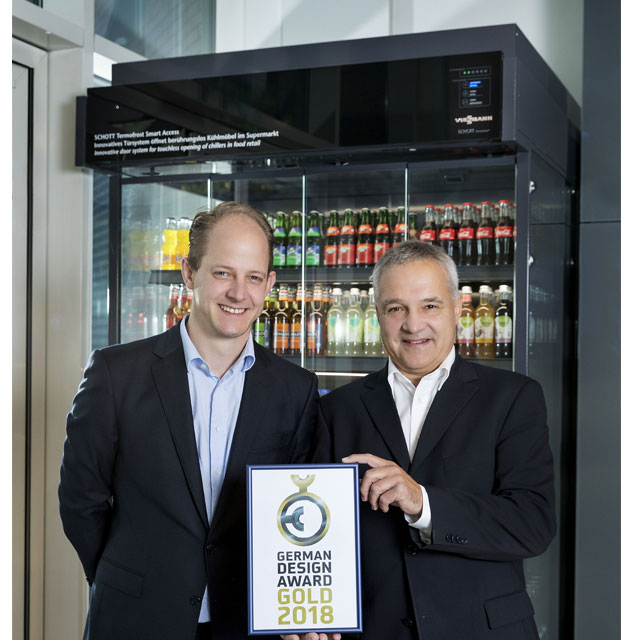 With this in mind, SCHOTT and NOA Design developed a fridge door system of the future for the German supermarket chain REWE. "Our world is modernizing rapidly. Convenience, efficiency, customer experience and environmental friendliness all shape our day-to-day life, including how we shop", Michael Lammel, Managing Partner of NOA says. Christian Köhler from SCHOTT adds: "Unique store concepts help grocery store managers connect with their customers. Closed refrigerated cabinets will be an integral part of the food retail sector of the future since they save energy. Our automatic fridge door system goes even further. The added convenience and appealing design creates a new, positive customer experience."
The official award ceremony will be held in February 2018 during Ambiente, the consumer goods tradeshow, in Frankfurt am Main, Germany.
Further information can be found at www.schott.com/termofrost or contact:
Press and media contact:
Christine Fuhr
PR & Communications Manager
Tel.: +49 6131 66 4550
E-Mail: christine.fuhr@schott.com
About SCHOTT
SCHOTT is a leading international technology group in the areas of specialty glass and glass-ceramics. The company has more than 130 years of outstanding development, materials and technology expertise and offers a broad portfolio of high-quality products and intelligent solutions. SCHOTT is an innovative enabler for many industries, including the home appliance, pharma, electronics, optics, life sciences, automotive and aviation industries. SCHOTT strives to play an important part of everyone's life and is committed to innovation and sustainable success. The group maintains a global presence with production sites and sales offices in 35countries. With its workforce of approximately 15,000 employees, sales of 1.99 billion euros were generated in fiscal year 2015/2016.The parent company, SCHOTT AG, has its headquarters in Mainz (Germany) and is solely owned by the Carl Zeiss Foundation. As a foundation company, SCHOTT assumes special responsibility for its employees, society and the environment.
Termofrost® is a registered trademark of SCHOTT AG.
About the German Design Award
The German Design Award is presented by the German Design Council. Its objective is to discover, present and honor unique design trends. Every year, high-quality product and communication designs are recognized, all of which are considered ground-breaking in the international design landscape.
In 2017 more than 5,000 entries were received, 49% in the category Excellent Product Design and 51% in Excellent Communications Design. The majority of entries are submitted by German companies, institutions, and individuals, with 758 international entries. In total, 45 products/projects received the Gold award.