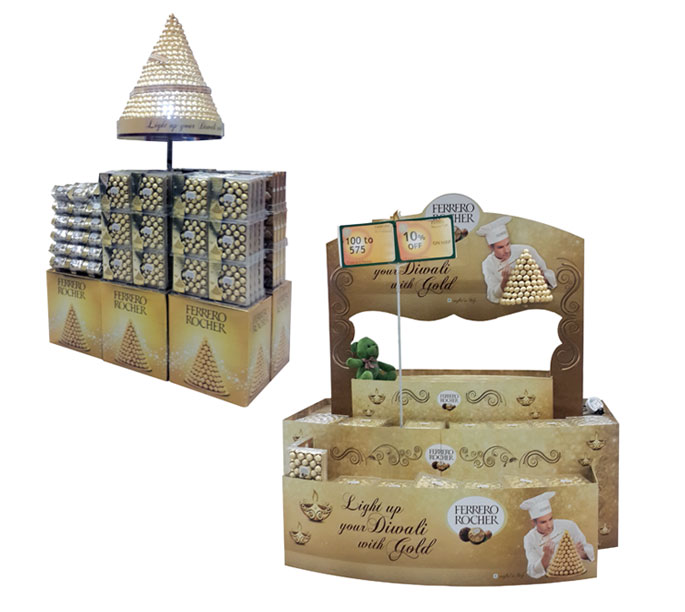 Ferrero Fever Lights Up In-Store
Confectionary giant Ferrero Rocher was spotted at retail recently with two festive floor displays to help celebrate Diwali. The display on the left featured a pyramid-shaped topper that was constructed using live chocolate balls that were placed inside of an acrylic cone. The larger unit on the right was designed as a tier-shaped floor display that was able to merchandise several variants while optimizing product facings with its four-sided shopability.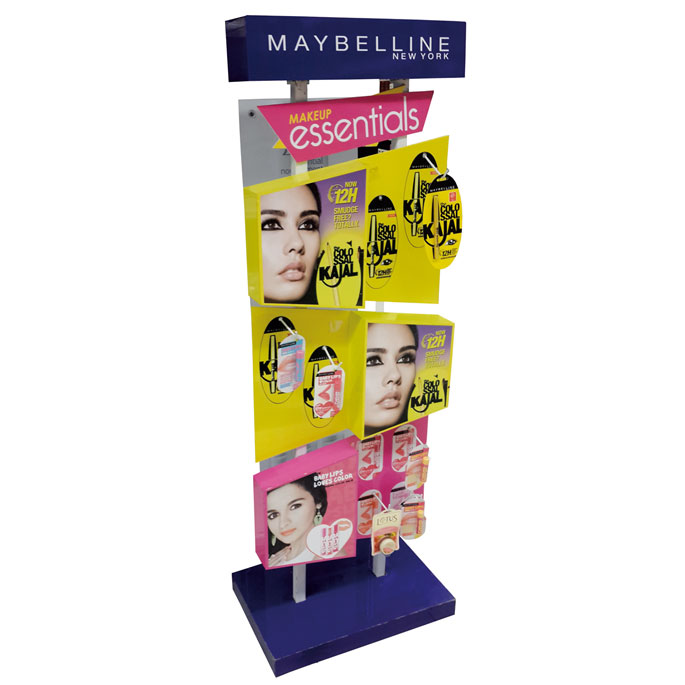 Maybelline Makeup Must-Haves
Leading makeup brand Maybelline New York created a buzz in select Indian retailers with this dimensional Makeup Essentials floor display. Designed using layers of materials, the angled communication boxes pops out, highlighting the background product shots.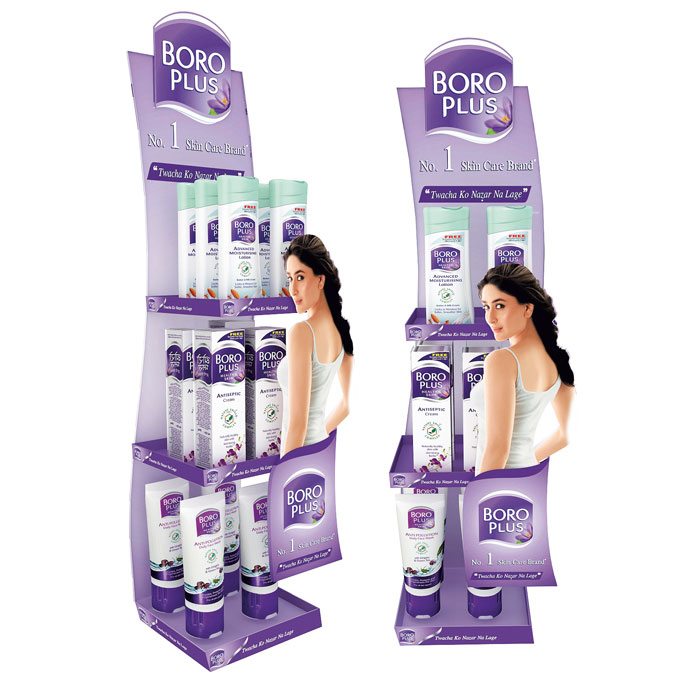 Perfect Winter Care
Emami Limited recently took their skin care brand Boro Plus into major Indian retail markets with this floor display and mini wing. Both displays featured brand ambassador Kareena Kapoor and were able to stock winter Skus consisting of BP Antiseptic Cream, BP Advanced Moisturising Lotion and BP Anti-pollution Face wash.
In addition to these displays, the brand also rolled out several other POS collateral to support their retail marketing efforts.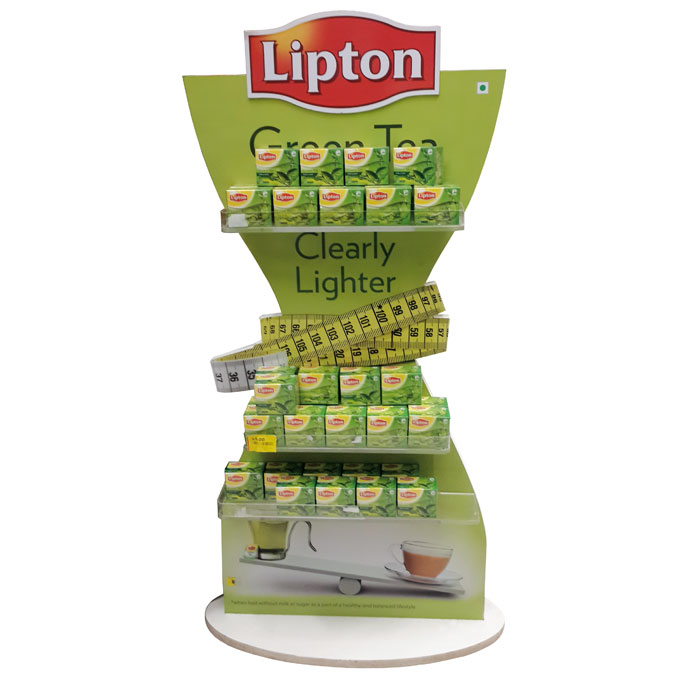 Superbly Shaped And Clearly Lighter
Lipton Green Tea was spotted in supermarkets with this slimming floor display. Designed using wood with vinyl overlays, the hour glass-shaped display sends a clear message to shoppers looking for that extra weight loss advantage. Transparent acrylic shelves held several variants without blocking package facings or the messaging behind them. Visual elements such as the tape measure and the teeter totter further reinforced brand equities and product attributes.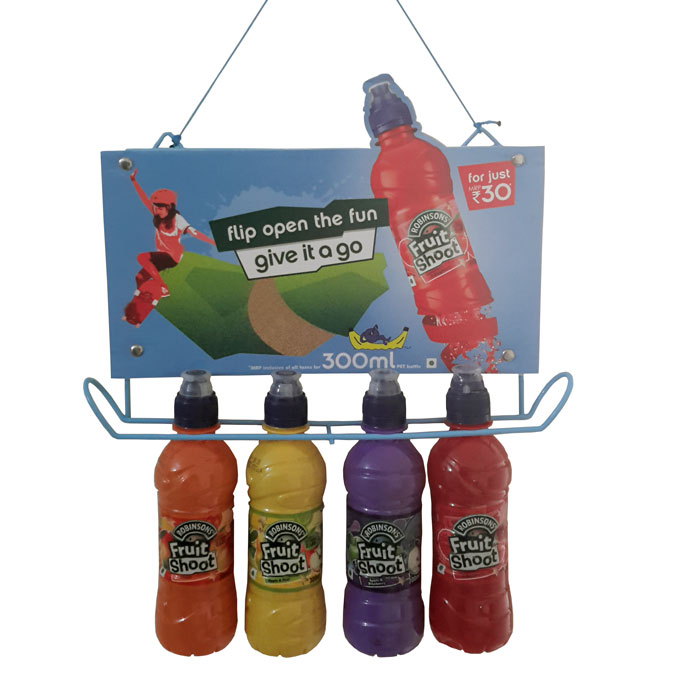 Fruit Burst
Fruit Shoot, the tasty and refreshing fruit-based drink for kids from Britvic, was seen hanging out in-store with this fun bottle merchandiser. Alacrit Retail Pvt. Ltd. secured the deal to fabricate the displays for the British brand. According to Ajay Mehta, CEO and Managing Editor, Alacrit, "The vertical parasite is made up of sun-pack and wire mesh with offset sticker printing for branding on top. Eyelets mounted at the top enable retailers to easily hang the display in the beverage section."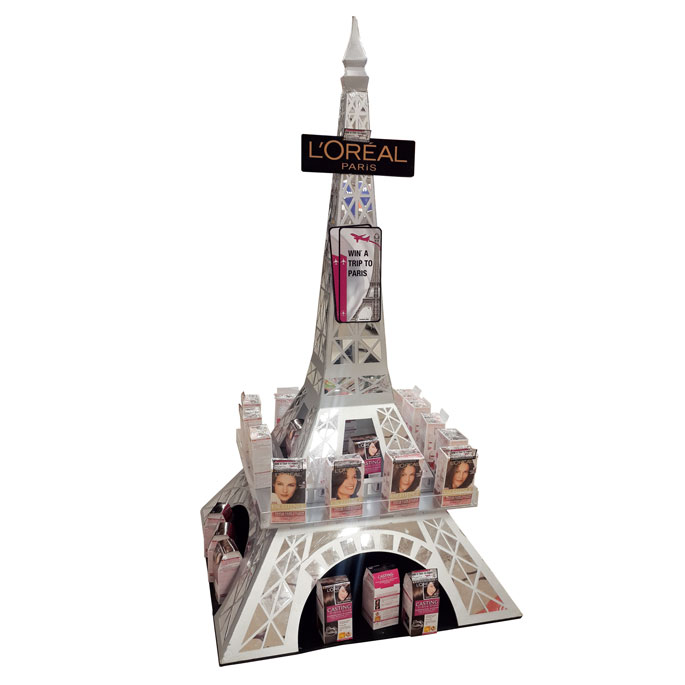 The Parisian Connect
Showcasing their origin, L'Oreal Paris launched this stunning floor display in the mass merchant market. Designed in the shape of the Eiffel Tower, the 3-D floor display merchandised select products in acrylic trays as well as inside of the bottom arched cut-outs on all four sides.